Socialist Sunday Schools - Times Past
Posted on 22 June 2022
In partnership with the Glasgow Times our archivists are exploring Glasgow's fascinating history. This week, Michael Gallagher writes about the Socialist Sunday Schools.
Glasgow revels in its radical reputation. The city forged some of the labour movement's most famous figures and factions. One of its lesser-known contributions was the Socialist Sunday School federation. Founded in the 1890s, the schools taught socialist values to children using the language of Christianity.
Schools were not anti-religious. According to one of their founders, they represented a higher form of religion - the "religion of love." Classes mirrored the format of traditional Sunday Schools, led by an adult Superintendent. Children were encouraged to perform minor offices, such as taking minutes as one of the main objectives was to develop the next generation of socialist leaders. Pupils included future Lord Provost Patrick Dollan, and Jennie Lee, who was one of the first women MPs and founder of the Open University.
Children read texts and sang from the Socialist Sunday School Hymn Book. This contained socialist standards like The Red Flag. The central part of the class was the "Lesson", given by an adult member. These were often on some question of ethics. Topics at one Glasgow school in 1905 included "Gambling", "Happiness" and "Companionship".
Communal activities were popular. Some schools ran orchestras and choral singing. Many organised sports events, rambling and picnics. The purpose was to teach children shared values and nurture a spirit of "ethical socialism".
At the movement's core were the ten Socialist Commandments. These fostered the idea that socialism was a secular version of Christianity in practice. These included many sentiments familiar to the Church ("Make every day holy by good and useful deeds and kindly actions") alongside those of a more dogmatic bent ("Honour good men, be courteous to all men, bow down to none").
The Glasgow organisation drew up the "Declaration of the First Principles of Socialism", a catechism that contained the clause: "Why is Socialism necessary? Socialism is necessary because the present system enables a few to enrich themselves out of the labour of the People."
The Socialist Sunday School movement grew beyond Glasgow. By 1907 there were 14 across Scotland, at least 20 in London, and a dozen more across Yorkshire and Lancashire. A National Council was formed in 1909 to provide a forum for cooperation.
The First World War (which the movement opposed officially) led to a spike in support. The Depression that followed and the split in the Labour Party during the 1930s caused it to decline nationally as the twentieth century progressed. Despite this, a core remained in the West of Scotland even until the 1960s: one directory listed 17 schools nationally in 1964, with 9 of them in the Glasgow area. The City Archives holds records for schools in Govanhill and Shettleston, among others.
An important part of the labour movement, Socialist Sunday Schools provided opportunities for working-class adults and children. They hoped, as one school text put it, to "build up the City of Love in our own hearts and so help to build it up in the world."
Socialist precepts and Declaration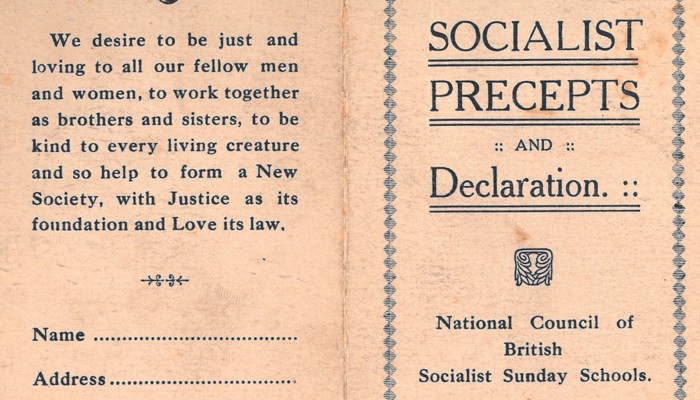 Front and back cover of a Socialist precepts and Declaration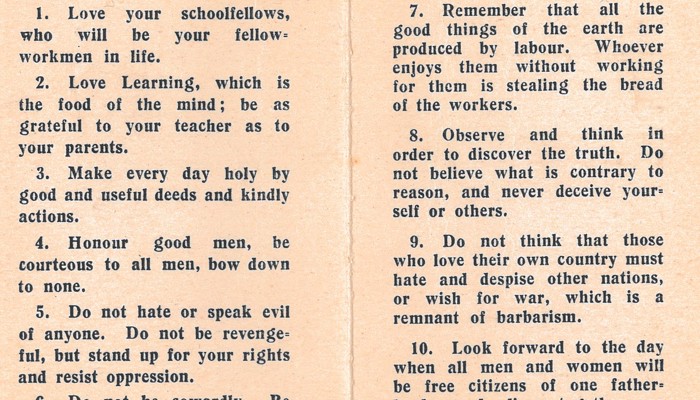 Give feedback about this page