William Ledgerwood 1895-1915
Scott Morland, from New Zealand tells the story of how he built a picture of his great great great uncle, born in Glasgow in 1895, using the Evening Times Roll of Honour.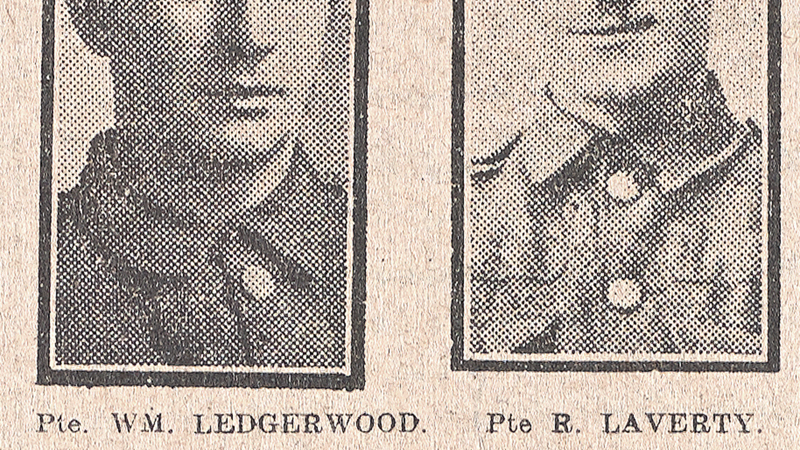 William Ledgerwood was commemorated in the Evening Times Roll of Honour
William died at Gallipoli on 4th September, 1915 at only 19 years old.
William Ledgerwood was born on 14 December 1895 in 9 Stewart Street, Hutchesontown, the only son of William Ledgerwood & Margaret Dickison Hosie, who also had four daughters.
After working for a time at McFarlane, Lang and Co, William signed up with the 1/6th (City of Glasgow) Battalion, Highland Light Infantry "A" company.
Key Dates:
August 1914: Based at Yorkhill Street, Glasgow
26 May 1915: Sailed from Devonport for Gallipoli via Egypt (5-28 June) and Mudros (1 July), landing at Cape Helles (Gallipoli) on 3 July, 1915.
William died at Gallipoli on 4th September, 1915, and was commemorated in the Evening Times Roll of Honour
Scott says: "My fascination with the Ledgerwood family really started when I was youngster, with the intrigue of a large family bible, which had been inherited by my mother from her grandmother, William Ledgerwood's sister. Some beautiful handwriting listed the family tree back to the 1800, but a few gaps remained. As the years have passed, the urge to fill in the gaps has become stronger. Over the last few years I have been working on my family tree and although I emigrated some 20 years ago, my father and I are able to collaborate through the power of the internet."

"I look in on the Mitchell Library's website from time to time, and I was pleased to see the work done by the staff to index the Evening Times Roll of Honour. On searching for his name, I was delighted to find out that William Ledgerwood was listed, with a portrait. This image will probably be the only photograph of this brave soldier. With this picture, and my passion for trying to paint William's past, you can only imagine how wonderful it is to finally bring this brave soldier's name to life!"
"I would not have been able to access the picture of William without the hard work and dedication of the Mitchell Library staff, and I congratulate the people who were involved. I hope that their reward is reading my story or meeting people directly who have been able to have closure on a gaps in their family story. I plan an attending Gallipoli on 4th September this year to commemorate this brave young soldier and tend to his grave, showing him that he is not forgotten."
Willliam is laid to rest in the Skew Bridge Cemetery on the Gallipoli Pensinsula.
Give feedback about this page