Home Library Service
If you can't visit one of our libraries, our Home Library Service can help.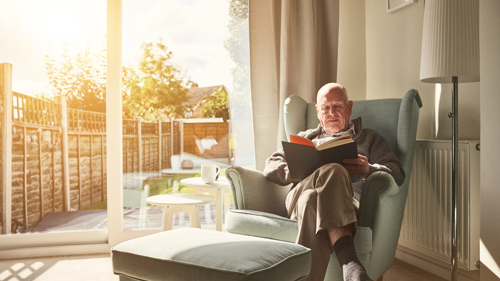 What is the Home Library Service?
Our Home Library Service volunteers deliver books to your home if you can't visit the library. Our volunteers will bring you the joy of reading and a link to the outside world to help beat loneliness.
Who is it for?
The Home Library Service is for customers who cannot visit their local library, for example people with:
Long term illness
Short term illness
Disability – physical and / or mental
Age-related issues affecting access
Mobility challenges – short-term or enduring
Ongoing medical care at home
Caring responsibilities
Shielding requirements / other requirements as a result of government restrictions (pandemic-related)
How does the service work?
Our library staff will visit first to find out what you like to read. Then our friendly, trained volunteers will start to visit on a regular basis.
How much does it cost?
The Home Library Service is free.
Who will deliver my books?
Our volunteers, visit in twos, and will deliver your books. Our volunteers are friendly and trained. If you like, they will also stay for a quick chat.
How do I sign up?
If you would like to become a customer, please get in touch by phone on 0141 287 2885 or send an email to homelibraryservice@glasgowlife.org.uk with your name, address, phone number and email.
Can I help support the project?
Yes! We are currently recruiting volunteers for the Home Library Service project. To find out more and apply, please visit our Volunteer Portal.
What is the time commitment for volunteers?
Volunteers and customers agree how often and at what time the visits will take place.
This will depend on the availability of the volunteers. This is usually about one session every two weeks.
Give feedback about this page