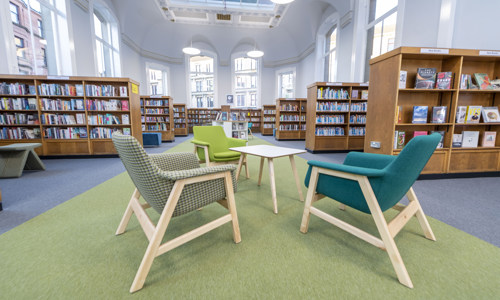 Free entry
Opening hours
Day
Opens
Closes
Mon
Closed
Tue
2:00pm - 7:00pm
Wed
11:00am - 4:00pm
Thu
11:00am - 7:00pm
Fri
11:00am - 4:00pm
Sat
10:00am - 2:00pm
Sun
Closed
Partick Library is open for PC and Internet access only. A free pre-booked appointment is required to use the library computers. Customers wishing to book PC access can do so by calling the library during opening hours on 0141 276 1560.
Contact
0141 276 1560
libraries@glasgowlife.org.uk
Partick Library has re-opened following a programme of refurbishment works and provides new community spaces, learning experiences and a wide selection of the latest book titles.
Built in 1925, Partick Library offers a wide range of services and activities in relaxing and inspiring surroundings. With thousands of books and a programme of weekly classes and events, our friendly staff will always be on hand to help you get the most out of your visits.
Don't forget you can access all 33 Glasgow Libraries and our 24/7 online library with your Glasgow Libraries membership card: Join Glasgow Libraries 
Find a book, reserve and renew, search the catalogue and access all of our online resources.
Macmillan Cancer Support If you're affected by cancer you may want to know there's someone you can turn to for help. Someone who can help find answers to your questions, whatever they may be. The Macmillan @ Glasgow Libraries information point can help you find information you need on living with all aspects of cancer as well as signposting you to the nearest support and information service.
Find out more about Glasgow Libraries' partnership with Macmillan Cancer Support.
Accessible toilets
This accessible toilet is approximately 34m (37yd 7in) from the main entrance, located in the Children's Department.
Assistance dogs
Assistance dogs are welcome. We can provide a bowl of water for an assistance dog.
Wheelchair access
There is a ramp leading to entrance.
Additional information
View the accessibility guide on AccessAble – the new name for DisabledGo.
Baby changing
We offer baby changing facilities within the venue.
Baby feeding
Baby feeding is welcome in all Glasgow Life Venues.
Community information
Information regarding Elected Members, MSP's, MP's, Community Councils, and consultations are currently held in a folder at our reception desk. Up to date information on local groups are to found on our community noticeboards in the entrance hall.
Community languages collection
We have a small selection of Gaelic books and other languages can be requested.
Local history collection
Partick Library holds a collection of photographs and books which are for reference only. Please contact our staff for further information.
Newspapers and magazines
Daily newspapers and magazines are available.
Novels and factual books
We offer a wide range of novels and factual books.
Parking
The venue does not have its own car park.
Photocopying
Photocopying - Free service, maximum 10 copies per customer. Copies will be black and white only. We have both A3 and A4 options available.
Printing – Free Service, maximum 10 prints per customer. Prints will be black and white only.
We have both A3 and A4 options available.
Photography and video recording
On occasion, Glasgow Life will be on the premises to film and take photos.
Study spaces
We have a large study space, including two study booths (unfortunately these cannot be reserved).
Free wifi
Wi-Fi is free by logging on via Glasgow Libraries - no password is required.
In the recent programme celebrating his 75th birthday, Portrait Of A Lifetime, Connolly described Partick Library as the most important building there.
I Am, I Am, I Am: Seventeen Brushes With Death
Maggie O'Farrell
My favourite book so far this year has to be Maggie O'Farrell's 'I Am, I Am, I Am: Seventeen Brushes With Death'.
This uncomfortable yet absolutely compelling memoir is a real page-turner, as thrilling as any work of fiction I have read. O'Farrell's brushes with death include: a jump off a wall into the sea where she was trapped under water, a truly death-defying encounter with a man on a remote mountain path and a plane journey where passengers hit the ceiling as the plane hurtled towards the earth. An unconventional, astonishing memoir that leaves the reader grateful and lucky to be alive. Wonderful.
Louisa, Partick Library
Glasgow Life offers Adult Learning programmes, activities and support services in a number of libraries across the city.
For more information about Digital Learning provision, English Language courses or support with Reading, Writing or Numbers - please visit our Learning Opportunities page.
Location Map