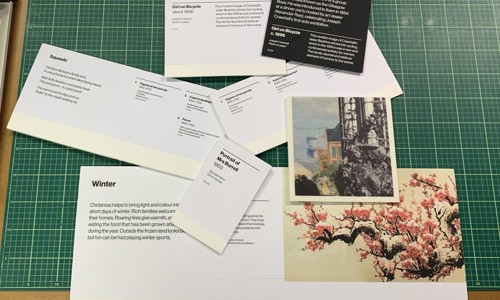 My job with Editor Fiona Macleod
My job with Editor Fiona Macleod
Welcome to the Burrell blog, where we will share insights from members of the Burrell Project team on their roles on the project, some of the work they have been doing and what they love about their jobs - in this edition, we're meeting Fiona, editor for the project.
Hello my name is Fiona Macleod and I am an editor for Glasgow Museums. Most of my job focuses on developing displays and exhibitions for all the different museums in Glasgow. Another key part of it is creating and publishing books about the collections. I also get involved in lots of smaller projects – everything from making postcards for the shops, to helping with copyright issues, to following visitors around the museums to see if they can use our floor plans properly. No two days are the same.

I've been working on the Burrell Renaissance Project since April 2018. There are over 500 different separate graphic elements in the new displays, as well as a lot of digital content, and I have to check all of it. I joined the project after the main ideas about the redisplay had been agreed, so there were lots of things to get up to speed with about the object list and the layout of the new museum. It was a bit daunting at first but now I speak fluent 'Burrell'!

My first task was to review the proposed graphic types that were supplied by the third-party design company to make sure they would meet the museum's needs. Then I set up all of the content meetings, which had to happen gallery-by-gallery. One of the biggest challenges I've faced has been trying to stick with the key message, as usually there is plenty to say about any given object. Helpfully, curators write interpretation plans to figure out what they want to say in a display. These plans are very useful for checking that we are not going off on a tangent.

I spent many hot hours in the summer and autumn of 2018 locked in meetings with people from the wider content team – our specialist subject Curators, Learning & Access Curators and Research Managers – reviewing interpretation plans and comparing them to the draft text which had already been written, trying to whittle it down to fit the word counts. Some meetings were longer than others, as everyone has a lot to say about labels! We ate a lot of biscuits to help us cope.

In February 2019 the edited content was sent off to the designers so they could start creating graphics. Working closely with the Special Projects officer, who oversees the graphic production, I set up proofing meetings with the content team across the spring and summer of 2019 so we could proof and review everything once the artwork started to come back. Each separate pdf had to be checked and rechecked: narrative, dates, object numbers – every full stop and comma. I've just finished checking the revised proofs. Final tweaks are being made, and then I'll have one last chance to check them before they go to print.

Since the beginning of 2020 I have also been working on the new guidebook, alongside some other books for the Burrell's shop. I started by working out the production schedule, gathering costs and then submitting all the paperwork for review and project sign-off. Next I examined the object list for the guidebook, whittling it down from the suggestions made by the curatorial team, so that I can be satisfied there is a broad selection of exhibits. Currently the curators are looking at my edited version of the text to see what comments and queries have been raised. They'll let me know what they think via email so that I can create a 'final' version, after which it'll go to our in-house designer who will start designing the book. We are all working from home during the Coronavirus outbreak, and this task is perfect for that.

Recently I've also been working with Pollok Civic Realm, creating display cases of Burrell objects with three different community groups. I really enjoyed that process, because some of the things the community partners want to say about the objects are refreshing and different from the norm. Sometimes it's good to look at the objects from a non-expert viewpoint, as you see things anew, and there is no such as thing as a 'right' way to view something anyway. In the image below, I'm the one in the middle showing one of the groups images of objects they could use in their display case.

I'm really looking forward to seeing the museum reopen. It's been a huge part of my life for the last couple of years and watching it progress from ideas on paper to reality is very satisfying.