The Oak Room, designed by Charles Rennie Mackintosh in 1907 for Miss Cranston's Ingram Street Tearooms in Glasgow, has been painstakingly conserved and reassembled at the heart of V&A Dundee's Scottish Design Galleries.
Experts in Scotland have conserved and reassembled the Oak Room, one of Scotland's most important interiors, after it was stored in hundreds of pieces for almost 50 years by Glasgow City Council. The project has revealed Mackintosh's original 1907 tearoom design in warm dark-stained oak and richly coloured glass.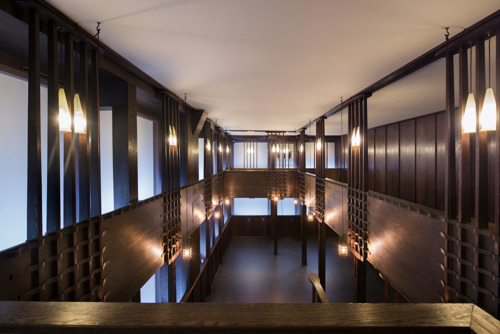 The Oak Room at V&A Dundee, 2018. Photo credit Glasgow Museums
The Oak Room is displayed at the heart of V&A Dundee's Scottish Design Galleries, a permanent display showcasing the significance and relevance of design with a particular focus on Scottish achievement.
V&A Dundee and Dundee City Council have been working in partnership with Glasgow Museums, who took the dis-assembled interior into Glasgow City Council's museum collections after it was rescued from destruction in 1971. The scale of this collaborative £1.3 million conservation and restoration project required the expertise of architects, curators, conservators and craftsmen in order to research, reassemble and display this historic interior for generations to come.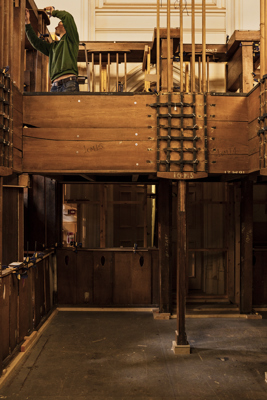 The first step before conserving and restoring the Oak Room to its original glory was to undertake an initial piecing together of the jigsaw. All surviving panels and parts were trial assembled onto a temporary structure so we could see the room as removed in 1971. Photo credit: Ross Fraser McLean
The Oak Room was the largest interior that Charles Rennie Mackintosh designed for Miss Cranston's Ingram Street Tearooms in Glasgow. The 13.5 metre (47 feet) long, double-height room, designed in 1907 and completed in 1908, is acknowledged as one of his key tearoom interiors. Mackintosh's experimental ideas in the Oak Room informed his design for the Glasgow School of Art Library, which was completed a year later in 1909.
The team of specialists involved in the conservation and restoration project have worked to return the interior to its original design. Visitors are now able to walk into and around the room and experience Mackintosh's brilliance at spatial arrangement and designing with light. The Oak Room will be unfurnished but illuminated with the electric light fittings Mackintosh originally intended.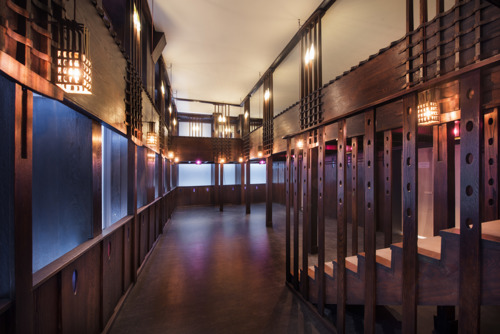 The Oak Room at V&A Dundee, 2018. Photo credit Glasgow Museums
The essence of the interior lies in the simplicity but sophistication of composition and sparing use of high quality handmade materials such as the jewel-like pink/purple mouth-blown glass – which contains gold to achieve its colour – placed very specifically to maximum effect in the wooden panelling and lampshades. While the interior design features high-quality details and craftsmanship, the majority of materials used to construct the interior were really quite ordinary and widely available at the time – Mackintosh's genius was in how he brought them all together to create his total work of art.
Glasgow entrepreneur and businesswoman Catherine Cranston opened her first tearoom, The Crown Luncheon Room, on Argyle Street, in 1878. As the Temperance movement gained in prominence and wealthy women began to have some degree of independence, tearooms became hugely popular. Cranston employed Mackintosh for the first time in 1896 to design three stencilled-mural schemes for her new Buchanan Street Tearooms. This established a highly successful creative and commercial relationship spanning 21 years across all four of her Glasgow city-centre tearooms. Between 1900 and 1912 Mackintosh designed and oversaw the fitting out of eight major interior spaces plus ancillary rooms for her steadily-growing Ingram Street Tearooms complex.
Following its completion for Miss Cranston's Ingram Street Tearooms in 1908, the Oak Room experienced several alterations and was painted over with an imitation wood-grain finish. It was last used as a tearoom in the early 1950s, and then until 1971 it functioned as a shop. About 90% of the original Mackintosh interior survived, consisting mainly of oak panelling, coloured glass inserts and some light fittings. The majority of its furniture and furnishings were lost over time.
When the tearoom interiors were removed from their original Ingram Street premises each room was numbered, each wall given a reference, and each piece of panelling coded sequentially. Plans and elevations of the most important rooms were drawn by Keppie Henderson architects to record how everything fitted together.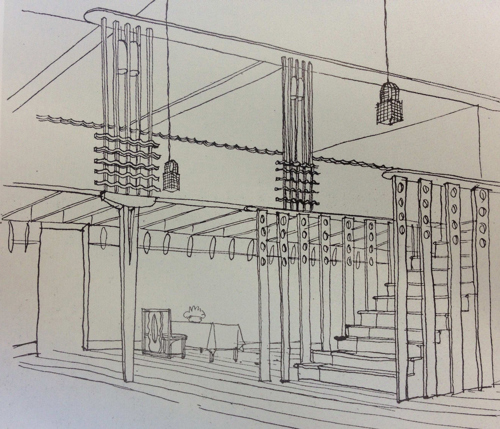 Sketch of the Oak Room by architect, Sir Hugh Casson. Published in 'The Architect and Building News', June 14 1935
In 2004-5, with the help of this information, Glasgow Museums quantified and documented all the surviving Oak Room panelling – some 700 original parts. That earlier developmental stage, funded by the Scottish Government, helped inform this more recent project work to reassemble, conserve and restore this breathtaking interior, which had been lost to public view for generations.
This collaborative partnership to bring the Oak Room back to life began in 2013 with a lot of research and careful planning by Glasgow Museums, V&A Dundee and Dundee City Council, resulting in the appointment of a team of conservation and restoration specialists. In order to display the interior the original footprint of the room had to be determined through a process of reassembly. The conservation team have added frames and supports where the outer walls of building would previously have stood, as well as adding modern lighting and ventilation.
The team at Charles Taylor Woodwork, supported by Smith & Garratt project management, re-assembled the wooden panels and mezzanine floor in a workshop in Dalkeith near Edinburgh for assessment. Black and white photographs, drawings from the 1970s and an archive code in paint on the back of the panels helped the team piece the giant three-dimensional jigsaw back together and work out the method for final assembly and display. The complex process took 16 months to arrange a total of 2,000 individual parts, including all the hidden supports replicating the building walls, floor and ceiling of its original location. The final installation at V&A Dundee was achieved without any modern structural interventions to the original wooden elements.
While the historic overpainting of the original panelling created a conservation challenge, it also revealed essential clues to how the interior fitted together, exposing key joins and overlaps in the wood. One of the key elements of the restored interior is the colour of the wood. The only original staining was revealed under a 1950s light switch, revealing a key trace of the final oak colour Mackintosh used in the scheme. This was recreated by a local Glasgow company after detailed analysis of the original wood and composition.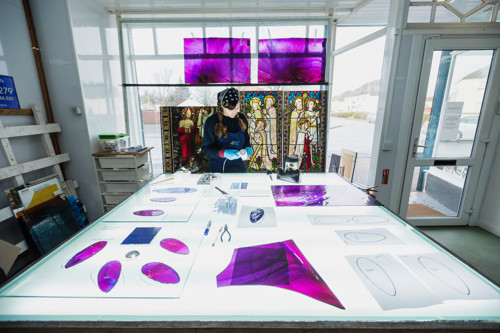 Rainbow Glass Studios in Prestwick undertook the conservation and restoration of the leaded-glass. They worked with specialist glass blowers, Lamberts Glass in Germany, to replicate the original pink and blue flashed glass used throughout the Oak Room. Photo credit: Ross Fraser McLean
Rainbow Glass Studio in Ayrshire undertook specialist glass conservation. Their work revealed that Mackintosh used eight different types of glass, and the highest quality glass available. In particular, the beautiful streaky pink/purple glass required the inclusion of gold to manufacture its effect. Using an original fragment from the room, experts in Germany at Lamberts Glass were able to replicate the original mouthblown, pink/purple glass. Though some glass inserts were damaged or missing, an impressive 80% of the original square and teardrop glass inserts in the wall panels have been retained.
Research undertaken for the restoration has revealed how exceptionally creative Mackintosh was with electric lighting in the Oak Room. His interior design incorporates three different lampshade designs, each placed with the intention of providing a specific quality of light and effect. Not all the original fittings survived. The display in V&A Dundee includes a combination of original and skilfully reproduced glass shades and brass lanterns. Only one original leaded-glass box-lantern partially survives in Glasgow's collection, but it provided significant evidence which has allowed the team to accurately re-create high quality replica lampshades to complete the interior.
Chair of Glasgow Life and Deputy Leader of Glasgow City Council, Councillor David McDonald, said:
The new Scottish Design Galleries at V&A Dundee provided a unique opportunity to showcase and celebrate the incredible legacy and creative genius of Glasgow's greatest cultural icon, Charles Rennie Mackintosh.

The intricate conservation and restoration of the Oak Room has been an exciting collaboration between Glasgow Museums, V&A Dundee, Dundee City Council and an excellent team of specialists, conservators, restorers and craftspeople. Over three years the team has pieced together a giant 13.5 metre long, three dimensional jigsaw, which has breathed new life into the largest interior of the Ingram Street Tearooms. The tearooms were dismantled in 1971 and transferred to Glasgow Museums' collection who cared for them until this long-term loan enabled the Oak Room to be so beautifully restored.

Mackintosh was meticulous, every single element had its place, so the finished interior was a complete work of art. We are in awe of the finished result, now on show to the world as the stunning new V&A Dundee opens. Visitors to the Oak Room can marvel at his exacting design and attention to detail, the more you look the more you see, that is his gift. It is incredibly important that we treasure and protect Mackintosh's legacy to allow future generations the opportunity to experience his spaces, his ideas and his brilliance.
Philip Long, Director of V&A Dundee, said:
The completed Oak Room is an outstanding highlight in our Scottish Design Galleries. This stunning interior, lost to the public for many years, has been brought back to life thanks to the collaboration between Glasgow Museums, Dundee City Council and V&A Dundee, as well as the skills of many experts.

The Oak Room beautifully demonstrates Mackintosh's inspiration from nature, as well as from Japanese art and design. It is fitting that this important interior by Mackintosh is now housed in an outstanding building by the Japanese architect Kengo Kuma, who has been greatly inspired by Mackintosh from his time as a student who visited Scotland to learn more about one of our nation's greatest designers.
Kengo Kuma, architect of V&A Dundee, said:
There is an aesthetic of simplicity and transparency that Mackintosh and Japanese culture have in common. His work taught me that transparency could be achieved in architecture using natural materials. In the Oak Room, people will feel his sensibility and respect for nature, and hopefully connect it with our design for V&A Dundee.
The conservation and restoration of the Oak Room is a collaboration between Glasgow Museums, V&A Dundee and Dundee City Council. The project is made possible by a long-term loan from the collections of Glasgow City Council, and funding from the Heritage Lottery Fund, Art Fund, Scottish Government and other donors.