Ageing Well Programme - Care Worker Training
Working with older people's groups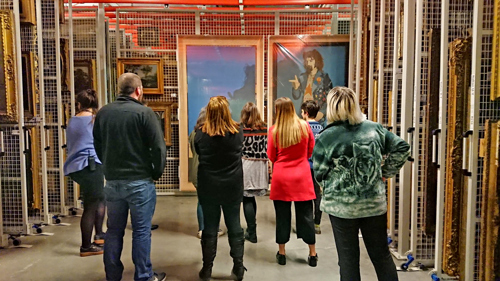 Care Worker Training
Would you like to know more about what Glasgow Museums can offer for older people's groups?
These training sessions are aimed at people working with older people's groups in Glasgow. The training is open to care staff, managers and volunteers and sessions are held throughout the year.
The visit will include a behind the scenes tour of Glasgow Museums Resource Centre, our museum store. This vast building contains rooms full of fantastic objects, from animals to armour, fine art to fossils, and much, much more.
We will also offer training on running reminiscence with your group and an induction to the Open Museum kit store, which will enable you to borrow our vast array of reminiscence and handling kits. (Please note only groups who work within the Glasgow City Council boundaries can borrow these kits)
The sessions will take place at:
Glasgow Museums Resource Centre
200 Woodhead Road
Nitshill
G53 7NN
Training dates are held regularly throughout the year. Please contact Diana Morton and Alicia Watson for more information and for future dates: diana.morton@glasgowlife.org.uk and alicia.watson@glasgowlife.org.uk
Resources for care workers
Leaflet - advice for group leaders 2022-23
Artist Elena Harris gives some top tips for running art activities for people with dementia. Watch it on YouTube
What's on in Glasgow?
Take a look at what's on across the city
Give feedback about this page