The Glasgow Repair Shop
Keeping a museum collection in good condition is what our conservation team does.
The success in recent years of TV programmes such as The Repair Shop and Money for Nothing, as well as movements like Make, Do and Mend have ignited an interest in how much-loved possessions and items are kept in good condition and cared for.
Keeping a museum collection in good condition is what our conservation team does. The work of our Paintings Conservator, Textile Conservators and Sculpture Conservator involves a lot of concentration and attention to detail. Here we take a look at some of Glasgow Museums' conservation stories. 
Christ of St John of the Cross
What are the processes involved in restoring and conserving one of the world's most iconic paintings? Salvador Dali's Christ of St John of the Cross was vandalised in 1961. It was restored and back on show only months later. This short film tells the story.
Duration: 6 minutes 30 seconds
Arms of Miro
This French/Flemish tapestry, Verdure with the Arms of Miro, depicts the coat of arms of the Miro family, with two angels holding a celestial sphere and a border with scrolls reading 'AQUI PAR FOY ET CHARITE ESPERE AU BON ENDROIT VERS LUI TOURNENT LES SPHERES' ('To he who places his hope in faith and charity, the spheres will turn favourably'.)
The tapestry would have spent many years of its existence on display in homes and galleries throughout the centuries before being bought by Sir William Burrell around 1932. Over this time you can imagine the build up of dirt!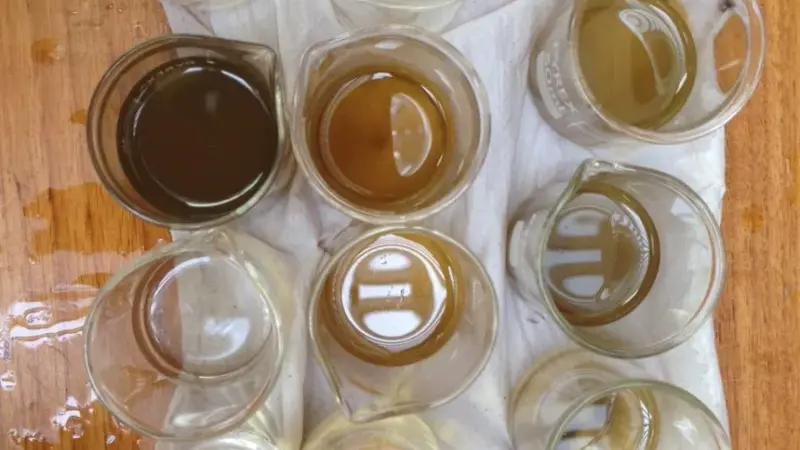 Samples of soiling release from the many cleaning and rinsing cycles.
Photograph © Staphany Cheng, University of Glasgow, 2017.
The removal of soiling improves a tapestry, making its colours brighter and the design more distinct. More importantly however, the removal of this soiling is crucial to extending the life of the tapestry, as it tends to be highly acidic, causing damage to the fibres and degrading a textile. So let's take a look at how this is done.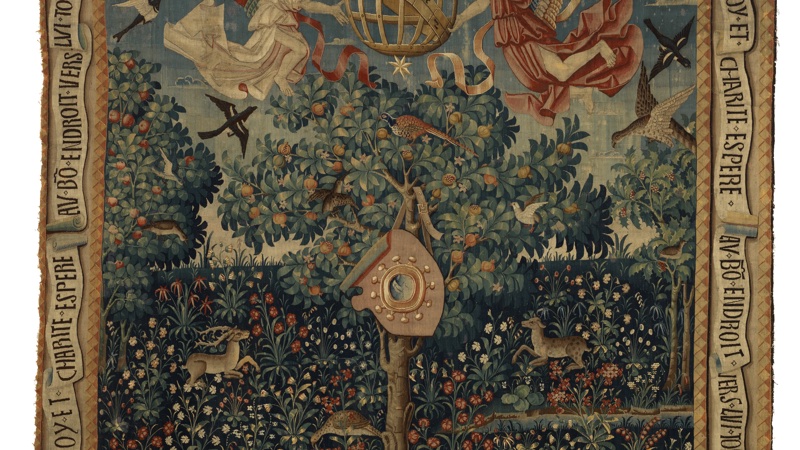 46.102, Tapestry, Landscape with the Arms of the Miro Family
Made in France or Flanders, Belgium, 1500-1525.
Gifted by Sir William and Lady Burrell to the City of Glasgow, 1944. © CSG CIC Glasgow Museums and Libraries Collections.
In order to clean tapestries, the conservation team will carry out wet cleaning. This includes sponging the tapestry while it is laid out on a large table. It must happen at the same rate and pressure to allow for an even cleaning. Naturally, the wetter a tapestry gets, the heavier and more fragile it will become, so great care must be taken as each section is moved around for cleaning.
Sooty soiling from centuries of wood smoke and coal fires covers many historic textiles and is not water soluble, so each tapestry can take a while to fully wet. Each section is dampended with soft water as it contains fewer minerals then sponged methodically with a non-ionic detergent solution, before rinsing again with soft water. The process allows yellowing compounds of age-related degradation, and the sooty particles to run off in the rinse water. Each cleaning cycle released soiling in different levels, as the bond between the soiling products and the textile was loosened through the chemical and mechanical actions of cleaning.
Give feedback about this page