Two Children Plus One
Bringing together two Scottish-based artists, Joan Eardley and Kate Downie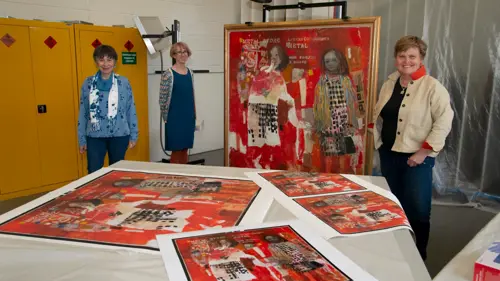 I begin to draw inside the print and suddenly we all gasp at how the dynamic in the work has utterly changed.
This project brings together two renowned Scottish-based artists, Joan Eardley (1921–63), whose centenary is being celebrated in 2021–22, and painter and printmaker Kate Downie (b. 1958), who has long acknowledged Eardley's creative influence. In her work, Downie has tackled similar themes to Eardley – child portraiture, the urban landscape, coastal terrain – and there is a sense of connection, an understanding in her artistic practice. 
Drawn to the possibilities left open by Eardley's Two Children (1962–63), found incomplete on the artist's easel at her death, Downie is creating a new artwork in which she proposes to 'finish' the painting in her own way. Making studies of local children, she attempts to get inside Eardley's head, responding to and reimagining the composition with its graffiti, found objects and unfinished figures.
This exhibition will take you with Downie as she documents her journey, generously sharing her insights and discoveries as she looks, thinks, draws and paints to better understand Eardley and this, her final ambitious canvas.
Jo Meacock, Curator of British Art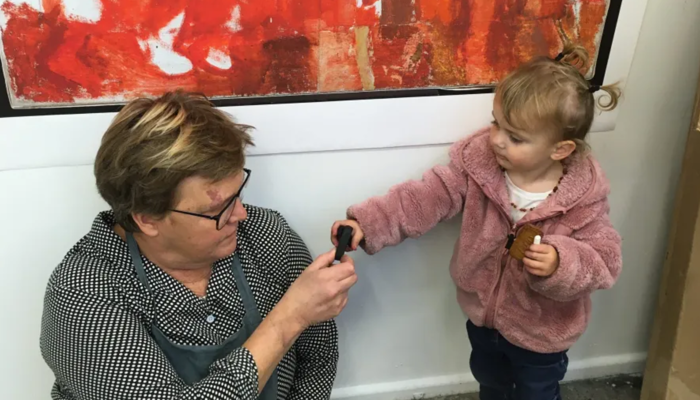 Biscuits, the price of posing. Kate and Aria. Photograph © Sally Cross 2021.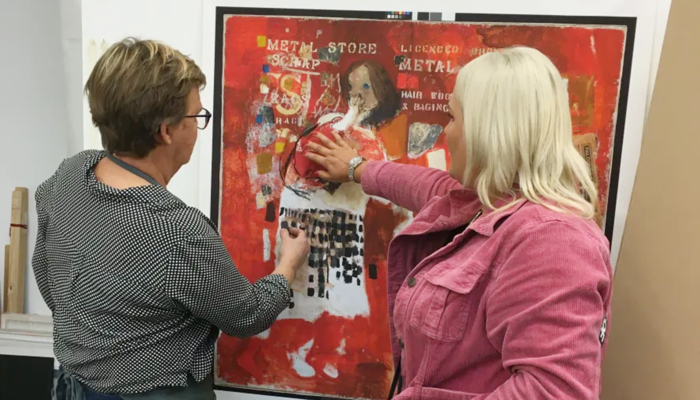 It's a Baby! Kate and Sarah. Photograph © Sally Cross 2021.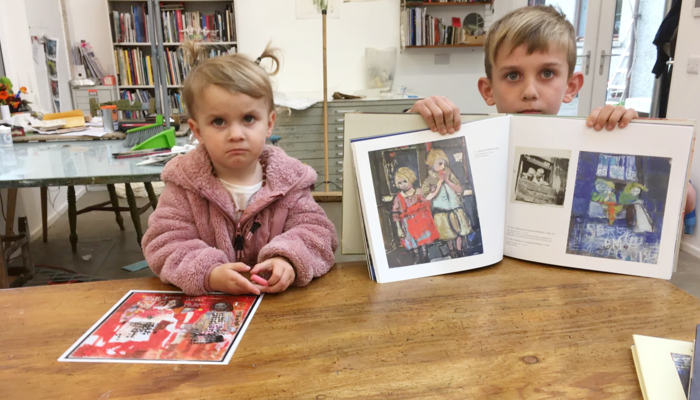 Introduced to Eardley's children. Aria and Levi. Photograph © Kate Downie 2021.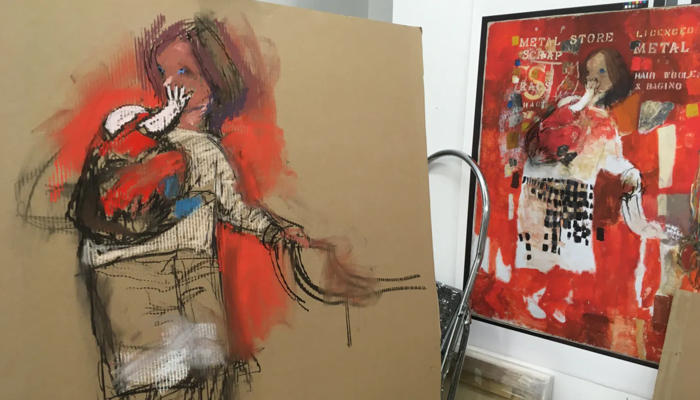 Kate Downie, Study of girl with baby and pram, October 2021, pastel on cardboard. © Kate Downie. Photograph © Kate Downie 2021.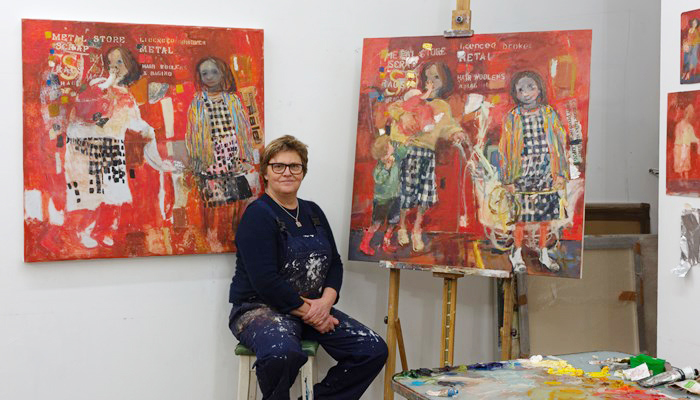 Kate Downie with finished piece
Birchtree Studios, Progress Report 1
My neighbours Aria, Levi and their mum Sarah Laing come to the studio. By chance, two Edinburgh friends, Dr Sally Cross and Prof. Ian Jackson, drop by at the same time. They know me, my work and, of course, Eardley's work, unlike Sarah and the children. 
We all drink tea/juice/biscuits and the children get familiar with the studio – I already know them quite well from our street, so they are relaxed in the space. They draw in chalks on my door, walls and cardboard on the floor!
The print on canvas of the painting gets unrolled and stapled to the wall. I spend quite a bit of time talking with Sarah about the role her children are invited to play in the process as interactive models. Levi's knees are endearingly grubby from playing out all morning – Sarah hasn't prepared the kids in any special way and is very comfortable in herself and relaxed and interested in the process – so accommodating.
We talk about the painting, the context, the Glasgow social and physical environment that Eardley worked in around the early 1960s. As we are talking, I am drawing in charcoal beside the print. Sally looks at that very small arm reaching to the mouth of the girl on the left and says, 'That a baby's arm', not the girl's.
Kate Downie, Sunday 24 October 2021
Give feedback about this page