A Marriage Bonded by Slavery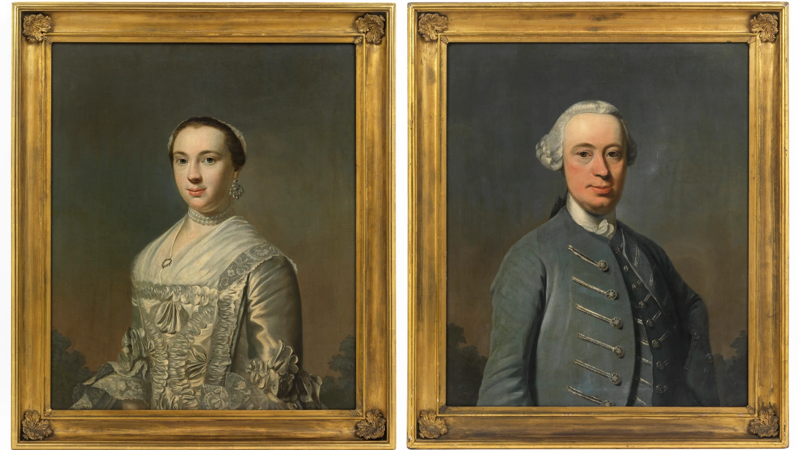 Ann Nesbit of Dean and John Glassford of Dougalston
Wedding portraits by Robert Harvie, 1752
PP.2016.38.2 and PP.2016.38.1
Images © CSG CIC Glasgow Museums Collection

22nd March 2017
Living with the consequences of our actions is a condition of life. Proof of this in a very positive way is that Glasgow Museums is still benefiting from the How Glasgow Flourished exhibition at Kelvingrove in 2014. The Friends of Glasgow Museums supported this exhibition, and in 2016 also gave us a grant to purchase two Georgian wedding portraits. These were painted in 1752 by Robert Harvie, and show John Glassford and his second wife, Ann Nesbit of Dean.
The well-known portrait of John Glassford and family in the People's Palace was painted between 1766 and 1767. But in 2000, work by conservators revealed it had once included Ann Nesbit. One year after Ann's death in 1766, John Glassford re-married, and Lady Margaret Mackenzie became his third wife.
Conservation analysis showed that Ann was painted over and Lady Margaret put in her place, so it is Margaret we see beside John today. Now we have a portrait of Ann in all her glory as John's new wife.
Like Glassford, the Nesbits of Dean, although based in Edinburgh, were also involved in the American tobacco and slavery trades. Glassford had his interests in Viriginia and Nisbets of Dean had their plantation in South Carolina (Dean Hall plantation). The family worked with John Deas, originally from Leith, to buy their enslaved people.
The union of Glassford and Nisbet was not only a love match but also a union of business and colonial interests bonded by the tobacco's trade's reliance on enslaved labour.
Dr Anthony Lewis
Curator of Scottish History
Give feedback about this page