Ann Stirling's Dress
Published: 28th September 2021
This charming dress represents not only a product of enslaved labour, but also the wealth of those involved in the slavery economy and their extended families. The gown is made from muslin, a finely woven cotton cloth, and has been delicately embroidered in white cotton thread with wheat ears motifs worked in satin stitch. The silhouette, with its wide collar, gigot sleeves and frill skirt reflects a growing Romanticism in dress as styles move away from the slim neoclassical silhouette of the earliest decades of the nineteenth-century.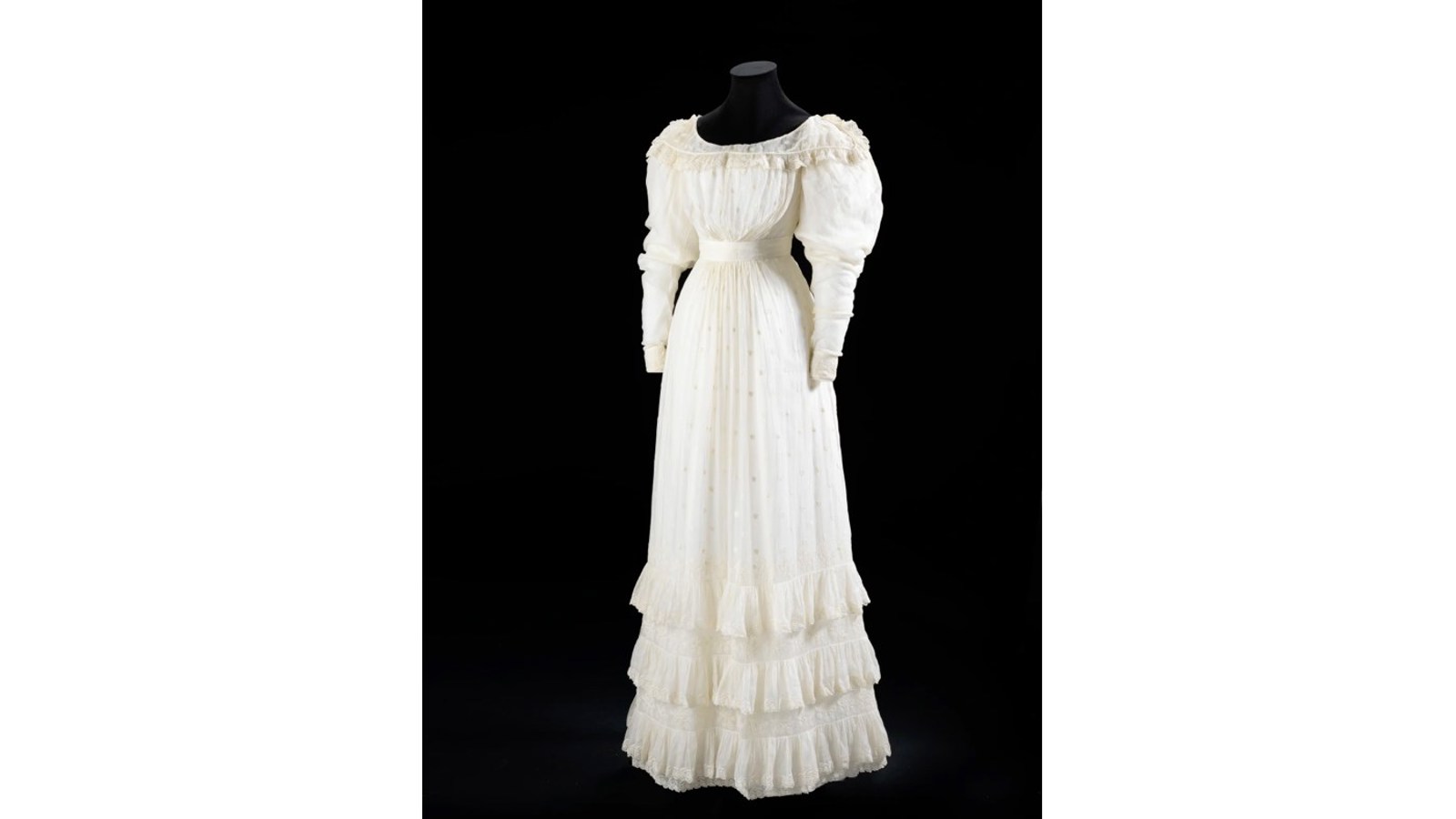 While it is not possible to trace the specific provenance of the fine muslin, the raw cotton-wool most likely came from a plantation in the Caribbean or southern states of America, having been grown and harvested by enslaved men, women and children. Once it arrived in the Clyde ports the raw cotton was purchased by one of the over 100 mills in Glasgow and surrounding area and spun into fine yarns for weaving into cloth, which in turn was flower'd by local embroiderers and made up for the wives and daughters of wealthy Scots to wear.
In this case the wearer of the dress was Ann Stirling, who had married Ludovic Houston of Johnstone Castle, Renfrewshire, in 1809. Her husband's father, George, was a founding partner in the cotton mills in Johnstone, which had enabled her marital family to profit from the burgeoning cotton industry alongside other interests.  
Ann was also the eldest daughter of John Stirling, 6th of Kippendavie and his wife, Mary Graham. Her father's family were West India merchants who owned the Content estate in St James, Jamaica. John Stirling, whose portrait by Sir Henry Raeburn with Ann's youngest sister, Jean Wilhelmina, now hangs at Fyvie Castle, Aberdeenshire, inherited the plantation after the death of his older brother, Patrick, in 1777. Stirling became a wealthy man leaving on his death in 1816 an estate worth £146,063. This included £57,396 invested in the West India company, Stirling, Gordon and Co. (previously Somerville, Gordon and Co.), which traded in rum and sugar. This interest was passed to two of John's sons, William and Charles, along with the Content plantation. By 1817 the brothers had acquired the Equity plantation, which was also in Jamaica.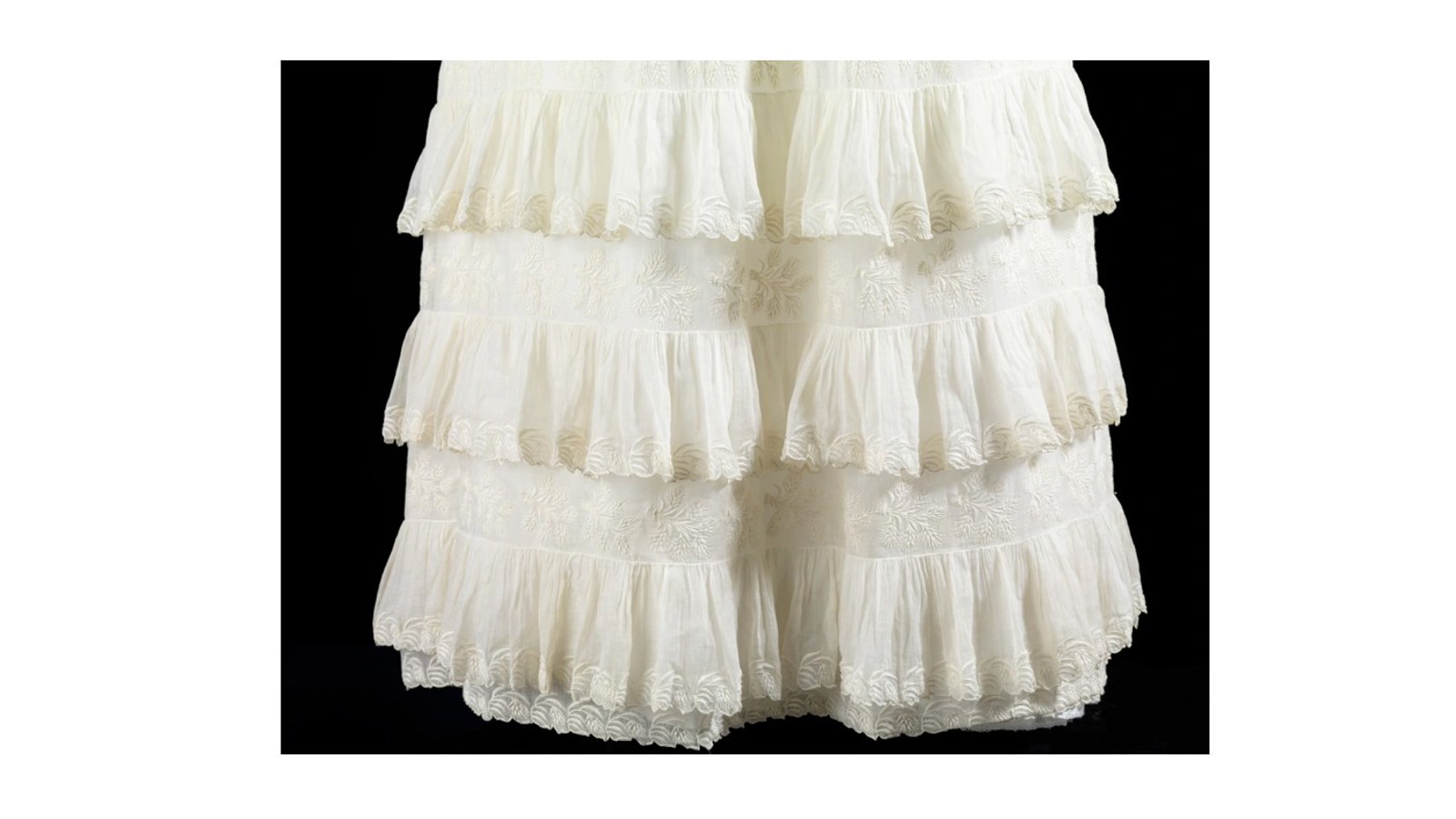 When Ann wore this muslin dress in 1826, her brothers, William and Charles, were listed in the Almanac as owners of 339 enslaved people on Content and 80 enslaved people on Equity. Slavery was finally abolished throughout the British Empire in 1833, but the Slave Compensation Act of 1837 allowed previous owners to put in claims for compensation for their loses. Ann's brothers put in six. The largest one they received was £6,671 10s 3d as the joint owners of 321 enslaved people on Content along with an additional £122 15s 6d on behalf of William's wife for the 4 enslaved people she had owned. They also received a share as joint mortgagees or judgement creditors of three other claims for the Rock Spring and Blue Hole Estates. In total £20 million was paid by British taxpayers, with approximately £10 million remaining in the United Kingdom. 
Rebecca Quinton
Research Manager (Art)
Give feedback about this page