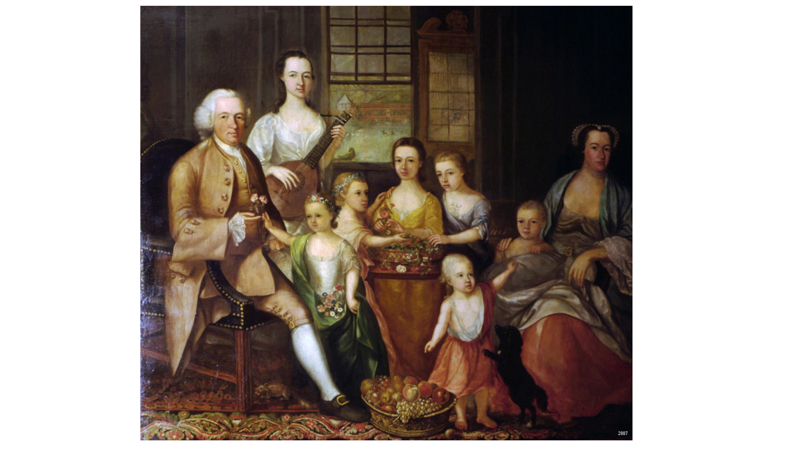 Painting entitled 'John Glassford and his Family' by Archibald McLauchlan, dating from about 1767
2887
Images © CSG CIC Glasgow Museums Collection
28th March 2017
The portrait of John Glassford and family in the People's Palace Museum in Glasgow is the most famous portrait of one the city's most successful tobacco merchants. It also attracts attention because of the rare image of the Glassford's enslaved black boy.
Glasgow Museums has never attempted to cover him up, but without knowing more about him what should he be called? What should similar boys found represented in the collections be called? The Glassford portrait is not the only representation of an enslaved black boy in the museum collections. Other examples are Jan Wijnant's painting of the late 1600s showing a couple being protected by a boy carrying an umbrella, an early 1700s English embroidered panel showing a boy carrying a lady's dress, and a Wedgewood teapot from the 1780s showing a boy attending a couple. Two prints by William Hogarth also show black boys in a domestic setting. There is also a silver collar, probably for an enslaved person belonging to John Crawfurd of Milton, alias Sir John Stewart of Castlemilk.
What were the terms used to refer to enslaved people at the time when the Glassford portrait was painted, between 1764 and 1768? Newspaper stories and advertisements for enslaved people give some indications, as do archives of correspondence. The Caledonian Mercury newspaper gives stories about black and 'mulatto' boys and information about their origins – 'negro' (African, American and Caribbean), 'American Indian' and 'Indian' being the most common. Almost all the enslaved are teenage boys, and have been dressed in European clothes. These clothes, and their physical features are described in the papers so that they could be recognized, apprehended and returned to their masters. In this respect, the clothes that the Glassfords' boy wore are typical. The boys often had Anglicized, place names or classical names.
The Caledonian Mercury gave regular reports on runaway enslaved people. On 24 November 1764, a 'black boy' called Bacchus, ran from Mrs Blair in Dickson's Close, Edinburgh. He had short hair and a green coat. On 13 August 1766 the paper advertised for the return of Bob, a 'North American Indian Boy' who had strayed from his master in Glasgow. On 4 July 1767 a 'mulatto boy' called John Cooper, fluent in English and French, escaped from David Seton's Register Office in Edinburgh. On 8 June 1768 the 'negro slave' called London was reported to have escaped.
Describing and classifying objects in the collection that include representations of enslaved black boys, even when we do not know their birth or enslaved names, ensures that their presence is recorded.
Dr Anthony Lewis
Curator of Scottish History
Give feedback about this page