How Glasgow Flourished 1714-1837 - Exhibition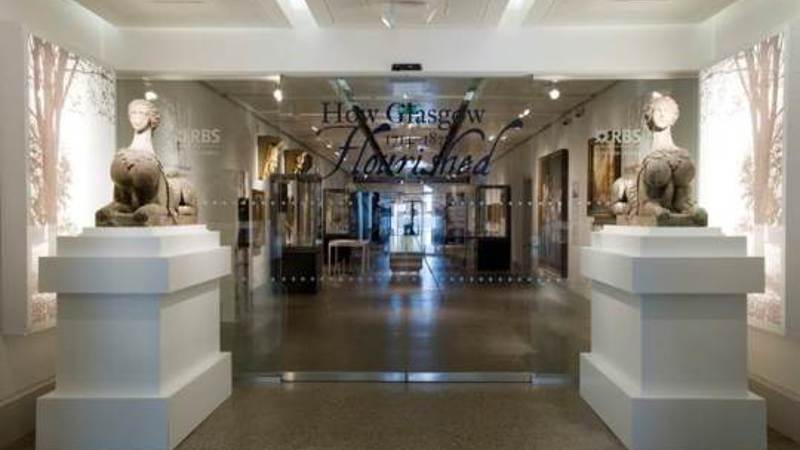 View of the entrance to the 'How Glasgow Flourished' exhibition, 2014
Images © CSG CIC Glasgow Museums Collection
14th August 2018
In the summer of 2014, when Glasgow played host to the Commonwealth Games, Kelvingrove Art Gallery and Museum held a special exhibition called How Glasgow Flourished, 1714 – 1837. This endorsed Glasgow Museum's commitment to displaying objects and stories about the city's historic links with transatlantic chattel slavery in America and the West Indies.
The central core of the exhibition was about the way Glasgow's businessmen worked. This included a display on slavery and cheap labour, as this was a vital ingredient of their success. A variety of objects were displayed, including a textile and a ceramic teapot both showing slave boys and archives from the Mitchell Library showing a Caribbean plantation house, a letter book from India and a form awarding freedom. The exhibition attracted 60,000 people and the accompanying book, Introducing Georgian Glasgow (ISBN: 9781908638069), provided a lasting legacy.
Another display about slavery followed two years later. While How Glasgow Flourished was a temporary exhibition, what was installed in in Kelvingrove's 'Glasgow Stories' gallery was intended as a long-term display. Here there is a small collection of objects which carry the message about Glasgow's part in slavery in the 1700s when the so-called Tobacco Lords ran the city's affairs. A Robert Harvie portrait of Lord Provost Arthur Connell, a textile once belonging to the Campbell family who owned Jamaican sugar plantations, with a sugar bowl, snuff box and trade token complement objects relating to Glasgow itself, including  a map and prints of views of the city and one of its mansions in its New Town. Slavery generated the wealth which these businessmen then spent on their property and lavish lifestyles.
Dr Anthony Lewis
Curator of Scottish History
Give feedback about this page