Jamie Montgomery, Runaway Slave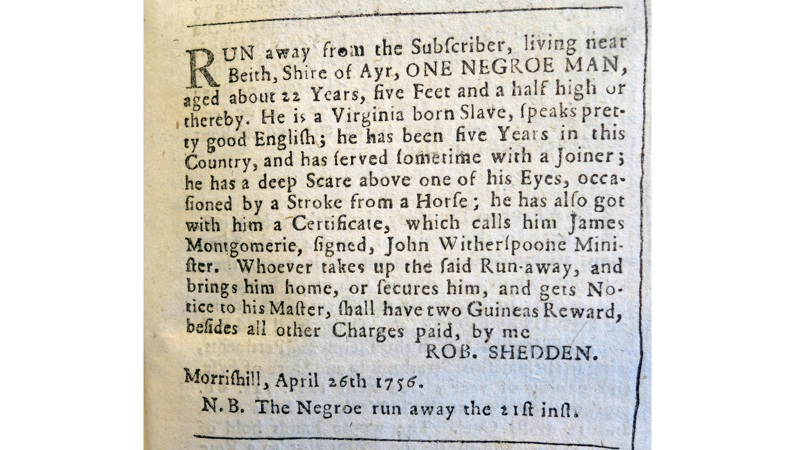 'Run away'
newspaper advert
Glasgow Courant, 3-10 May 1756, page 3. © National Library of Scotland
14th August 2018
In 1750 a Scottish merchant in Virginia named Robert Shedden purchased an enslaved boy named Jamie for £56. Two years later Shedden sent the young boy back to Scotland where he would be apprenticed to Shedden's brother-in-law, a carpenter named Robert Morrice who lived in Shedden's home town of Beith, Ayrshire. Shedden intended to profit by this, for he would eventually have Jamie sent back to Virginia and sold as a valuable carpenter.
What was Jamie's life like in Beith? He had grown up amongst enslaved Africans and their descendants in Virginia's tobacco plantations, and life away from family and friends in Ayrshire must have been difficult. Yet we know that he integrated himself into the community, at least in some ways, for he was baptised by Rev. John Witherspoon, a man who would himself eventually migrate to America, sign the Declaration of Independence, and himself own slaves. Furthermore, Jamie took on the surname Montgomery, a not uncommon name in Beith. It was the maiden name of Elizabeth Witherspoon, the minister's young wife, and for all we know her kindness to Jamie may have encouraged him to elevate himself above slaves who were denied surnames.
A couple of years into Jamie's apprenticeship Robert Shedden returned. He may have been unhappy to find Jamie growing into manhood and manifesting an increasing sense of his own rights, for Shedden removed Jamie from Morrice's workshop and set him to menial physical labour, while planning to send him back to Virginia and sell him back into plantation slavery. Jamie would later testify in court that Shedden and several other men woke him one night, tied his hands and led him along back roads to Port Glasgow in order to place him on a ship bound for Virginia. But Jamie escaped, causing Shedden to place this advertisement.
Jamie made his way to Edinburgh and secured employment as a carpenter in Edinburgh, but the large reward offered by Shedden was too tempting and an officer of the Baillie Court arrested him and incarcerated him in the Tolbooth.
A court case followed, and Jamie was one of a number of runaway slaves revealed in runaway advertisements to have become Christians. Shedden asserted in court that Montgomery had 'got it into his Head, that by being baptized he would become free'. Shedden was all too well aware of the dangerous 'Fancies of Freedom which it might instill into his Slave.' Unfortunately Jamie perished in the Tolbooth before the case was resolved, but a manuscript note added to some of the Sheddan v Montgomery court documentation recorded that 'it seemed to be the Opinion of the Lords, that he [the enslaved man Jamie Montgomery] ought to go back to his Master.'
When torn from his family and community Jamie was only a boy, yet it appears that he was one of the enslaved people brought to Scotland who preferred the possibility of living and working as a freeman than returning to the colonies as a slave.
Professor Simon P. Newman
History, School of Humanities, University of Glasgow
Give feedback about this page