John Glassford's Art Collection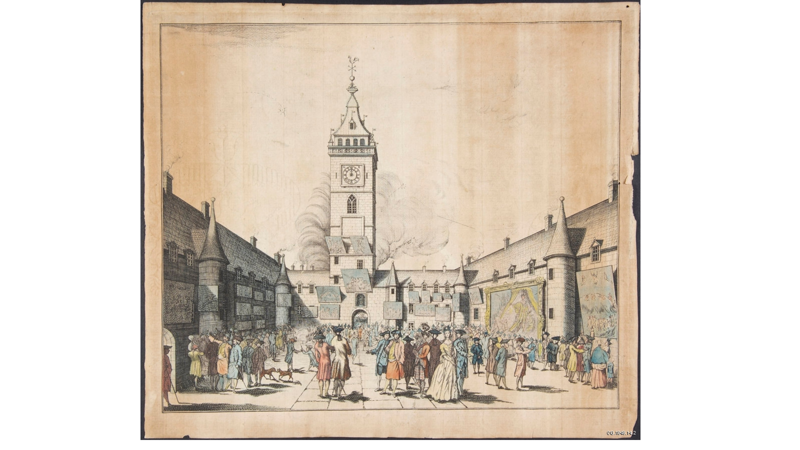 An exhibition at the Foulis Academy
OG.1948.14.2
Images © CSG CIC Glasgow Museums Collection
1st March 2019
John Glassford of Dougalston (1715 -1783) is famed for his success as a businessman, but few people know about his art collection. It was sold at auction at Christies on 23rd December 1786. The auction catalogue lists 139 paintings for sale. The collection was mostly made up of British, Dutch and French artists but there were also a few Italian paintings. He had three works by Jan Breughel the Elder, one by Canaletto, one by Dürer, three by Van Dyck, one by Gainsborough, one by Guido Reni, three by Rubens and three by Watteau. Glassford was one of the leading art collectors in Glasgow and his love of art can be seen in the finance he provided for the Foulis Academy, the city's pioneering art school. This finance of course came from Glassford's interests in the slave economy.
Glassford's art collection was intended to show him as a man of taste and business. The paintings represented countries and cities he knew through business. The Glassford Dutch art collection of Rubens, Breughel and van Dyck may have been a source of inspiration not only for scenes of waterways, and wealthy merchants, but also through an interest in the way fortunes were made through trade and slavery. The theme of business, transport and shipping appears in Bredael's Views of the River Scheldt, Jan Griffier I's Views on the Rhyne, and Luca van Uden's A View in Flanders. The same rationale could apply to Glassford's paintings depicting London and the Thames. These included George Barret's Lambeth Palaceand Buckingham Stairs, Samuel Scott's View of Westminster Bridgeand Richard Wilson's View on the Thames.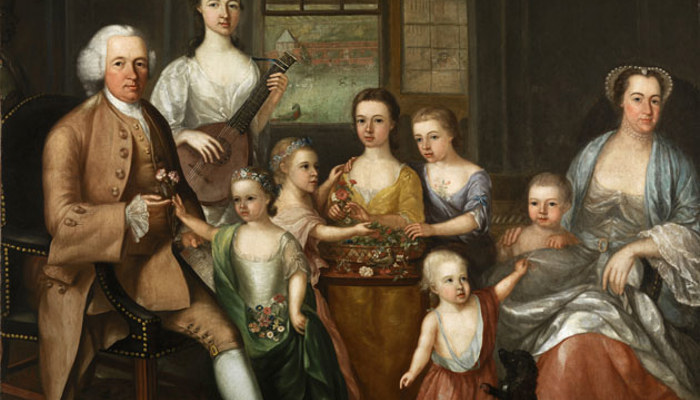 The Glassford Family portrait. Glasgow Museums, 2887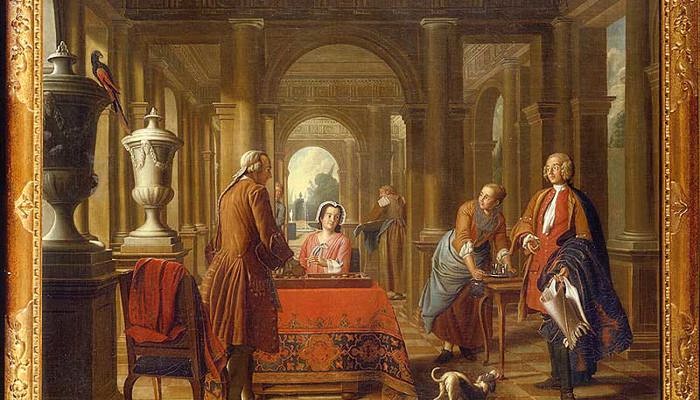 Conversation Piece by Peter J. Horemans. Private collection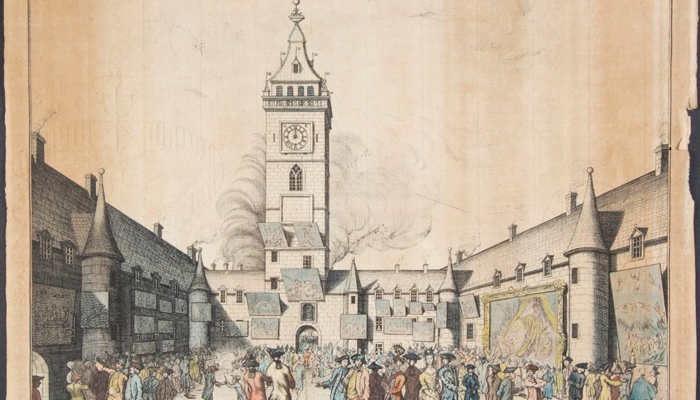 An exhibition at the Foulis Academy, Glasgow Museums OG.1948.14.2
None of Glassford's paintings listed in the auction are in Glasgow Museums' collection. The most famous Glassford painting, which was not listed among the works for sale, is the family portrait. Some details that have been included in this painting provide symbols relating to his family and business life. The squirrel playing beneath Glassford's feet represents industriousness, the flowers indicate love and the musical instruments symbolise harmony and education. But what of the parrot sitting on the window ledge?
This bird complements the enslaved boy servant standing behind Glassford as a symbol of his West Indies interests. Exotic birds and animals were often sent back to Scotland as gifts. The aptly named, Edward Burd, merchant of Leith, received letters from his acquaintance Alexander Mountier about his journey to Jamaica and life there from 1729 to 1736.  He assured Burd that the parrot he sent him as a gift had safely arrived in Glasgow. In 1733 he sent another, 'exceedingly pretty green' parrot. It spoke Spanish 'dextrously' and would be the 'beautifullest parrot in Edinburgh'. Another painting in Glassford's collection, A Pair of Conversations by Peter J. Horemans, also showed a parrot. The bird rests on a classical urn whilst two men meet.  The scene is set in a building designed in a classical style. One man stands by his banking table whilst the other man introduces himself or petitions. The subject of banking, petitions and receptions in the house would have been very familiar to John Glassford the banker, slave and parrot owner.
Dr Anthony Lewis,
Curator of Scottish History
Give feedback about this page