John Robertson: Cash for a Cashier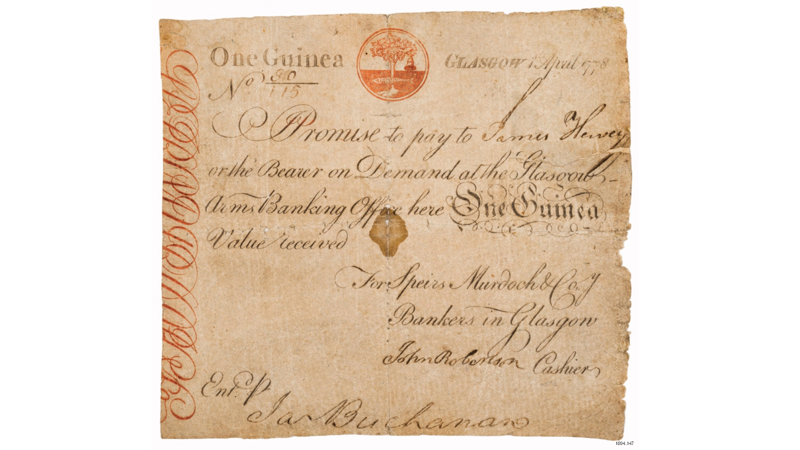 Guinea bank note issued by the Glasgow Arms Banking Company, 1778
1894.147
Images © CSG CIC Glasgow Museums Collection
5th May 2020
As seen by his signature on this guinea bank note in Glasgow Museums' collection John Robertson was the Cashier for the Glasgow Arms Banking Office in 1778. The Glasgow Arms Bank was originally established as Cochran Murdoch & Co. in 1750, changing to Speirs, Murdoch & Co in 1763. It later became Murdoch, Robertson & Co a few years after this bank note was issued when John Robertson became a partner in the firm. In 1793 the bank was one of several that failed due to the impact of the French Revolutionary Wars on British interests.
John Robertson and his brothers, William and James, were Glaswegian merchants who helped finance several of the emerging industries in the city during the late 1700s. Their initial family wealth came from the Smithfield Iron Co. located near the River Kelvin, which was founded in 1734. By the time John and William were managing the company it was not only producing goods for the growing city and surrounding area, but was also exporting to the British colonies, including casks of nails to the West Indies. John Robertson was able to re-invest the profits of Smithfield not only back into the ironworks, but also into the burgeoning textile industry with David Dale receiving financial support for his mills in Spinningdale, Sutherland, and George Macintosh for his Cudbear Co., Glasgow.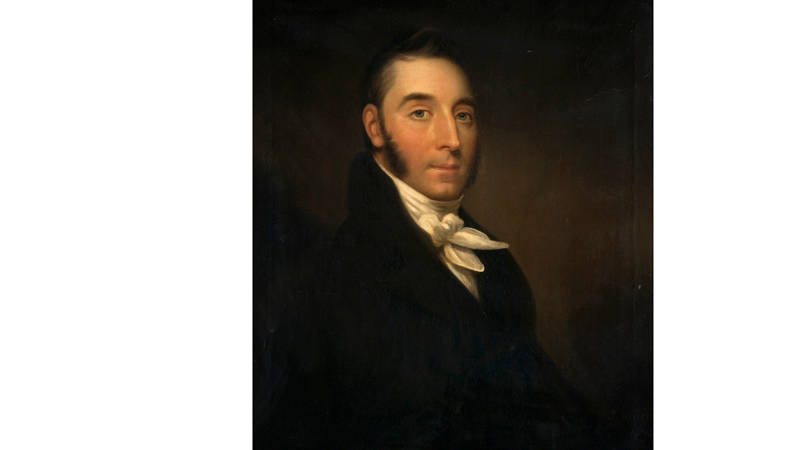 John Moir, John M Robertson, 1815
1431
Images © CSG CIC Glasgow Museums Collection
However, John Robertson was also involved with Glasgow's colonial interests in the Caribbean. He and his brother, William, were investors in Robert Mackay and Co., West India merchants, a partnership that owned the Heywood Hall Estate in Jamaica. This plantation focused on growing sugar using enslaved Africans and their descendants. The harvest sugar and its product, rum, was imported by the firm through Greenock and Glasgow.
John was more directly complicit in the slave economy as the co-partner with Cecilia Douglas in the Mount Pleasant plantation on St Vincent. When the British government passed the Slave Emancipation Act in 1833, which freed all enslaved people across the British colonies, the plantation owners were granted compensation for their losses. John Robertson and his son, John Murdoch, received £3013 12s 7d as their share of 231 enslaved people. The freed men, women and children received no compensation.
Rebecca Quinton,
Research Manager (Art)
Give feedback about this page