Learning about Slavery, Past and Present
5th November 2018
Glasgow Museums provides a comprehensive curriculum-linked programme for nursery, primary and secondary school groups delivered across nine venues. Based on the museums' vast collection and encouraging learning through exploring original artefacts and buildings, over one hundred different facilitated sessions are available.
In 2015 we started developing two workshops focusing on the topic of slavery and its connection with the city of Glasgow. We were aware of teachers including this topic in their lesson plans and could see that with Glasgow Museums' buildings and collections we could deliver workshops in an accurate and unbiased way that could have a great impact.
Aimed at Primary 6/7 and Secondary 1-3, these workshops now take place at the People's Palace and the Gallery of Modern Art (GoMA) and focus on the role Glasgow played during the transatlantic slave trade and how its legacy is still very visible nowadays in the shape of buildings like GoMA, which was once home to William Cunninghame, a prominent figure in Glasgow's 18th century slave economy. Encompassing social studies as well as history, modern studies, Religious, Moral and Philosophical Studies and citizenship, the two workshops also address the aftermath of the historic slave trade and raise awareness of contemporary slavery.
Learning about Slavery, Past and Present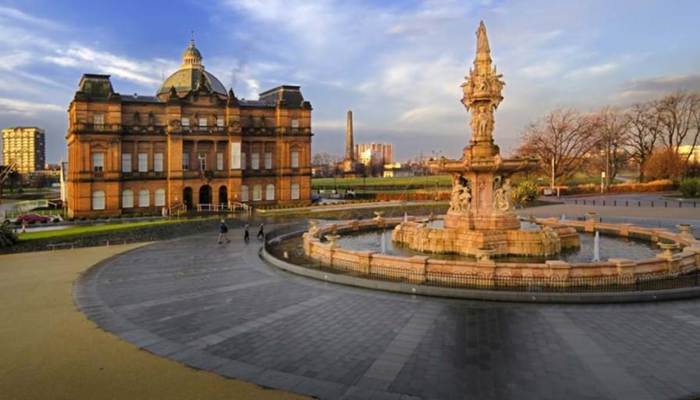 The People's Palace, Glasgow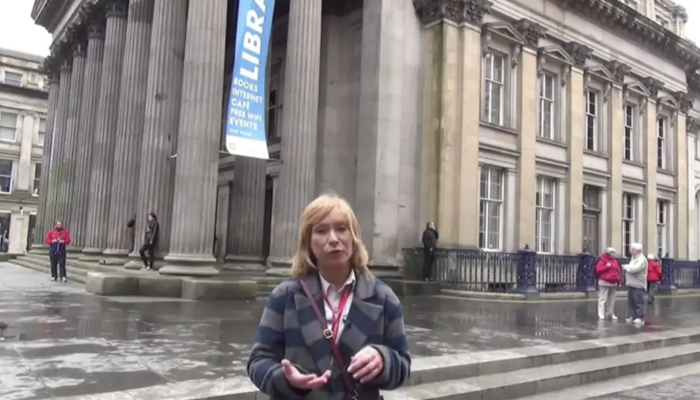 Image from a video of the walking tour between People's Palace and the Gallery of Modern Art
The session at the People's Palace supports young people to see Glasgow's historic connections to the slave trade, gain a deeper understanding of slave owners and learn about Glasgow's role as the second city of the empire. Practical elements include discovering the enslaved person in the Glassford family portrait and investigating the cash crops of cotton, sugar, coffee and tea in the adjacent Winter Gardens. We also raise  the question of whether we can be sure that the supply chain in what we consume nowadays is free from slavery.
The session at GoMA on the other hand begins by introducing the history of the building and then explores how contemporary art can address human rights violations. Young people will then have the opportunity to respond creatively to the topic of slavery and other humanitarian crises around the world using mixed media. A self-led walking tour resource linking the two venues is also available for classes. Crossing the Merchant City on foot the pupils are able to see how the city's architecture and street names are connected to the Transatlantic slave trade and the merchants who made their wealth from it.
As well as running the workshops for young people we also run Continuous Professional Development sessions for teachers to provide support in how to teach difficult topics such as slavery and to raise awareness that museums can provide valuable support to enhance classroom teaching on the subject.
Anna Lehr,
Learning & Access Curator
Give feedback about this page