Robert Nutter Campbell, country gent and owner of enslaved people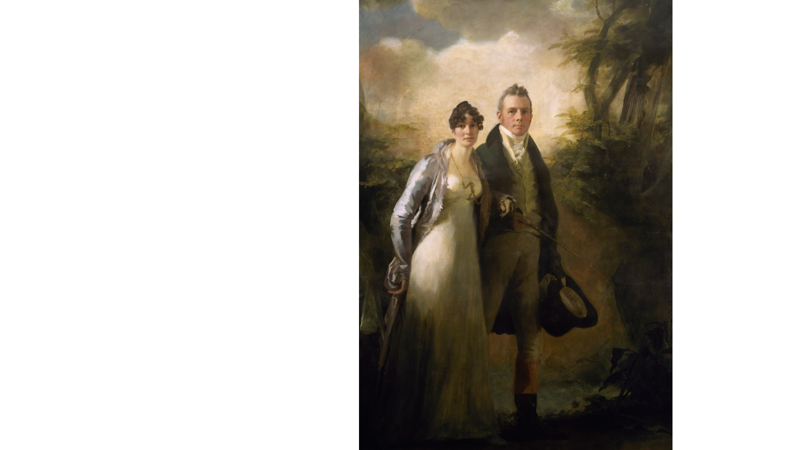 'Mr and Mrs Robert N Campbell of Kailzie' by Sir Henry Raeburn
1594
Images © CSG CIC Glasgow Museums Collection
12th August 2020
In Kelvingrove Art Gallery and Museum hangs Sir Henry Raeburn's enormous double portrait of Robert Nutter Campbell and his wife, Margaret Montgomery. Mr and Mrs Campbell tower over the other museum exhibits in the gallery – the sheer scale of Raeburn's painting, the glow of the sunlight reflected in the couple's elegant clothes and their intense gazes were meant to make you take notice.
The portrait depicts Robert and Margaret at their Peebleshire estate of Kailzie around 1805. This was a crucial time in their lives as they were in the middle of a substantial programme of improvements and building works and keen to portray themselves as refined members of the landed gentry. Raeburn was the obvious choice, being the go-to portrait painter of politicians, judges and landowners alike. Indeed, Raeburn produced at least eight portraits of the extended Campbell family, including the two shown here, all of which are in Glasgow Museums' collections.
Robert bought Kailzie estate in 1794. His father Mungo, a wealthy plantation owner who had returned from the West Indies to retire in style, died the same year and from him Robert inherited the nearby Hundleshope estate. Now a considerable landowner, Robert embarked on a project that would last some 20 years and which eventually contributed to his financial ruin.
In 1803, on the banks of the River Tweed, he built a new mansion house and three lodges. He added game larders, coach houses with granaries above, three horse stables, a brewhouse, a slaughterhouse, dog kennels and workers' accommodation, all set in extensive parkland overlooking the Tweed valley. He built a saw mill and a corn mill with a mill house, as well as a large walled garden and a house for his gardener. Inside the walled garden were fruit trees and heated greenhouses for grapevines and peach trees. By the time he was done Kailzie had all the hallmarks of a wealthy gentleman's country estate and a contemporary writer commented on 'the considerable expenditure both of taste and money' that had gone into developing the property.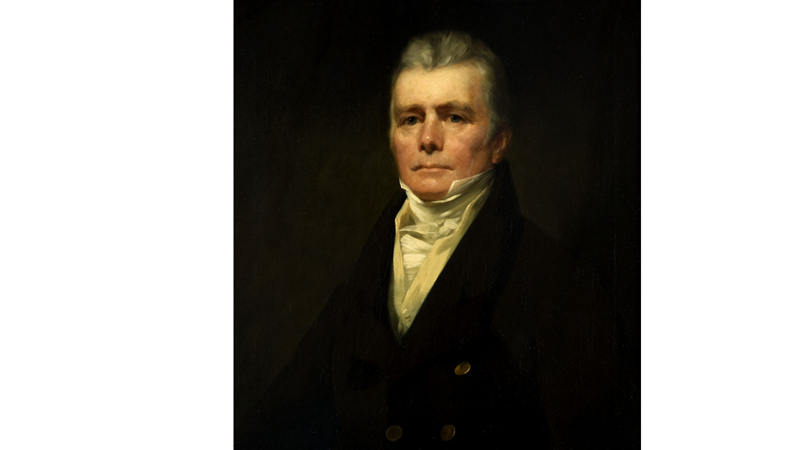 'Robert N Campbell of Kailzie' by Sir Henry Raeburn
1424
Images © CSG CIC Glasgow Museums Collection
What Robert's portraits don't tell us is where the money that paid for all of this came from. In addition to the considerable wealth his father had amassed from slave plantations in the Caribbean, some of which Robert had inherited, Robert had a slave plantation of his own, the Carriere estate on the east coast of Grenada. Unlike his father; his brother Alexander and several members of the wider Campbell family who had spent time on their West Indian properties, it is uncertain whether Robert ever set foot there. He employed an 'attorney' to manage Carriere on his behalf while he reaped the benefits at home in Scotland.
Lists of enslaved people in Grenada compiled between 1817 and 1834 record a small amount of information about the people Robert owned – the name they were given, their presumed age and any illness or physical impairment they may have had. Among them were men, women and children of all ages from 70-year old Abel to 2-week old Polly Creole. One man was named Kailzie after Robert's Scottish estate. The 61 children born between 1818 and 1834 to enslaved mothers on Carriere estate automatically became Robert's property at birth. They were born into a life of slavery, although many died young. Old Abel died in 1825, aged 77, from 'Old Age and Insanity' but for the other adults who died at Carriere life expectancy was considerably less. It was profits from the unfree labour of these 232 people and hundreds more like them across the Campbell family's West Indian property portfolio that funded the privileged lifestyle of Robert and Margaret back home in Peebleshire.
By 1830 Robert had got into financial trouble and three relatives took charge of his affairs. Robert and Margaret moved out of Kailzie House and into the home farm, and in 1841 Kailzie estate was eventually sold. They retired to their Edinburgh town house where they spent the remainder of their days, dying in 1845 and 1852 respectively. The legacies of Robert's slavery fortune may be difficult to quantify today, but the two Raeburn portraits of him surely are among the most tangible and poignant ones.
Katinka Stentoft Dalglish,
Curator of Archaeology
Give feedback about this page