Sir William Burrell's Stained Glass
Published: 21st October 2020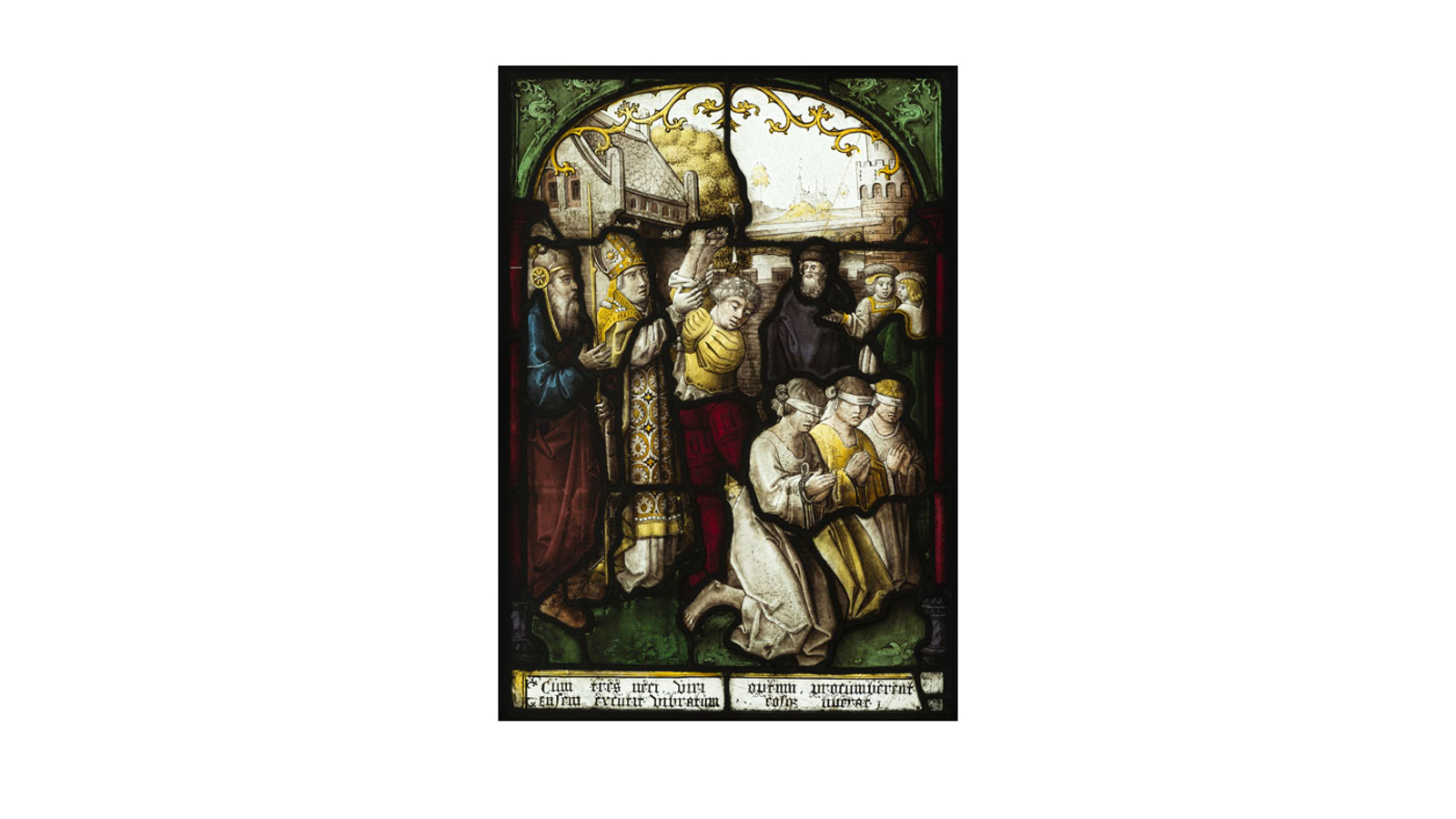 In September 1945 Sir William Burrell purchased three stained-glass panels from the dealer William Drake. The first shows St Nicholas, the Bishop of Myra (c 270 -343AD), dressed in his bishop's regalia, stopping an executioner from beheading three kneeling military officers who had been falsely accused and sentenced to death. The second is a roundel with decoration in a technique known as grisaille – where lines and cross-hatching were used instead of coloured glass.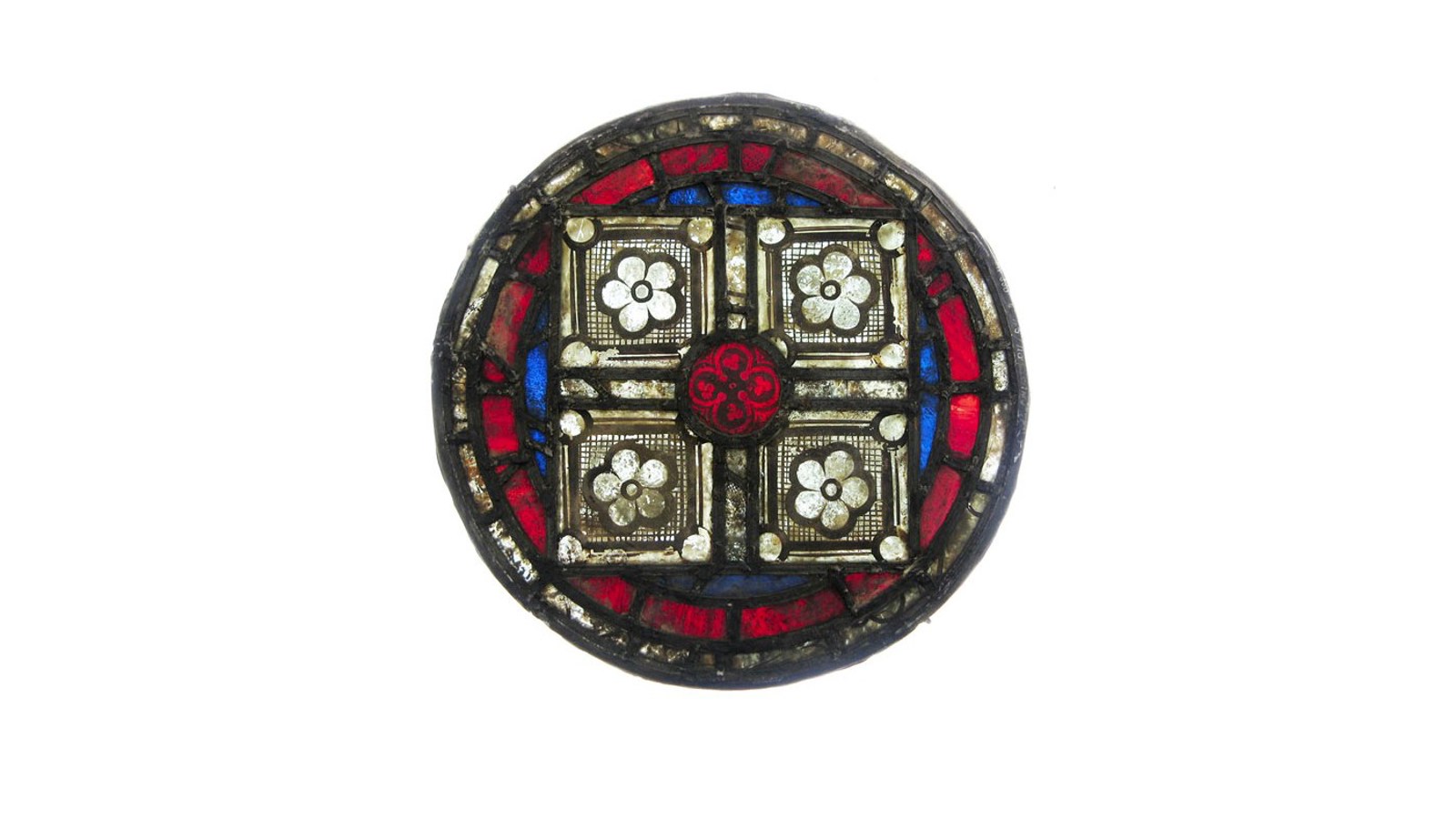 The third panel is the head of Virgin Mary in mourning. This was part of a larger panel which is now in the east window of the chancel of St Thomas' Parish Church, Noak Hill in the London borough of Havering.  This panel is thought to have been made in Rouen, Normandy in France around 1550 probably for a church or monastery in continental Europe. At some point before 1939, the head of the Virgin Mary was removed from the larger panel and acquired by George Eumorfopoulos (1863-1939), a wealthy collector of Chinese ceramics, antiquities and other works of art. Drake, the dealer, bought it at the posthumous auction of Eumorfopoulos' collection in 1944.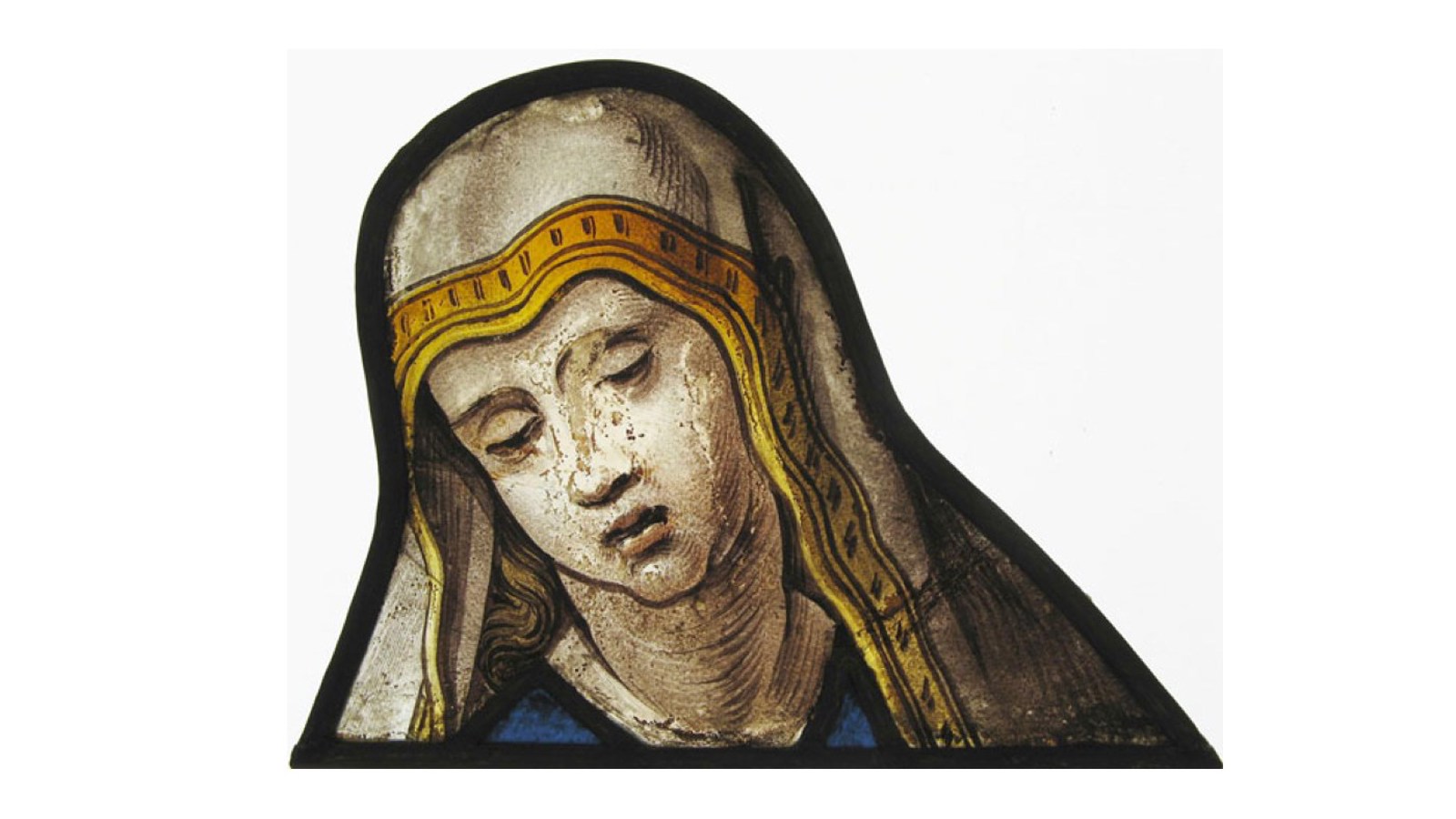 St Thomas' Church was built by Sir Thomas Neave (1761-1848) and his wife Lady Frances Neave (c1746-1830) who provided all the stained glass for the church. Drake purchased the other two panels from a descendant of Sir Thomas Neave, so all three originally belonged to this couple.
Sir Thomas was a famous and wealthy collector of European stained glass. He acquired much of his collection in France around 1820. At this time, a large amount of very high quality glass was on the market due to the dissolution of monasteries by Emperor Joseph II of Austria. Medieval stained-glass from Neave's collection can be found in museums around the world and some privately-owned pieces still fetch high prices in the art market today. 
Sir Thomas Neave inherited his wealth, status, title and position in English society from his father Sir Richard Neave (1731-1814), the 1st Baronet of Dagenham, Essex. He was a director of the Bank of England for 48 years and the governor from 1783-1785. He was also a director of the Hudson's Bay Company, High Sheriff of Essex, fellow of the Royal Society and the Society of Antiquaries and owner of several ships and a large mansion house called Dagnam Park. At his death, his estate was valued at around 12 million pounds. As well as his banking activities, this vast wealth came from his sugar plantations in the Caribbean which were worked by enslaved people from West Africa. His will stipulated that the bulk of his wealth, including plantations in Monserrat in the Caribbean and hundreds of enslaved people, was to go to his son. Following his father's death Sir Thomas Neave continued to profit greatly from the use of enslaved labour. Following the British abolition of slavery in 1833 and the 1837 Slavery Compensation Act, Sir Thomas was awarded many thousands of pounds from the British government as compensation for the freeing of his slaves. The loan to pay off the debt incurred compensating the slave owners like Sir Thomas was only finally paid off in 2015. No enslaved people were ever compensated.   
Lady Frances Neave was also a beneficiary of the slave trade. In her case, her father, John Bristow (1701-1768) was a director of the South Sea Company from 1730 which transported enslaved people from Africa to South America and islands in the South Pacific.  
These three pieces of stained glass, which will be displayed in the newly refurbished Burrell Collection, can therefore be linked to the wealth generated from the exploitation of enslaved African people. 
Brian Weightman
Burrell Project Curator
For more information on Glasgow Museums' collections please visit http://collections.glasgowmuseums.com
© CSG CIC Glasgow Museums Collection
Give feedback about this page