Turkey Red and the Slave Economy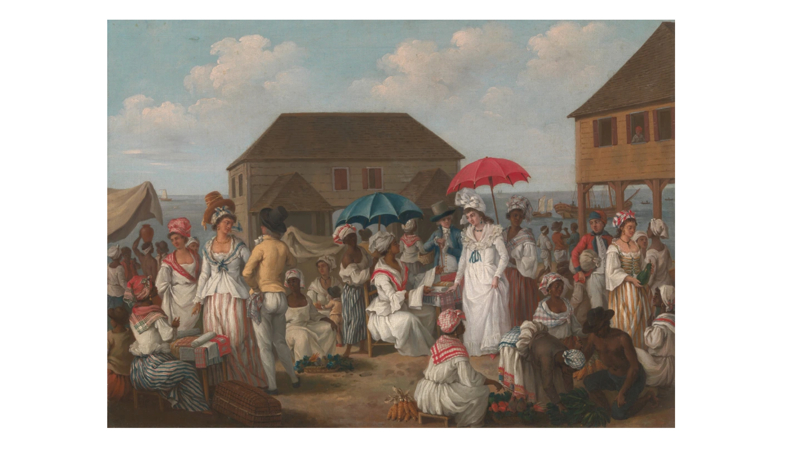 Agostino Brunias, Linen Day, Roseau, Dominica – A Market Scene, about 1780
Yale Center for British Art, Paul Mellon Collection
9th May 2019
Turkey Red, a process of dying cotton a vibrant crimson, has an early history in Scotland that is tainted by its links to the transatlantic slave trade and its associated economy. The process was introduced to Glasgow in 1785 by George Macintosh and David Dale. Macintosh had previously established a cudbear dye works at Dunchattan, Glasgow, whilst Dale, who was involved in the cotton industry, was busy founding New Lanark mills. Macintosh and Dale had invited Pierre Jacques Papillon, a French dyer from Rouen, to visit the city in order to start a Turkey Red business, which was first advertised in the Glasgow Mercury on 15 December 1785.
Dying using the Turkey Red process produced a bright shade that was believed to be and often marketed as being very hardy and extremely slow to fade, even with repeated washing and bright sunlight, making it ideal for use in hotter climates such as the British colonies. Initially only cotton yarn could be dyed using this process, which was then woven to create striped and checked gingham cloths. Many early Turkey Red textiles were exported from Greenock and Port Glasgow to north America and the West Indies where they were worn by enslaved men, women and children as shown in the idealized paintings of West Indian plantations by the Italian artist Agostino Brunias who travelled to Dominica in 1770 and later settled there before his death in 1796.
© CSG CIC Glasgow Museums Collection
In the early 1800s various methods of discharge printing were developed that allowed woven cloth rather than just the yarn to be dyed with Turkey Red. One of the main early products made by this technique were large handkerchiefs or bandannas. The first were manufactured by McBrayne, Stenhouse & Co., but a vast number were made by Monteith, Bogle and Co., who had taken over Macintosh and Dale's dyeworks. Like many industries developing in and around Glasgow at this period a lot of the finance behind these early Turkey Red companies came from the profits made from Scottish-run plantations in the Caribbean or Glasgow-based merchants involved in the transatlantic trade of tobacco and sugar. This was doubly-so for Monteith, Bogle & Co., as Henry Monteith's wife, Rebecca, was the daughter of Alexander Garden of Francis Garden & Co., whilst Adam Bogle was also a partner of Robert Bogle Jun. and Co., both well-established Glasgow West India merchants.
Rebecca Quinton,
Research Manager (Art)
Give feedback about this page