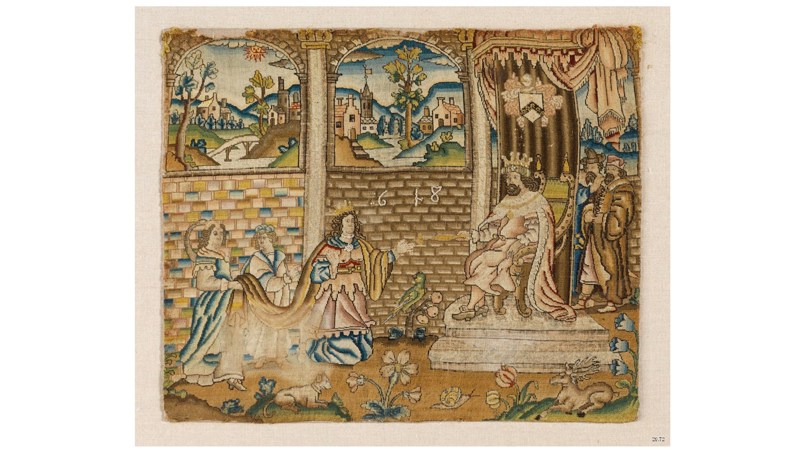 Needlework panel depicting Esther and Ahasuerus, 1648
Glasgow Museums, Burrell Collection, 29.72
Images © CSG CIC Glasgow Museums Collection
5th October 2022
This needlework panel embroidered in silk and metal threads depicts the biblical story of Esther and Ahasuerus. Esther was the Jewish wife of Ahasuerus, king of Persia. In this scene she is formally requesting that Ahasuerus stop his viceroy, Haman, ordering the killing all Jews in his empire. Ahasuerus signals his approval by lowering his golden sceptre and stops Haman's plans for genocide. For centuries Esther has been lauded as a brave woman for interceding to protect others, especially as if her request had not been granted she would have been sentenced to death. 
Panels such as these were embroidered by young girls from wealthy English families. The designs were copied from contemporary print sources. This one is based on an engraving by Philips Galle (1537–1612) after Maarten van Heemskerck (1498–1574), published in Antwerp in 1564. The majority of embroidered panels are anonymous and undated, but this example is dated '1648' in seed pearls and has in the top-right corner the coat of arms of the maker's family. This has enabled us to work out that it was stitched by one of the daughters or nieces of Sir Nicholas Crispe, 1st Baronet of Hammersmith (about 1599–1666). 
Nicholas Crispe, a wealthy London merchant, was a member of the Merchant Adventurers' Company and stockholder in the East India Company. However, his main business interests lay in western Africa, where he was trading by 1625, initially independently, but from 1627 as part of the Company of Adventurers of London trading to Gynney and Bynney, which had been chartered by James VI and I in 1618. Often referred to in later documents as the Guinea Company, it traded with countries along the Gulf of Guinea. By 1628 Crispe owned factories in the Sherbro area of what is now Sierra Leone, from which he developed a monopoly on the trade of redwood.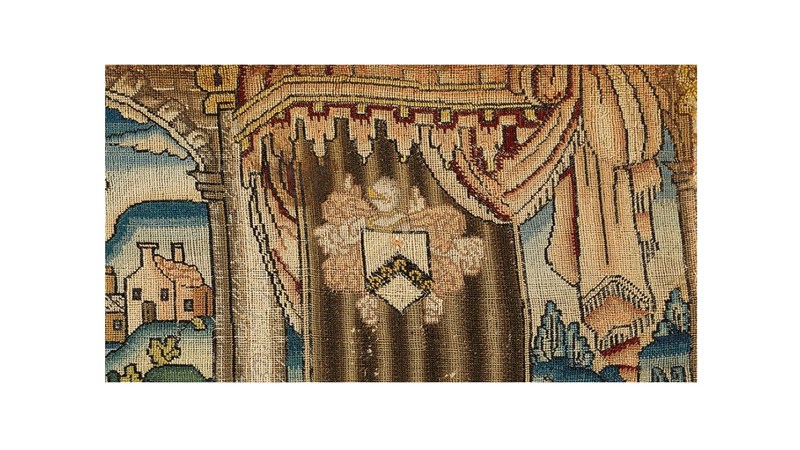 Detail of the Crispe coat of arms
Glasgow Museums, Burrell Collection, 29.72
Images © CSG CIC Glasgow Museums Collection
After the original Guinea company floundered in 1631, Crispe established his own company, which expanded its operations into the Gold Coast, now Ghana. He opened a factory in Winneba in 1632 and started others in Kormantin and Komenda with the assistance of Arent de Groot, formerly of the Dutch West India Company. Crispe was said to have personally paid £20,000 for the building of the fort at Kormantin in 1638. During this decade Crispe prospered as his company traded in gold, redwood and sugar from plantations on Sãn Tomé, as well as enslaved west Africans. This latter trade was not listed in the company's charter, but is known through associated documents, including Crispe's complaints in 1638 when other traders tried to break his monopoly on the transportation of enslaved people. He is also recorded on the Slave Voyages database as one of the co-owners of the Star, a ship that departed from the Gold Coast in 1641 carrying 299 enslaved Africans.
As well as receiving great financial reward for his role in establishing English trade on the Gold Coast, Nicholas Crispe was knighted by Charles I in 1640. However, over the next few years Crispe's fortunes declined as a result of the English Civil War and increased competition from the Dutch in western Africa. He was fined by Parliament for collecting unapproved duties as a customs farmer and as a result of providing money and support to the Royalist cause he went into exile in 1646. In 1648 his son, Ellis, petitioned Parliament on his behalf in relation to the fine, and, like Esther, his request was granted. Was it this petition that prompted the choice of subject for this embroidered panel? Ether's supplication saved members of her faith from genocide under Ahasuerus' rule, but sadly there was no seventeenth-century Esther to petition to the Stuart kings to stop English merchants trading in enslaved Africans. 
Rebecca Quinton,
Research Manager (Art)
See also:
Legacies of Slavery and Empire: A Seat of Power
Give feedback about this page