Group Visits
Adult and community group visits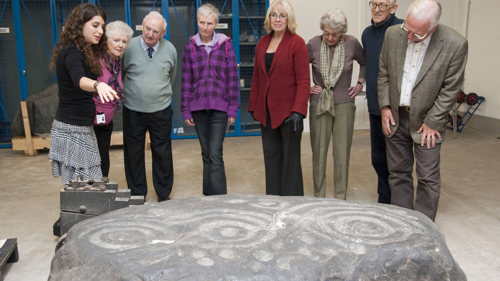 Glasgow Museums are a great place for groups to visit and there are various ways that we can support you. 
We can assist those bringing children's groups, community groups and older adults such as those from care homes. Small groups are often able to participate in our public programme which includes talks, tours and family workshops.
Larger groups should call ahead and let us know you are coming, even if you're just having a look around one of our museums. Whilst we may not be able to accommodate larger groups within our public programme, we may be able to offer something specific for your group.
Out of school care groups
Out of school care groups are welcome to visit our museums on a self-led basis. As some of our museums can become very busy during holiday periods, it is helpful if you can call and let us know you are coming. We sometimes offer workshops specifically for out of school groups to book – if you would like to be added to our database for details of forthcoming programmes, please contact museums.schoolbookings@glasgowlife.org.uk and ask to be added to the out of school care database.
Older Adult Groups
Older groups can book an Age Well session at most of our venues. These relaxed museum sessions offer the opportunity for your group to engage with museum objects in a meaningful way with a member of our learning team. Participants are also provided with refreshments and the opportunity to chat. To enquire about availability please call 0141 276 9505 / 9506. As we have limited capacity, please allow plenty of notice to book your visit. 
For more information visit our Age Well section 
Visiting self-led with a group? Read our handy guide to visiting Glasgow Museums with older people
Your Museum - community group sessions 
Free guided sessions for Glasgow-based community groups who would benefit from some assistance when visiting our museum venues.
The session will include object handling, learning more about our displays and a cup of tea or coffee. Visits can be adapted to meet the needs of your individual group. 
Please contact museums.schoolbookings@glasgowlife.org.uk / 0141 276 9505 / 9506 (weekdays only) and your enquiry will be directed to the relevant museum contact. Please allow a few weeks' notice as we tend to get booked up far in advance
Handling Kits
The Open Museum has a fantastic range of themed handling kits which you can borrow. These boxes of museum objects can be used to start conversations, reminisce and bring learning to life.
Self-led Resources
Some of our venues have self-led resources which can be used by visiting groups. Have a look in the trails section of our Learning Resources page 
Contact us
Email us if you have any enquiries or wish to make a booking

0141 276 9505 / 9506
Email us
Give feedback about this page