Provand's Lordship
Built in 1471, this is the oldest remaining house in Glasgow, with a fascinating collection of medieval furniture. Temporarily closed for refurbishment
About Provand's Lordship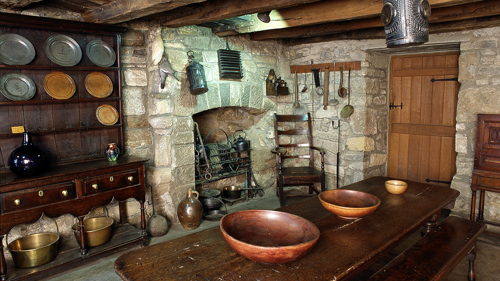 Temporarily closed
Restoration and preservation work at Provand's Lordship  
Essential repair and preservation work has been ongoing at Provand's Lordship, known as the oldest house in Glasgow.
Glasgow City Council has invested £1.6 million in work to better preserve the fabric of the building and return it to an authentic 15th century appearance, including the application of a new lime harling render.

When work commenced in summer 2022 it was expected to take approximately one year to complete. During the project, additional essential work was identified, which has required more time.
Provand's Lordship is scheduled to reopen in Spring 2024. We'll share more information on plans for reopening nearer the time.
Get more detail on the work that's underway from the original news story published when the building closed in 2022:
https://www.glasgowlife.org.uk/news/restoration-and-preservation-work-set-to-begin-at-provand-s-lordship
Provand's Lordship was built in 1471. It is one of only four surviving medieval buildings in Glasgow. The house is furnished with a fine selection of 17th-century historic furniture and royal portraits. A visit to Provand's Lordship, offers an opportunity to step back into medieval Glasgow.
Behind the building sits the St Nicholas Garden, a herb garden which is an oasis of calm, away from the hustle and bustle of the city.
What's on in Glasgow?
Take a look at what's on across the city