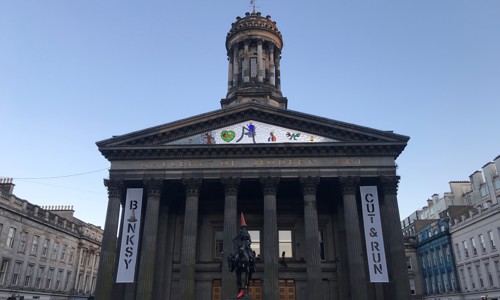 Banksy closes Glasgow show at GoMA and asks 'Where next?'
Banksy closes Glasgow show at GoMA and asks 'Where next?'
Banksy's Cut & Run exhibition, which showcases 25 years of stencil graffiti, closes on Monday 28 August after breaking box office records during its 10-week run.
A crowd of 180,000 flocked to the Gallery of Modern Art (GoMA) on the city's Royal Exchange Square, with many of them visiting out of usual hours as Cut & Run was the first show in the gallery's history to open through the night.
Susan Aitken, Leader of Glasgow City Council, said:
"Glasgow has been experiencing a Banksy bounce over the last few months with tens of thousands of people taking the opportunity to visit GoMA to see Cut & Run. There has been huge excitement to match the clamour for tickets since the spectacular exhibition of how he created his iconic works opened in June. Glasgow has been delighted to host Cut & Run and like all other Banksy fans around the world, we will be waiting to hear where it's going to pop up next."
Gareth James, GoMA Manager, said:
"Cut & Run has welcomed a new and diverse audience, from primary school pupils to octogenarians, from all areas of society and corners of the globe. Every day we open our doors to queues of hundreds of people waiting for walk-up tickets. Free community tickets and overnight opening hours have extended the museum's reach far beyond our usual scope."
The notoriously camera-shy artist controversially banned the use of phones at the exhibition.
Gareth added:
"We expected some resistance but in fact visitors embraced the no phones rule; enjoying the time and space to see the work unhindered."
While future shows at GoMA will directly benefit from the sale of Banksy merchandise, the artist is apparently unsure whether Cut & Run itself will run and run.
The official website claims organisers have no idea where the exhibition could be staged next and asks members of the public for their suggestions, "please, don't just write 'Come to Iran'" it pleads.
Cut & Run closes on Monday 28 August. Limited walk-up tickets are available from the GoMA box office.