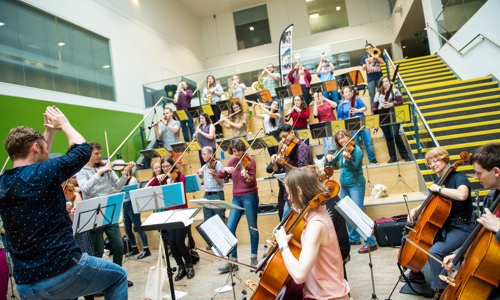 Creative Communities: Artists In Residence in every ward in Glasgow
Creative Communities: Artists In Residence in every ward in Glasgow
Creative Communities: Artists In Residence initiative brings community arts programmes to every ward of GLASOW
Glasgow's innovative Artists in Residence project is beginning its second phase of arts activity in every community in the city.
Glasgow Life, the charity which delivers culture and sport in the city is delivering the initiative thanks to funding from Glasgow City Council.
Artists appointed in this second phase of the project which started in 2018 are beginning work in their local area, responding to the work done in the first phase of the project.
The second phase has begun amid continuing Covid-19 restrictions, and the artists are formulating ways to engage with communities in new ways, including digitally and remotely.
Twelve artists involved in Phase 1 and are continuing in Phase 2, alongside 11 new artists who have joined in Phase 2.
The 23 artists and arts organisations currently in residence will produce a wide variety of engaging and creative-building programmes, including an exploration of the Roma community's musical heritage in Southside Central (with Ando Glaso); a celebration of some of Glasgow's parks and green spaces (with Daniele Sambo & Hannah Brackston); and a reintroduction to examples of the city's lost public artworks (with Walker & Bromwich).
Some of the artists represented regularly work with individuals and groups of different ethnicities in their ward while some artists are working with groups that experience issues relating to mental health.  Others are developing and delivering programmes related to Gaelic culture and language and others whose aim is to develop links with communities near The Burrell Collection.
Chair of Glasgow Life, Councillor David McDonald, said: "The first phase of this large-scale project saw many community groups and residents involved in events, activities, workshops and discussions that took place right across the city. The current phase builds on the excellent work of the first phase and demonstrates how our artists are rising to the challenge of Covid-19 and devising arts activities that keep our communities safe and connected.
"While they may not be able to meet face-to-face, in these challenging times it is wonderful to see artists and communities continuing to work together to tell their own stories, some of which respond to the ongoing pandemic. I am looking forward to seeing the creative responses from the current group of artists and residents, as they continue to tell the stories of Glaswegians of all ages, abilities and backgrounds."
The current phase of Creative Communities: Artists in Residence in North-East Glasgow is being led by artists John Binnie, Mandy McIntosh, Skye Loneragan, Rebecca Fraser, Alasdair Satchel, Walker & Bromwich, and The Bit Collective.
In the North-West wards, the artists and organisations are Donna Rutherford, Janie Nicoll, In The Making Glasgow, Ignite Theatre, Nevis Ensemble, Louise Nolan, Saffy Setohy, and Tricky Hat Productions.
In South Glasgow, the artists and organisations are Deirdre Nelson, Village Storytelling Centre, Daniele Sambo & Hannah Brackston, Fiona Fleming, Paul MacAlindin (The Glasgow Barons), Martin O'Connor, Julie Fraser, and Ando Glaso.
Manu Kurewa, lead artist for Ignite Theatre and North-West ward resident, said: ""In Phase 1 of the residency, I was able to visit many community places in Ward 13 and have tea and talk with some really interesting and innovative community projects. I am so lucky to have been able to lay that groundwork so that as we face the challenges of lockdown, we can build on those relationships online in Phase 2."
"The pandemic has created a huge need for people to express what they are experiencing and using the creative arts is such a great channel. I am delighted that Glasgow City Council has made this project happen. Hopefully, I can use the opportunity to give hope and opportunity to those who perhaps feel isolated and forgotten." 
The current phase of the initiative will respond to the challenges faced by the national restrictions in place to combat the ongoing Covid-19 pandemic. The artists and organisations are utilising a variety of mediums including film-making, photography, podcasting, poetry, collage, drawing, painting and more, with many of the activities being co-ordinated and delivered online, and some projects will address how people have responded to Covid-19.
For more information about the current phase of the Creative Communities: Artists in Residence initiative, visit https://www.glasgowlife.org.uk/arts-music-and-cultural-venues/creative-communities-artists-in-residence
To watch the film about the first phase of the Creative Communities project across Glasgow, visit https://www.glasgowlife.org.uk/arts-music-and-cultural-venues/creative-communities-artists-in-residence/creative-communities-film