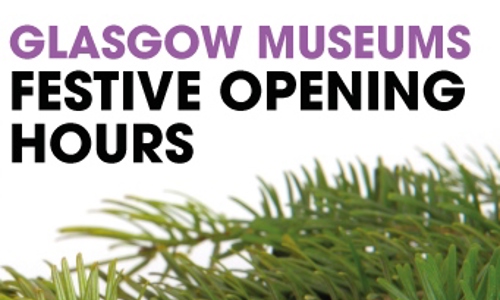 Festive opening hours across Glasgow Museums
Festive opening hours across Glasgow Museums
Don't get left out in the cold - make sure you know when our venues are open this festive season!
Here are the opening times across all of our venues... 
All museums open as normal up until and including Monday 23 December
All museums closed on Tuesday 24, Wednesday 25 and Thursday 26 December, this includes
Kelvingrove Art Gallery and Museum
Riverside Museum
Gallery of Modern Art GoMA
People's Palace
Scotland Street School Museum
St Mungo Museum of Religious Life and Art
Provand's Lordship
Glasgow Museum Resource Centre
Glasgow Museum Resource Centre will remain closed until Monday 6 January. All other museums, as listed above, will be open as normal on Friday 27, Saturday 28, Sunday 29 and Monday 30 December.
All museums will close again on Tuesday 31 December, Wednesday 1 and Thursday 2 January 2020.
All museums, except GMRC, will be open as normal from Friday 3 January 2020.
The Burrell Collection is currently closed for a major refurbishment and is due to re-open in Spring 2021.
Have a very Merry Christmas and best wishes for a good start to 2020, from all at Glasgow Museums.