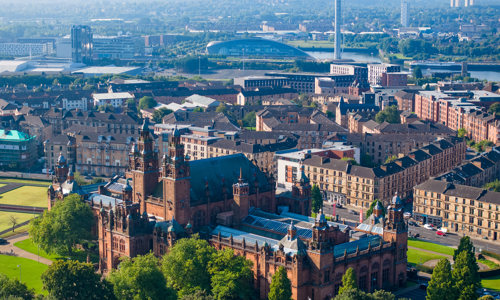 Glasgow Life responds to Covid-19 challenges facing city's tourism and events industry
Glasgow Life responds to Covid-19 challenges facing city's tourism and events industry
Like every other major destination across the world, Glasgow's tourism and events industry faces a challenging future as it wrestles with the impact of the coronavirus pandemic.
Normally at this time of year, tourism businesses across the city would be preparing for their busiest season with summer on the horizon. On average, Glasgow attracts two million leisure tourists and hundreds of thousands of conference delegates every year.
Many come to experience the city's unrivalled, year-round events offer; from the likes of Celtic Connections and our internationally recognised film and comedy festivals to the World Pipe Band Championships. Collectively, leisure and business tourism contributes more than £660m to the city's economy annually and supports some 30,000 jobs.
Last year, Glasgow was voted the world's friendliest and most affordable city by influential travel magazine, Time Out as well as the world's best festival and events destination at the prestigious World Travel Awards.
As the lead agency for tourism and events in the city, Glasgow Life has moved quickly to devise a destination marketing strategy that dovetails with the Scottish Tourism Emergency Response Group's (STERG) national recovery plan and engages with local, national and industry partners.
As part of this, Glasgow Life has also established the Glasgow Tourism and Events Response Group (GTERG), drawing together expertise from across the private and public sectors to address the impact of Covid-19 on the city's tourism and events industry.
The GTERG includes senior members of Glasgow Life's tourism, conventions, events and museums teams with representatives from Glasgow City Council, the Moffat Centre, the SEC, Greater Glasgow Hotels Association, Glasgow's Leading Attractions, Glasgow Restaurants Association, Glasgow Airport, VisitScotland, Scottish Enterprise and Experience Glasgow. It will feed directly into Glasgow City Council's new Covid-19 Economic Recovery Group and provide city intelligence locally and nationally. 
While Glasgow Life has paused its proactive consumer marketing campaigns, it has continued to keep the city front of mind with audiences via management of the People Make Glasgow digital channels.
Content themed around Experiencing Glasgow at Home has appeared throughout lockdown, including shining a light on the city's online shopping and food and drink scenes in partnership with local businesses to help them generate much-needed income and visibility.
Glasgow's neighbourhoods is the focus of a new feature going live today (Friday 5 June) with future content planned around showcasing the great outdoor experiences and spaces that Glasgow has to offer as well as encouraging local residents to become 'tourists in their own city'.
Also going live today is a blog that has been developed in partnership with Mackintosh at the Willow, to coincide with Mackintosh's birthday on Sunday 7 June.
A wider blog series will also feature representatives from across the hospitality sector talking about the measures that have been introduced to keep people safe as well as experiences to enjoy as the city gradually reopens.
Looking further ahead, a tourism campaign targeting the local market is currently being developed by Glasgow Life's destination marketing team and will be launched at the appropriate time.
In the meantime, the People Make Glasgow digital channels will continue to share inspiring destination content using the global travel hashtag #DreamNowVisitLater, which has received positive reactions from future visitors.
From an industry perspective, the Glasgow Tourism and Visitor Plan website has also been redeveloped to make it easier to navigate and a variety of business support resources have been introduced.
The website's dedicated Covid-19 section provides links to useful national support and advice across topics such as grants and funding; job opportunities; mental health resources; online training and webinars.
Councillor David McDonald, Chair of Glasgow Life and Depute Leader of Glasgow City Council, said: "There's no doubt that Covid-19 will fundamentally change the global tourism industry and there's a number of emerging factors for us to consider in developing our destination marketing activities to support the city's recovery.
"A Team Glasgow approach is integral to this and we've been collaborating with our partners at VisitScotland, Scottish Enterprise, the Scottish Tourism Alliance and other industry bodies to ensure we're ready to activate our strategy when the time is right.
"All the evidence points to domestic markets being the first to recover, so our initial focus will be on activity that brings our citizens out to support local businesses and then attracts the day-trip and Scottish staycation markets.  As we move through the different phases of recovery our marketing emphasis will transition from local to national and then international.
"The competition will be even tougher than before, so it will be critical that we're back in market at the earliest opportunity to keep Glasgow's profile high. We'll be closely monitoring consumer insights to ensure that our messaging will both inspire and reassure citizens and visitors, particularly in the short term."   
Craig Martin, Chair of Experience Glasgow, said: "The Glasgow Tourism and Events Response Group (GTERG) brings together the experience and expertise from the leaders of the city's key tourism and hospitality groups and will be crucial in helping Glasgow navigate its way through the Covid-19 crisis.
"It will also provide industry with a collaborative platform where we can share information and best practice with each other as well as help form a robust and coordinated recovery plan for the sector."