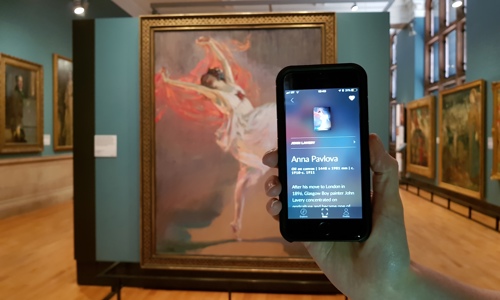 Kelvingrove Museum is the first in Scotland to join Smartify
Kelvingrove Museum is the first in Scotland to join Smartify
Smartify allows visitors to scan and identify artworks, access the accompanying interpretation and build a personal art collection in some of the world's best museums and galleries.
The free app enables visitors to fully appreciate the beauty, history and significance of key objects in Glasgow Museums collection.  Around 350 paintings at Kelvingrove Museum can be accessed via the app, which draws information from Glasgow Museums Collections Online. Any work in the city's collection that is still under copyright will not appear on Smartify. The collaboration is part of a trial exploring digital learning resources, particularly aimed at young adults and schools visiting the museum.
It lets users unlock the stories behind the art by simply scanning it with a smartphone or tablet. The painting is instantly recognised, appearing on the users' device accompanied by quality-checked information about the work. This removes the need to read, or try to remember, the interpretation panel that often sits alongside an artwork.
Visitors can build a personal gallery on their own smartphone or tablet, accessing artwork after the museum has closed and showing favourite works to friends and family. The global nature of Smartify encourages users to add to their individual collection in different venues across the world. 
Chair of Glasgow Life, Councillor David McDonald, said:
This is a really exciting development for Glasgow Museums. We are delighted to be the first venue in Scotland to join the Smartify community and offer our visitors the opportunity to experience this incredibly intuitive app.

Kelvingrove Museum is Glasgow's most popular attraction, welcoming more than 1.3 million visitors through its doors every year. More and more people have a smartphone with them when they visit. Smartify allows you to scan a favourite piece of art and read a little more about the work, it's really easy to use and you can re-look at the painting once the gallery has closed for the night. It works across different venues, so people can build a unique collection of their favourite works, artist or period of art.
Anna Lowe, CoFounder of Smartify added:
Discovering and sharing amazing stories behind artworks remains at the heart of our mission as a global technology company. Inside every gilt frame or Perspex box, layer upon layer of meanings exist. Art is a truly universal language, and there are centuries of stories to tell.

"We know that the use of phones in museums is still controversial. So we use the latest technologies and simple design to create a non-intrusive experience. Our ambition is to re-frame the use of smartphones as engagement rather than distraction, and to help museums build new audiences.
Smartify is described as a 'Shazam for art' and has had over half a million downloads, with a main demographic of ages 25-34. It is a social enterprise developed that has been supported by Innovate UK and the European Commission, created to serve a global community of art venues, artists and art lovers.
It is offered at a growing network of international museums and galleries, including The Metropolitan Museum of Art, New York Rijksmuseum Amsterdam and The National Gallery, London.
The app plays into mobile users' habits of using cameras on their smartphones while visiting museums, highlighted in the recent Scotinform Digital evaluation. Glasgow Museums is keen to test the new platform and is particularly interested to see how teen and millennial audiences interact with it, as well as art lovers who are seeking more information.
You can download it now for free from the Apple and Android App Store. iPhone: https://itunes.apple.com/gb/app/smartify-your-personal-digital-curator/id1102736524?mt=8 Android: https://play.google.com/store/apps/details?id=com.mobgen.smartify&hl=en_GB