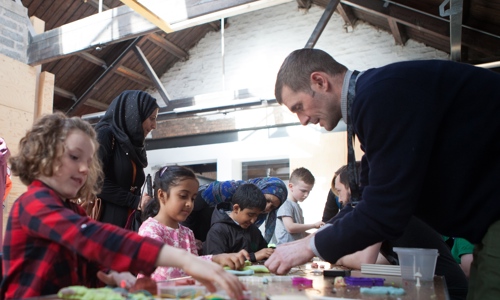 Local communities to work with artists to create new residencies throughout Glasgow
Local communities to work with artists to create new residencies throughout Glasgow
People across Glasgow will have the opportunity to play a key role in creating new artist residencies that will take place in their community.
Artists and arts organisations will work creatively with local communities in all 23 Council Wards in the city from March to May 2019 to identify the specific needs and aspirations of each community.
This work will then be used to create individual artist in residency projects that have been co-designed with each community based on their specific needs and ideas to be of most benefit to each different community. These artists in residency projects will take place in all wards in 2019 and 2020.
A call out is being made today (Monday 10 December) for artists and arts organisations - working in all art-forms - to take part in the first phase of this programme.
The call out to artists and arts organisations follows a manifesto pledge from Glasgow City Council to launch a scheme in partnership with local organisations, to employ an artist in residence for every community.
The manifesto pledge was discussed at the Culture Summit held in the city in September 2017 which saw around 200 people from across the city's artistic, cultural and creative sectors come together with the City Government, partners and stakeholders to explore how these sectors can best contribute to Glasgow's future success.
Councillor David McDonald, Chair of Glasgow Life and Deputy Leader of Glasgow City Council, said:
"We know that access to the arts brings significant benefits to individuals and communities and that participation in culture – whether it's watching a play, creating your own piece of art or singing a song - is a force for good that can increase our quality of life, improving health and wellbeing, boost education outcomes or renovate unloved spaces.

"Our new artist in residence programme represents a huge investment of faith and money into the transformational impact of art and culture and we believe it will make a positive impact in every community in the city.

"For the project to work, we first need to understand what communities want. We will work closely with our communities to get a deeper understanding of how they see our artist in residency projects working to create real and significant differences to our communities in the ways that benefit them most.

"We are excited to be launching this new project in partnership with Glasgow's communities and we look forward to seeing local creativity flourishing in every corner of the city."
To apply to take part in the first phase, artists and arts organisations will submit a CV, a project proposal and a breakdown of the proposed use of the allocated budget.  Successful applicants will be selected by a panel, with community input. The fee available for each project is £10,000. Funding is from Glasgow City Council.
The artist in residency programme is being managed by Glasgow Life, the charity that delivers cultural, sporting and learning activities on behalf of Glasgow City Council.
Artists and arts organisations who wish to apply should visit: glasgowlife/fundingopportunities