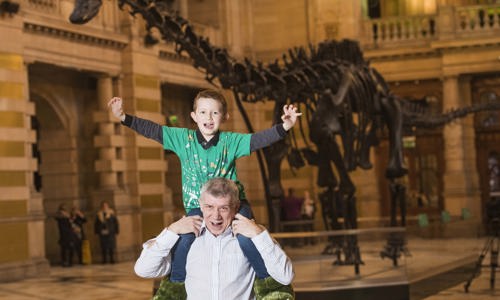 Record breaking year for Glasgow Life
Record breaking year for Glasgow Life
Some of Scotland's most iconic cultural, sport and community venues and events have enjoyed a record-breaking year, as attendances at Glasgow Life-managed venues and facilities topped 18.9 million for the first time.
In its annual report, the charity, which delivers services on behalf of Glasgow City Council, revealed that more people than ever are enjoying its museums, arts and music venues, libraries and community centres, sports facilities and its year-round calendar of events.

Kelvingrove and Riverside museums both attracted more than 1.3 million visitors each, while Scotland Street School Museum recorded a 29% increase in visitors as the city led celebrations to mark the 150th anniversary of the birth of the building's architect, Charles Rennie Mackintosh. The organisation also manages the Glasgow Club – Scotland's largest network of sport and leisure facilities – which saw attendances reach 6.9 million, topping 6 million for the seventh year in a row in venues including the Emirates Arena and Tollcross International Swimming Centre.

Sport also ranked high in some of the charity's achievements for the last year, with its contribution to major events including the inaugural Glasgow 2018 European Championships and the 2019 European Athletics Indoor Championships helping Glasgow to maintain its place as one of the world's top five leading sports events cities.
The city's network of 33 community libraries, including The Mitchell, recorded 4.7 million visits and Glasgow's 25 community venues recorded 1.5 million visits across the city. Some 850 volunteer donated more than 80,000 hours of their time across the charities venues and events, providing incredible support to communities and visitors.

Councillor David McDonald, the Chair of Glasgow Life, said:
We want everyone to live a great Glasgow life. It's what we do – we deliver for the people of Glasgow and thanks to our incredible staff and volunteers we are changing lives for the better. More people are getting fit and physically active; more people are engaging with, and enjoying, our cultural assets; more people are benefitting from services which are rooted in, and valued by, their local communities.
In the 12 years since the creation of Glasgow Life, attendances have increased by 4.6 million from 14.3 million in the organisation's first year to 18.9 million today.
Cllr McDonald, added:
Glasgow is home to iconic cultural and sporting venues, world-class events and community facilities which make a difference each and every day. To achieve record-breaking attendances of almost 19 million in the last year is testament to that success.
Other highlights included a great year for Celtic Connections. The celebration of traditional and world music remains the largest winter festival of its kind, with a record 130,000 visitors enjoying 2,100 artists across 300 events – more than 15,000 school children also enjoyed concerts and performances. Music venues including Glasgow Royal Concert Hall, City Halls, Old Fruitmarket and the Kelvingrove Bandstand attracted more than 475,000 attendances. Arts venue Tramway continues to wow audiences with ground-breaking international festivals and exhibitions.

City events managed by the charity also drew in the crowds, with the Glasgow Mela, the biggest free multi-cultural festival in Scotland, welcoming more than 45,000 visitors, while the Merchant City Festival was a key part of Festival 2018, the cultural celebration that ran at the heart of the Glasgow 2018 European Championships. Other events included the World Pipe Band Championships which saw the incredible spectacle and sound of 8,000 pipers and drummers from 13 nations compete to be crowned world champions on Glasgow Green.

Dr Bridget McConnell CBE, the Chief Executive of Glasgow Life, said:
We've enjoyed another exceptional year. From stand-out events such as the 2018 European Championships, to bringing Dippy the dinosaur to Kelvingrove, we've worked to provide opportunities which touch the lives of citizens and visitors alike. On the global stage we excel, but in our communities, the work we do changes lives. Our staff and volunteers are always on hand. Whether it be helping people who are affected by cancer through our pioneering partnership with Macmillan Cancer Support or being the first port of call for those requiring help with Universal Credit claims or as an adult looking to improve their reading and writing skills, our staff are always there.
Together with VisitScotland and Scottish Enterprise, Glasgow Life is the lead partner in the delivery of Glasgow's Tourism and Visitor Plan to 2023; working to position the city as a world-class leisure and business tourism destination and the 'gateway to Scotland' for international visitors. In 2018, Glasgow attracted 2.3 million tourists who contributed £662m to the city's economy. The city also welcomed some 20m day visitors with a collective spend of £1bn.

Last year, the New York Times included Glasgow in the top 10 of its 52 global 'must-visit' cities list while TripAdvisor rated Glasgow as one of the top 10 'most excellent' cities in the world. At the same time, Glasgow's Convention Bureau was named the best in the UK for an incredible 13th consecutive year, bringing over 500 conferences to the city in the last financial year worth more than £150m.

Looking ahead, the city is already planning to host the inaugural 2023 World Cycling Championships – which will bring together the sport's 13 disciplines for the first time – with competition across Glasgow and Scotland. The city and its partners are also investing £66 million to refurbish and redisplay the Burrell Collection in its incredible woodland setting at Pollok Country Park. The museum, which is due to open in 2021 will act as significant cultural attraction both nationally and internationally, helping to cement Glasgow's reputation as one of the world's leading cultural destinations.

More information on Glasgow Life's annual review can be found here.