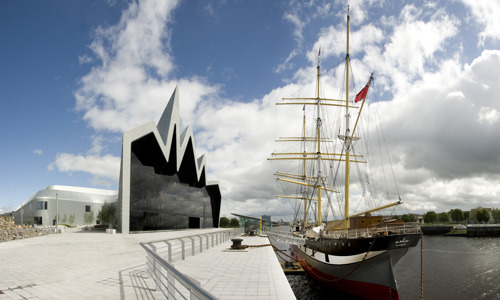 Riverside Museum celebrates 10 incredible years since opening
Riverside Museum celebrates 10 incredible years since opening
Ten years ago today (Monday 21 June) Riverside Museum opened in Glasgow to much critical and public acclaim.
Since it opened to the public the popular and much-loved museum has gone from strength-to-strength.
Having welcomed 650,000 people through its doors in the first year, annual visitor figures have continued to climb steadily and, pre-Covid, more than 1.3m people enjoyed the museum's exceptional variety of displays, events, activities and festivals; making it one of Scotland's, and the UK's, most popular visitor attractions.
Over the past decade, Riverside has become a real success story for Glasgow and a worthy winner of the European Museum of the Year title in 2013.
Councillor David McDonald, Chair of Glasgow Life and Depute Leader of Glasgow City Council, said:
Riverside opened 10 years ago to much critical and public acclaim. In the first year it welcomed an astounding 650,000 visitors. More and more have come every year, and pre-Covid more than 1.3 million people came to Riverside. It has been a huge success story for the city, even winning European Museum of the Year in 2013.

Our museums are the most popular attractions in our city, they entertain, engage and educate. The city's collection, which belongs to its people, is an important part of who Glaswegians are as individuals, and a key part of their identity. Visitors to Riverside delight in discovering what made Glasgow the industrial powerhouse of the past and the creative and cultural powerhouse it is today. Having access to culture enhances our wellbeing and world-class venues like Riverside are a powerful draw for new and returning visitors. I wish it a very happy birthday.
We asked colleagues based at Riverside what their favourite object or memory is, here is a flavour of what they had to say. 
Annie, Assistant Programming Officer: 
One of my favourite exhibits in Riverside is 'Tram Dancing'. This work evokes memories of listening to my Mum and Dad reminiscing about their younger days of going into Glasgow. Having a wee hurl on the city trams, all dressed up in their best finery, from their wee village out in Lennoxtown to the bright City lights of the Locarno for the dancin'.

When I pass this in Riverside of a day, it brings me real joy and memories come to mind of old family photographs of them all dressed up. My mum in her beautiful dresses and my dad in his suits. What a handsome couple they were! I would love to have been part of that time and listening to music from that era always makes me feel close to my parents and makes me smile.

I especially love the social history element Riverside has to offer visitors, young and old alike. It is like an invisible thread running through the museum linking people together, it is wonderful to speak to visitors about their special memories, to watch them relive certain times in their lives and to observe parents explaining to their children, grandparents explaining to their grandchildren about times gone by.
John, Curator Transport & Technology:
My favourite thing about the museum is that it brings the history of Glasgow and its people alive.

My highlight of the first ten years was the installation of the South African Railways locomotive. The project of finding it in South Africa, bringing it to Glasgow and then conserving it was a mammoth task. It was one of the first objects to go into the building and it being moved into position meant the grand opening was not far off. It's the largest object in the Museum and from the day we opened it has generated lots of conversation with our visitors. Many are amazed at its size, others its history in South Africa during the Apartheid era and others on the display about the men who built in in the mid-1940s.
Elizabeth, Gallery Assistant and costume maker:
One of my favourite areas in Riverside is the Old Street.  I am particularly fond of the Victorian dress shop, aptly named Devine's Gowns and Mantels, with its elegant gowns and old treadle sewing machine.

The story boards inside describe what clothes shopping would have been like in this period.  A visit to a dress shop then would have been an experience, for those who could afford handmade and embellished dresses and day suits, nothing was available off the peg.  The customer area of the shop would have been welcoming and luxuriously furnished, in comparison to the conditions in the workroom.  It would have been noisy, cramped, badly lit and the women poorly paid.  A great deal of time would have been spent hand sewing and embellishing the gowns with beads, pearls and precious stones.  You can also see that clothes would have been made from luxurious fabrics and lasted for years, quite a comparison to the ready to wear and 'throw away' fashions of today.

As a dressmaker I have made Victorian bathing costumes and Victorian dress up costumes for the Photographers shop.  I am pleased to say that sewing machines nowadays make life a lot
As the school holidays approach we hope you will join us and reacquaint yourself with a favourite object or display at Riverside.