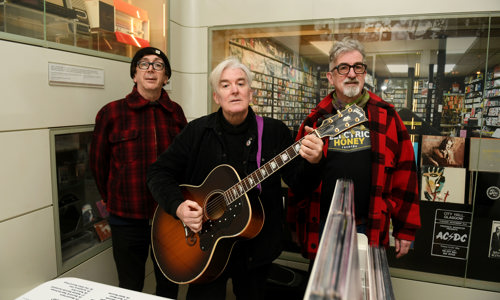 The Bluebells launch new Riverside Museum display celebrating golden era for Glasgow's record stores
The Bluebells launch new Riverside Museum display celebrating golden era for Glasgow's record stores
Scots band The Bluebells, who topped the UK charts in the 1990s with their pop-hit 'Young at Heart', opened a new exhibition at Glasgow's Riverside Museum today (Wednesday 2 March) which will transport music fans back to a golden era for the city's record stores.
Robert Hodgens, founder of The Bluebells and better known as Bobby Bluebell, was joined by brothers and fellow bandmates Ken and David McCluskey for the launch of 'Spinning Around – Glasgow's Remarkable Record Shops'; a celebration of the numerous music stores that thrived in the city from the 1980s to the mid-1990s.
During that period, Glasgow was home to 130 much-loved record shops. However, businesses like A1; Bruce's; Gloria's; John Smith & Son; Listen; Rub-a-Dub; 23rd Precinct; Tower; and Volume were regarded as much more than just places to buy music, they were melting pots for the growth of the city's burgeoning cultural and creative scene – outlets of expression which galvanised Glasgow's identity as a City of Music long before that title was officially granted by UNESCO in 2008.  
Glasgow's record shops acted as meeting places where people could experience new sounds and styles, create club nights and forge friendships. Such places helped to launch the careers of several successful Scottish acts, from The Bluebells; Deacon Blue; Orange Juice; and Simple Minds to The Bathers; BMX Bandits; Strawberry Switchblade; and The Wake.
The new display is the first to open at the Riverside Museum – managed by Glasgow Life – since 2019 and turns back time to the days before digital downloads, when all genres of music were discoverable by visiting one of the city's record stores and flipping through racks of vinyl which held everything from mainstream hits to classical, jazz, folk, dance and reggae.
Comprising 134 objects and housed in the museum's former 1950s Pawn Shop, it reflects the work and success of major Glasgow acts like Teenage Fanclub; Deacon Blue; Primal Scream; Simple Minds and Texas. In all, more than 60 Scottish bands and artists who were active between 1980 and 1995 are represented through records; cassettes; CDs; posters; t-shirts and other music memorabilia.
A host of groups and musicians have supported the display through donating and loaning items, including: The Bluebells; Simple Minds; Belle and Sebastian; The Pastels; Urusei Yatsura; Kevin McDermott of The Suede Crocodiles; and Ross Sinclair of The Soup Dragons. Record labels and record shops, such as The Creeping Bent Organisation and Fopp, have also gifted objects.
Among the exhibition's main attractions are: gold discs from The Bluebells and Simple Minds; a fan-made, screen-printed scarf dedicated to The Bluebells; record shop bags connected to some of Glasgow's best-loved vinyl venues; rare club flyers, including the Volcano's legendary 'Partick Passport'; and a 1956 Lambretta LD 150 scooter bought by Alex Kapranos, lead singer of Franz Ferdinand, to toast his first record deal.
Featuring a variety of digital elements, visitors can try their hand at 'crate-digging' and browse an interactive record rack containing around 100 LP and 12-inch sleeves, or try to find all 130 Glasgow record shops, which are dotted around a hand-drawn, one-metre-square map created by acclaimed local illustrator, Adrian McMurchie.
Hidden among the records are lesser-known Glasgow music facts, like which band has had the most hits and the identities of the city's oldest record shops. A near six-hour playlist of bands and artists featured throughout the exhibition provides a seminal soundtrack.
Visitors can also watch a series of short interviews with musicians, DJs, record shop owners and employees, as they recount their favourite stories of Glasgow's record stores, as well as scan a QR code to access a video listing all of the records, cassettes and CDs presented within the display, including details of the sleeve designers and record labels. 
Ken McCluskey of The Bluebells said: "Glasgow's record shops in the 1980s were hugely important to me and The Bluebells; they were where we got our musical education from and where we would meet and hang out. It was an exciting time for music and the emergence of many of Scotland's top bands and artists during those years grew out of the city's record shop scene. It's been a pleasure to donate a few rare items on behalf of the band to this brilliant new exhibition, which celebrates the importance of Glasgow's record stores to the city's musical legacy."     
Councillor David McDonald, Chair of Glasgow Life and Depute Leader of Glasgow City Council, said: "Glasgow is Scotland's music capital and our iconic record shops played a central role for more than a decade in shaping and enhancing our reputation as a world-class music city. This informative new exhibition – the first at the Riverside Museum since before the pandemic – captures the rich history of these independent stores as well as their significant contribution to Glasgow's musical heritage."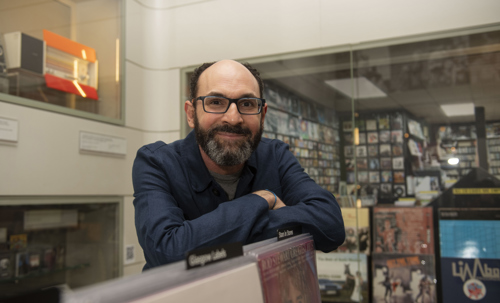 Photography is another key feature of the exhibition, with images taken in the early 1980s by renowned music press photographer, Harry Papadopoulos, on show. Originally available to buy as 10-by-8-inch prints in many of Glasgow's independent record shops, Street Level Photoworks has provided exclusive access to a selection from Papadopoulos' archive. Additionally, shots of 1990s clubbers at Glasgow's legendary Sub Club have been supplied by celebrated Glasgow photographer, Brian Sweeney, to help place in context the various flyers featured in the display.
Neil Johnson-Symington (pictured above), Curator of Transport and Technology at Glasgow Life Museums, who put the exhibition together, said: "Glasgow has always been known as a City of Music, even before UNESCO's official endorsement in 2008. However, this display is inspired not by the city's unrivalled music venues, but by the scores of record shops from the 1980s to the mid-1990s which were instrumental to the forming of so many amazing local bands. They weren't just places to buy records, they were creative hubs which inspired new music, club nights, recording studios and independent labels.
"With demand for vinyl surging and opportunities to enjoy live music returning, this timely new display will provide music fans with an opportunity to enjoy a trip down memory lane and to reflect on Glasgow's once flourishing love affair with its record shops."  
'Spinning Around – Glasgow's Remarkable Record Shops' will be refreshed with new objects and donations annually. You can visit the exhibition for free during the Riverside Museum's opening hours: Monday to Thursday, and Saturday, 10am-5pm; Friday and Sunday, 11am-5pm.