Lifestyle Badminton Programme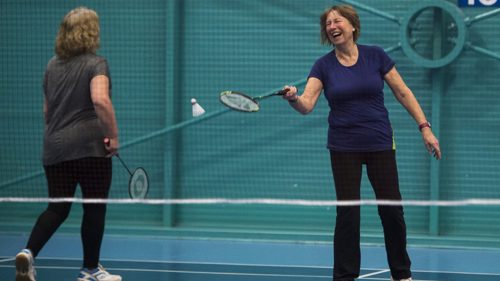 Glasgow Sports Lifestyle Drop-in Badminton Programme based at the National Badminton Academy, is part of a wider badminton programme which offers a social, inclusive environment for adults looking to enjoy a slower pace of the game in a friendly, social environment.
This coach lead programme delivered by Glasgow Life is part of the Get Active Glasgow Club Membership accessed by over 6000 members. These weekly sessions offer a warm welcome and positive playing environment to players of all abilities. The programme welcomes participates both new to the game and those with previous playing experience to an environment where the engagement off court is equal to the physical benefits of playing.  
The daytime delivery of the programme naturally engages an audience of around 50 weekly attendances providing a structure and purpose to their day. The growth of the programme over time and has been supported through increased court access and the inclusion within the Active Club membership to reduce the financial barrier to participation.  
The success of the programme undoubtedly stems for the coach Sandra who has been the constant friendly, familiar face supporting daytime activity with the venue for over 26 years. Sandra's commitment has been instrumental to building the success it is today. Her role may be primarily to co-ordinate a positive playing environment for everyone but for Sandra, she views here role as a trusted friend and 'constant' to be there to listen and support each player while creating a welcoming and challenging experience on court. 
People come to play badminton but the greatest benefit I see is the growth of networks when they walk out the hall
Many participants share the same challenges in life including loneliness, social isolation, anxiety, lack of confidence and health concerns which the programme and environment directly supports through the time spend when not playing, talking, and engaging with other players in a venue which offers a top-class facility to be physically active, socialise and host world class events. 
Lifestyle Badminton is more than just badminton...
it gives me the knowledge that I have a reason to get up, engage with likeminded people in a welcoming, informal environment, allowing positive interaction with a reduced focus on me– a situation I will always try to avoid
Glasgow Life's commitment to funding, promoting, and supporting this programme is recognised and valued by the participants. Alec first engaged with the programme in 2019 through a Motor Neuron Self-Management Programme to build stamina.
His return to the programme after COVID-19 was extremely challenging for him through increased anxiety, fear of social interaction and his physical deterioration. The encouragement from the Motor Neuron Society helped Alec return. 
I knew I would be ok if I could get there. I suffer cognitive challenges due to my MS which means I am unable to keep the score but this is never an issue. When playing and off court, I'm surrounded by natural support and understanding from everyone which I am grateful for
Give feedback about this page