Glasgow's Sport Awards 2023
Celebrating Sport, Physical Activity and Wellbeing in the city.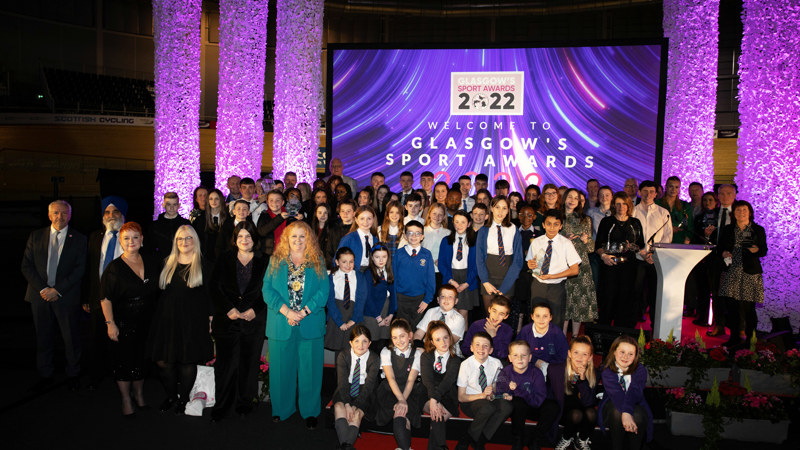 Glasgow's Sport Awards 2023 - And the nominees are...
Glasgow's Sport Awards recognise the people, organisations and projects that have made a difference to Glasgow in 2023.

We are delighted to announce the shortlisted nominees for this years awards.



Glasgow's Sport Awards - Finalists
Glasgow's Sport Awards will be hosted in the Emirates Arena's Sir Chris Hoy Velodrome on Monday 27th November and the winners of each award will be announced then.
The event will also crown Glasgow's Sportsperson of the Year 2023 and recognise those that have made a significant contribution to physical activity and sport in Glasgow via the Lord Provost and Lifetime Achievement awards.
Glasgow Coach of the Year recognises an individual that has shown an outstanding commitment to coaching and further development of athletes or teams within their sport.
The shortlisted nominees for this award are:
Leanne Ross, Glasgow City FC 
Leanne coached Glasgow City FC to the Scottish Women's Premier League Title and is the current Assistant Manager for the Scottish Women's National Team
Jonny Mitchell, Glasgow Track Racing Club
Jonny is head coach at the Glasgow Track Racing Club and is Technical Coach with the Danish cycling team and supported them to secure a gold medal in the Men's Team Pursuit at the UCI World Cycling Championships.
Anthony Quayle, Southside Boxing Academy
Anthony is head coach for Southside Boxing Academy winning an unprecedented 40 Gold and 22 Silver medals in 2023. The club has produced an exceptional 8 Golden Glove Scottish Champions.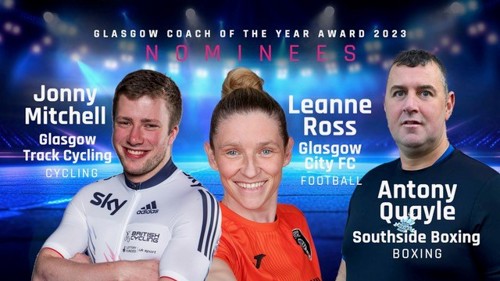 The Glasgow Community Impact Award recognises an organisation or project that uses physical activity or sport to make a difference within their community.
The shortlisted nominees for this award are:
Lemon Acro Gymnastics Club
Lemon Acro launched in Milton 12 months ago. The club already has over one hundred members and deliver a variety of community classes including pre 5s and family activities to make gymnastics affordable and accessible in their community.
The Loading Bay skatepark is an indoor facility in Port Dundas offering a range of urban sports with around 30,000 visitors each year. The venue has an extensive outreach programme welcoming schools in Glasgow for urban sport activities.
Active Life Club delivered 126 sessions in 13 primary schools delivering activity to almost 1000 people. The club set up a parents' forum and have recruited 45 new volunteers, the majority female, to increase the opportunities they provide and the impact they make in their community.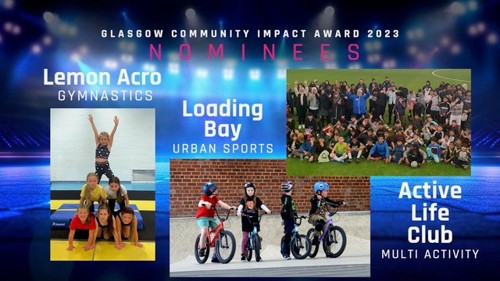 Glasgow Disabled Athlete of the Year recognises a sportsperson, with a disability, that has shown outstanding commitment and performance.
The shortlisted nominees for this award are:
Geraldine Fitzsimmons (Powerlifting)
Gerry won 3 Gold Medals at the 2023 Special Olympics World Games in Berlin in the Bench Press, Deadlift and Overall categories.
Samantha Kinghorn MBE (Para-Athletics)
Sammi won Gold in the T53 100m in the World Para- Athletics Championships, setting a new championship record in the process.
Emma Thomson (Gymnastics)
Emma won Gold competing in Beam and Floor as well as bronze in two other disciplines at the Special Olympics World Games.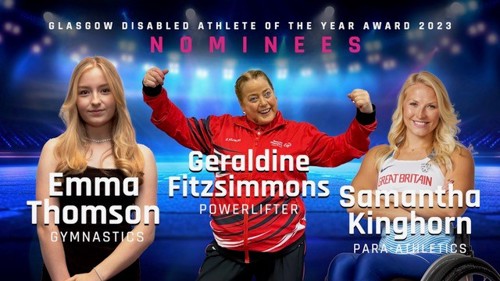 The Glasgow Health and Wellbeing Award recognises significant achievements in using physical activity to positively impact upon the physical and mental wellbeing of individuals and groups.
The shortlisted nominees for this award are:
Drumchapel Parkinson's Table Tennis
Drumchapel Parkinson's Table Tennis is  activity for people with Parkinson's that not only supports the coordination, motor skills and cognitive function of those attending but provides a sociable experience and support network for participants and carers.
Glasgow Life Walking Football
Glasgow Life's Walking Football programme has over 17 weekly sessions and 230 attendees enabling everyone to enjoy the benefits of football all over again. There are weekly dedicated sessions for those with Dementia, Multiple Sclerosis and Parkinson's.
Bike For Good Social Prescribing for Cycling
Bike For Good deliver Social Prescribing for Cycling as a 10-week referral-based programme working with Community Link Practitioners to provide 1:1 support and access to bikes. The project enables participants to build confidence, explore the city, reduce social isolation, and improve wellbeing.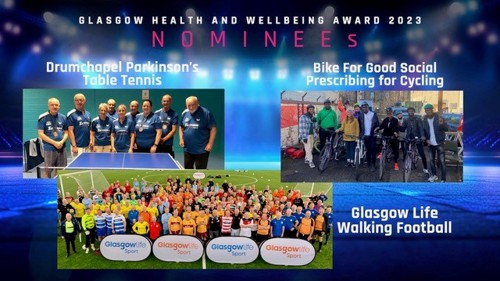 Glasgow's Sport Awards will recognise primary and secondary schools that place physical activity and sport at the heart of their school.
Schools that have achieved the sportscotland GOLD award will be recognised.
The School Sport Award winners are:
Avenue End Primary School
Cardonald Primary School
St Brigid's Primary School
Glasgow Gaelic Primary School
Glasgow Gaelic Secondary School
Shawlands Academy
Supporting Young Glaswegians Award recognises initiatives in our schools that are having a significant impact on supporting young people to enjoy the benefits of physical activity and sport. 
The shortlisted nominees for this award are:
Inclusive Multi Sport Camp
Inclusive Multi Sport Camp delivers activities during the school holidays for young people with disabilities, including hidden disabilities such as autism, to meet their peers and enjoy new activities in a safe inclusive environment.
A legacy initiative for the UCI World Championships, this project removed barriers to deliver cycling activity to 130 girls from 13 secondary schools. This provided new opportunities to try different cycling disciplines in the fantastic venues across Glasgow for young people who may not have previously taken part in the sport.
City of Dance delivers in schools across Glasgow allowing 1700 young people to enjoy dance lessons  and choreographing routines that can be showcased or taken into a competitive format with heats across the city.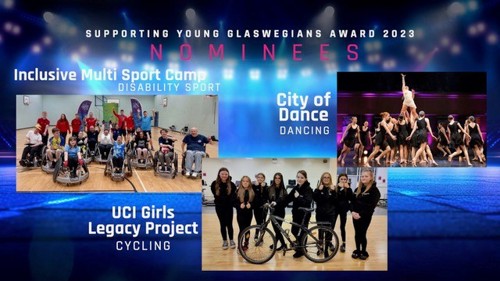 The Uniting Glasgow Award recognises an organisation or project that uses physical activity or sport to bring people and communities together in Glasgow.
The shortlisted nominees for this award are:
Active Life Club supports the development of black and minority ethnic communities, breaking down barriers to increase female leadership through the delivery of football, cricket and cycling amongst other activities to almost 1000 people across the past 12 months.
Queens Park Strangers started as an informal kick about in the park following a conversation in a local coffee shop. The strangers now welcome around 40 people to play football two times per week and is open to all.
Glasgow Afghan United - Women's Empowerment Programme
The Women's Empowerment Project is a safe space to learn skills, be active and connect with others. It supports women, of various nationalities, to gain leadership qualifications and provides opportunities to take part in and deliver sport.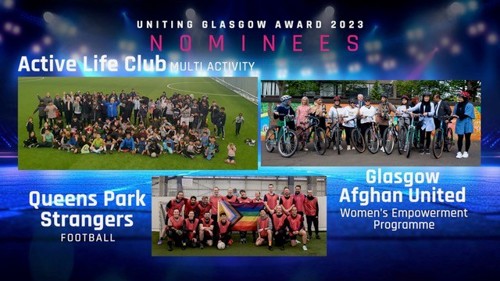 Glasgow Volunteer of the Year recognises a volunteer that has made an outstanding contribution to physical activity or sport in their local community.
The shortlisted nominees for this award are:
Eric Sproul, Easterhouse Phoenix
Eric leads three cycles per week that support the most marginalised and vulnerable people in Easterhouse. When he isn't leading rides, Eric volunteers at the Phoenix Community Centre supporting the delivery of many different activities.
Sheryl Braidwood, SAPC Sycamores 
Sheryl drives the delivery of Netball at SAPC Sycamores which has over 150 females playing the sport. Sheryl is District u17s Glasgow Wildcats head coach and assistant coach within the Scottish national team at the same age group.
George Nisbet, Glasgow Petanque Club
George is grounds convenor and coach at Glasgow Petanque Club, with over 90 members. He not only organises and runs all club competitions but is responsible for the building of the club's pistes and storage shed.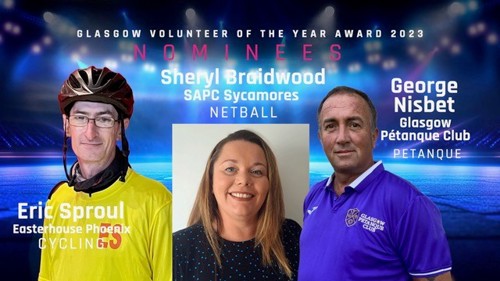 Glasgow Young Sportsperson of the Year recognises a junior sportsperson aged 18 or under, that has given the most outstanding performance within their sport across the last year.
The shortlisted nominees for this award are:
Zain Iqbal, Southside Boxing
Zain won silver at the European Championships is currently the number 2 ranked schoolboy boxer in Europe. He won Gold in both the British and Scottish Championships within his age group in 2023.
Dean Patterson, Victoria Park City of Glasgow 
Dean won Silver at the Youth Commonwealth Games in the 200m and won Gold in the Scottish U20 and bronze in the Scottish Seniors in the same discipline.
Robyn McAlpine, Scotstoun Eagles
Robyn won Gold and became Scottish champion in the u17, u19 and u23 age categories becoming the first person to do this in one year. She also won Bronze at the Scottish Senior Championships.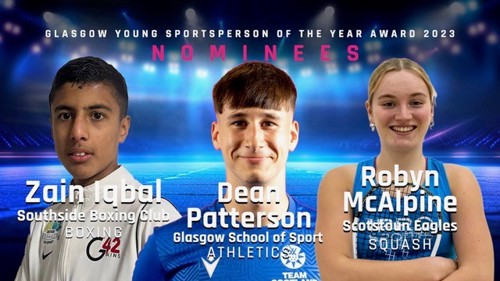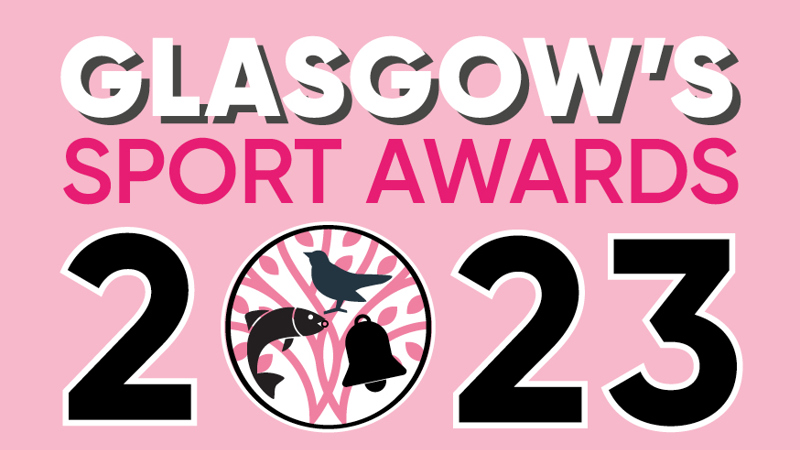 Glasgow's Sport Awards 2022 Images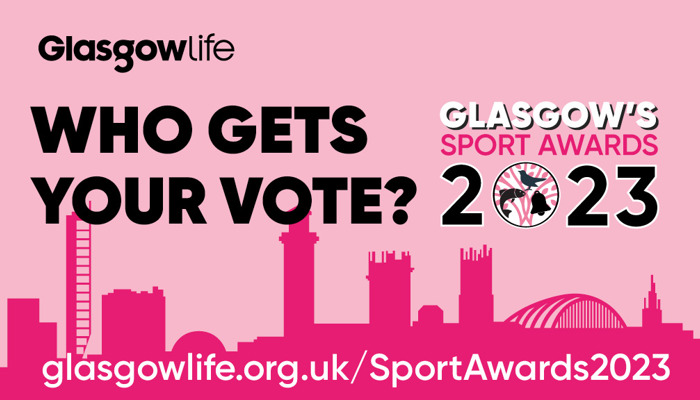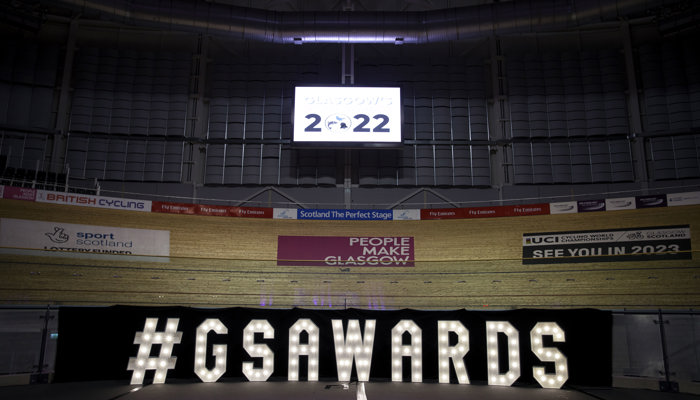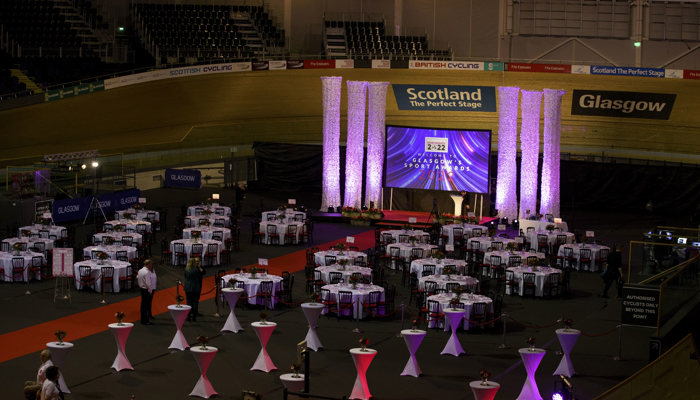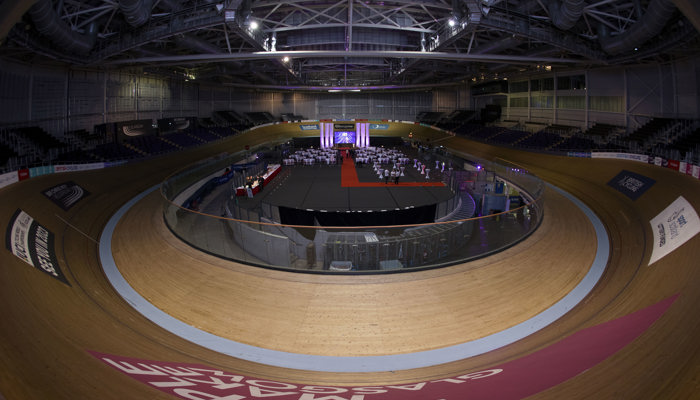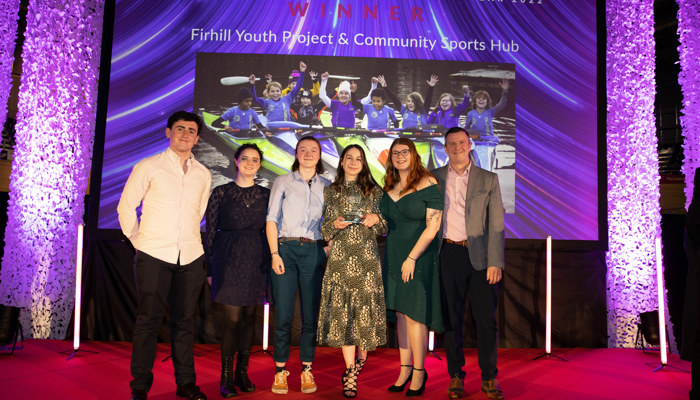 Community Impact Award Winner - Firhill Youth Project and CSH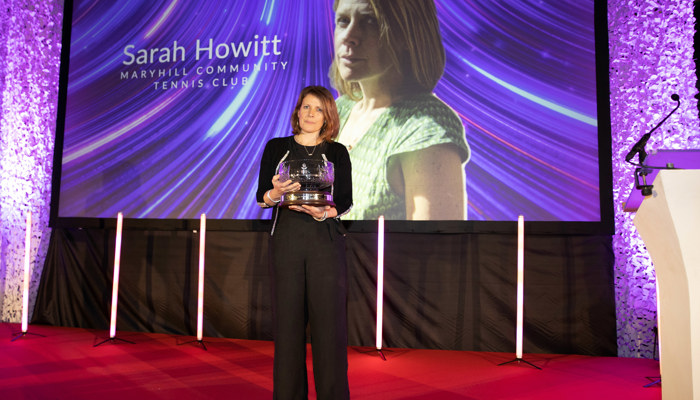 Glasgow Volunteer of the Year - Sarah Howitt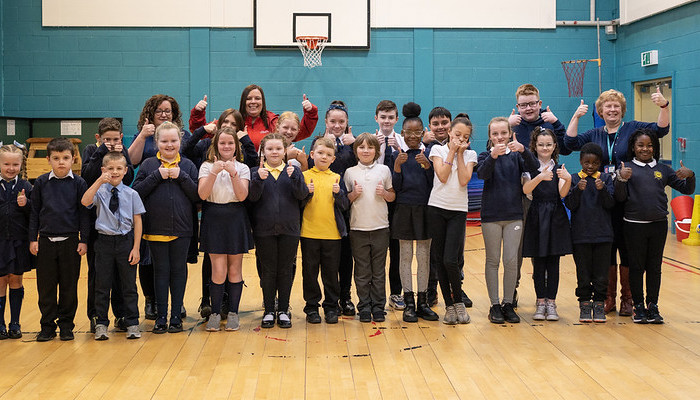 Glasgow Primary School Award - Camstradden Primary
Give feedback about this page