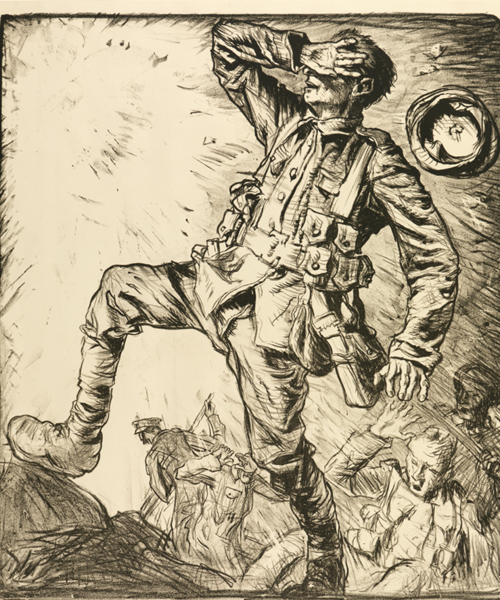 This is an emotive display by artist Frank Brangwyn (1916-1917) that reflects on the impact of war and the life-changing injuries servicemen can sustain. The display is a series of five lithographic prints illustrating the experience of a soldier in WWI who went to war, was blinded on the battlefield, hospitalised and then supported to learn a new trade.  As an artist Frank Brangwyn always championed the ordinary person in his art, in this case a foot soldier. He produced a large number of lithographs, posters, rolls of honour and war bond stamps. In all he depicts working class heroes with dignity and respect, emphasised in the way the soldier often physically dominates the image. Although these lithographs are over 100 years old they remain as relevant now as the day they were created
Braille translations, iPad audio and a 3D printed representation of a key artwork accompany the lithographs to allow the blind and visually impaired community to interact fully with the display.
This display is free and situated in the Fragile Art Gallery in Kelvingrove.
Glasgow Museums' holds a wider collection of World War I prints and drawings by Frank Brangwyn, which are available online through Collections Navigator
Frank Brangwyn, 'The Shell', 1915, lithograph on paper.
Presented by Sir Frank W Brangwyn and R G Praill, 1944.
CREDIT: © David Brangwyn.