Macmillan @ Glasgow Libraries
Contact us
Get in touch or refer someone in today
0141 287 2903
macmillan@glasgowlife.org.uk
Cancer support and information for you
If you or someone you care about has been diagnosed with cancer, we're here to help. Macmillan @ Glasgow Libraries offer a free and confidential service, providing emotional, practical and financial support to anyone who is affected by cancer.
So whatever cancer throws your way, we're here for you. 
Read more below on the support and information we are currently providing.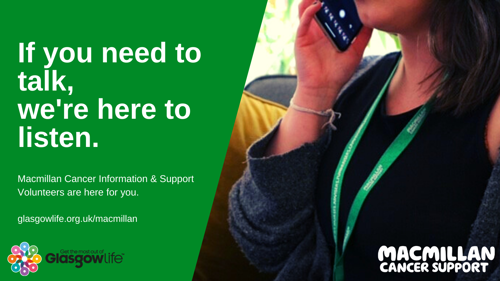 Going through cancer can be a lonely and isolating experience at any time, and the Coronavirus pandemic has made life even more difficult for many people affected by cancer. If you are living with or beyond cancer, you are the family, friend or carer of someone with cancer, or if you are bereaved, our telephone support volunteers are here for you.
You'll be contacted by a specially trained volunteer who will provide emotional, practical and financial support to ensure you don't feel alone. Volunteers will be a listening ear, ready to talk about how you're feeling during this difficult time. Free, expert and easy to understand information about cancer can also be provided to help answer any questions you have. Volunteers will be able to refer you into our partner organisations for further support, and to talk about what is available to you and the people you care about.
If you need to talk, we're here to listen. Calls can be made on a regular basis and are arranged on each individual's preferences. If you're interested, get in touch today via 0141 287 2903 or macmillan@glasgowlife.org.uk
"The fact that I know I am not going through this on my own, and having someone to talk to other than my family when I am feeling anxious and a little down makes me feel better, and look forward to what the future holds"
We are pleased to be able to offer regular cancer support both over the phone and face to face from August 2021.
Cancer support and information is provided with new, weekly, in-person appointments available for people living with or beyond cancer, family, friends or carers, and people who are bereaved.
We're also hosting drop ins offering support, information and the space to talk about what you are going through. Our sessions will be hosted by Macmillan @ Glasgow Libraries staff until volunteers can be safely reintroduced.
You are welcome to bring people from your household along to both an appointment and drop in at Royston, Partick and Castlemilk libraries.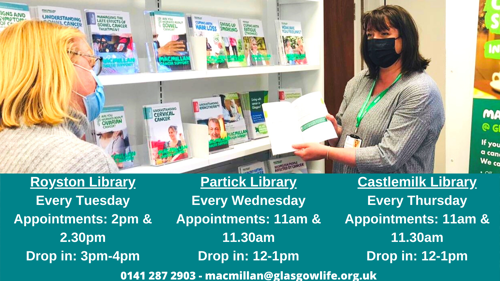 In line with Scottish Government guidelines and existing procedures in place across all Glasgow Libraries, we have rearranged our service layouts to allow for social distancing. Hand sanitiser and face coverings will also be utilised and available to ensure a safe environment.
You can find free, expert and easy to understand information on cancer in all Glasgow Libraries. We cover a wide range of topics for people with cancer, their loved ones and carers.
For support, information or just to talk about what you're going through either in-person or over the phone contact us today on 0141 287 2903 or macmillan@glasgowlife.org.uk