College and University Visits
Contact Us
0141 276 9505 / 9506
Glasgow museums offer visits....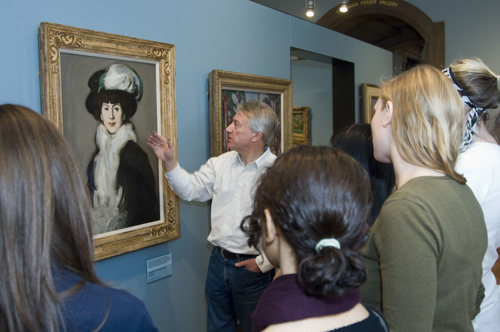 Travel and Tourism
Learn about our visitor profiles, visitor numbers, marketing, services, public programmes and visitor research. View a presentation and go on a short tour. This session is available at Kelvingrove Art Gallery and Museum, Gallery of Modern Art, Scotland Street School Museum and the People's Palace.
Travel and tourism session at Riverside Museum
Enjoy an introduction to the outdoor space, building and displays. We will focus on what we offer our visitors and why. Learn about audiences and try our digital interpretation. Learn how we connect with local communities. Finish with a presentation and the chance to ask questions.
Childcare and early education
Glasgow museums offer a fun and interactive programme for nurseries and families with children under 5. Learn about the variety of workshops. Try out some activities and resources. This session is available at Kelvingrove Art Gallery and Museum, Glasgow Museums Resource Centre and Scotland Street School Museum. Scotland Street School Museum will also provide the opportunity to see how school life and teaching methods have changed since Victorian times.
Chair design at Kelvin Hall
See our large collection of chairs which feature a range of designs and materials. Learn how design has been influenced by function, fashion and changes in technology. Discover how we conserve and restore our collections. Learn how to accurately measure a piece of furniture for reproduction purposes.
Creative industries at the Gallery of Modern Art
Go behind the scenes and find out about the different jobs at the gallery. Learn about the people who are involved in putting on an exhibition. This is an ideal opportunity to get an insight into the gallery sector and can be a starting point for a project in partnership with the venue. 
All sessions cost £35 for Glasgow institutions, and £40 for those out with Glasgow. The maximum number of students is 25. You will be invoiced after your visit.
We can also support self-led visits and may be able to provide rooms for practical work.
For highly specialised tours, we may put you in touch with one of our subject curators. There will be a higher fee for these tours.
Exploring Museums - Support for Learning Programme
These courses provide life and social skills for students accessing these courses at college find out more here.
Glasgow museums offer visits for further and higher education groups. Please see our programme below.
Please call 0141 276 9505 / 9506 or
e-mail museums.schoolbookings@glasgowlife.org.uk to discuss and book.
Useful documents
Accessible formats
If you require documents in large print, braille, or audio versions please email: info@glasgowlife.org.uk