College and University Visits
Workshops, tours and self-led visits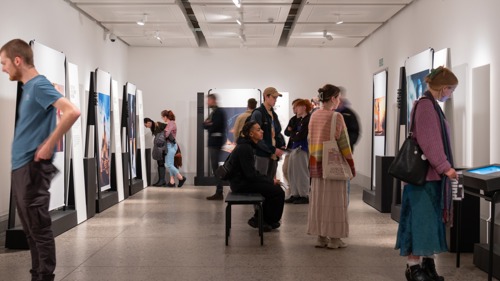 We are now taking bookings for our 2022-23 college programme, outlined below. 
Sessions are available for a range of courses including ESOL, Travel and Tourism and Support for Learning. 
We make a nominal charge for groups participating in our facilitated programme:
£35 for a facilitated workshop (approx. 1.5-2 hours)
£25 for a guided tour (approx. 1 hour)
ESOL - free of charge*
Support for Learning - free of charge*
*As we have limited capacity within our Learning team, multiple visits from the same group are subject to staff availability
College and university groups can also visit on a self-led basis but please book in advance so we can help plan your visit.  We may be able to provide a room for your group to use as part of their visit. Self-led visits are free of charge.
University groups wishing a curator-led talk or tour on a specific theme will be put in touch with the relevant staff member to discuss further.  
New! 
My Stories at Kelvingrove Art Gallery and Museum- an exciting new digital experience with an emphasis on developing life skills. Explore the museum in pairs using tablet devices and discover more about the museum, and yourself, as you go!
Explore the rest of our college programme by selecting one of the themes below:
A hands-on session where students will explore museum collections through group work, practical activities, and discussion. Sessions encourage social interaction in a safe but stimulating environment. Activities will contribute to developing skills for life and work. To help plan the content of the session we suggest looking at the themes and workshops offered to school groups which we can use as a basis but adapt the delivery and resources for your students.
Collections across our museums range from archaeology to transport, and from Glasgow's history to contemporary art. So there's something to suit all interests! To find out more about the different collections, visit Glasgow  Museums.com
Sessions are free of charge, however we may have limited capacity to accommodate block bookings for the same group of students 
ESOL at Glasgow Museum
This session to support ESOL classes is available at all of our Glasgow Museums venues. Students will enjoy interactive tours of the collections, have the opportunity to see unique museum objects, and take part in creative activities.
ESOL at Glasgow Museums is an informal and friendly programme in a safe and relaxed setting.
Taking inspiration from the objects on display or in our stores, students will practice their English skills by discovering the different collections, discussing ideas, and sharing opinions and stories.
To find out more about the different collections, visit Glasgow Museums. 
Sessions are free of charge, however we may have limited capacity to accommodate block bookings for the same group of students
1 hour, £25
Learn about Scottish Tourism directly from some of Scotland's best-loved museums. 
Year 1: Introduction to Glasgow Museums for Travel and Tourism.
This session includes a presentation followed by interactive gallery-based tasks and discussions. Provides students with an introduction to the museum's visitor profile, visitor services, public engagement programme  and commercial operations. 
Available at GoMA, Kelvingrove Museum, Burrell Collection and St Mungo Museum. 
Minimum group size 10 students. 
Year 2: Visitor Attraction Operations.  
Guided tour with one of our venue managers looking at venue operations including staff roles, security, maintenance, facilities and services. Also highlights the partners and volunteers who provide programmes and services in the venue. 
Available at Kelvingrove Museum and St Mungo Museum. 
2 hours, £35
From Glasgow Style to 50s and 60s plastics, discover how design has been influenced by function, fashion and changes in technology.
With a focus on our chair collection, we will examine how they are constructed, learning about the techniques and materials used. This session can be adapted to include creative design activities that complement woodcraft, furniture, and interior design courses. 
2 hours, £35
Students are invited to the Gallery of Modern Art to deepen their understanding of how contemporary art is put into practice. Through specific artworks in the gallery, we will provide a contextual approach to art, looking closely at how artworks are displayed and curated.
We will find out the different jobs and skills involved in the sector and uncover processes and protocols employed to get an exhibition up. Taking the original artworks as a starting point, students will be guided into developing a confident, critical language in response to contemporary art practice.
GMRC offers a unique opportunity for students to practice their macro photography skills, with rooms full of fascinating museum objects, covering art, natural history, technology, world cultures and more. Objects are on open display, without glass cabinets, offering a great chance to take amazing photos.
In addition, the visit will include a tour of our photography collections, including photographers such as Sebastião Salgado and Anthony Goldsworthy.
A new, interactive experience for young people with an emphasis on the development of life skills. For more details and to book a visit My Stories
Give feedback about this page