Schools and Nurseries
Our workshops for nurseries, primary and secondary schools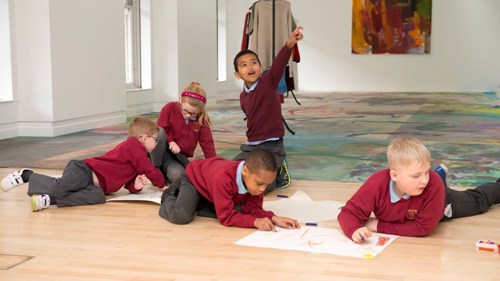 Our 2023-24 programme of workshops for nursery, primary and secondary school groups is now available. Download the brochure. 
Sessions are available at Kelvingrove Art Gallery and Museum, Riverside Museum, Glasgow Museums Resource Centre, People's Palace, the Gallery of Modern Art and St Mungo Museum. Through our partnership with the RSPB, schools can also choose to take part in a field teaching session in Kelvingrove Park.
New sessions this year include:
My Stories - an exciting interactive digital experience at Kelvingrove Museum for young people age 12-18+ with an emphasis on developing life skills. 
Materials of Our Planet - earth sciences at GMRC for upper primary 
Express Yourself - our Identities Past and Present at Burrell Collection - primary & secondary 
Glasgow City of Empire tours - Kelvingrove Art Gallery and Museum
Urban Wildlife Detectives with the RSPB 
ASL groups are free of charge, however multiple visits from the same group of pupils will incur a small charge. Self-led visits for all educational groups are free, but please book in advance. 
To book a visit please email museums.schoolbookings@glasgowlife.org.uk or call 0141 276 9505 / 9506 (option 1, Monday–Friday).
We also have a range of learning resources, including trails to use in venue 
Give feedback about this page