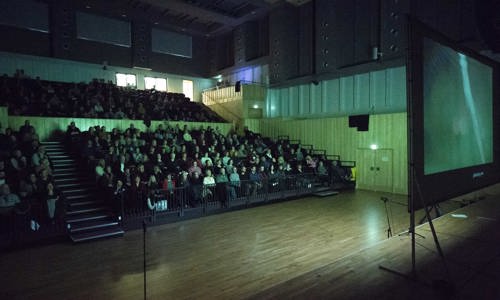 Richy Carey - UNESCO Music Artist in Residence
Richy Carey - UNESCO Music Artist in Residence
Richy Carey is a composer and sound artist based in Glasgow. He was appointed as the first Glasgow UNESCO City of Music Artist in Residence in 2018 - we spoke to him about his year.
How did you become the first UNESCO artist in residence?
Alongside my work as a composer and community musician, I also do a PhD part-time at Glasgow Uni. The organisation that fund arts research, the AHRC, and the Scottish body that distributes that funding here, the SGSAH, were working with Glasgow Life to fund the Glasgow UNESCO city of music residency.
I heard about the opportunity, wrote a proposal of what I was interested in doing, and submitted it to Glasgow Life/SGSAH. There was an interview process and my project was commissioned.
By playing this video the provider may set cookies
What did you do during that time?
To begin with I had a desk in Tramway's office where I did some research into the different arts organisations that Glasgow Life work with and support, as well as getting in touch with different community groups I know through my own practice to see if they'd like to be on board with the project.
Between March and October last year (2018) I did a lot of music and sound making workshops with different community organisations around the city, mainly exploring accents as sounds to make music from, and trying out different workshops around instruction scores (a way of writing music that just uses sentences instead of music notation).
Following that period of research with people around the city, I started writing/filming the work. Trying it out at different stages with community choirs around the city to see what they thought of it, which helped shape it. 
Then in March, as part of the Glasgow Short Film Festival 2019, we performed the work at the Glasgow Concert Halls, where over 350 people, many of whom had been involved in the project at different stages, came together to perform a live soundtrack to a film about the city and the voices in it.
What opportunities has Glasgow brought you?
Well it's where I'm from, so I guess every opportunity! 
I'm lucky in that I get to sometimes visit other places for work, but I always look forward to coming home and making things here. Glasgow and Glaswegians are really supportive of artists and musicians I think. It's an open minded place where people really appreciate arts and music, and are keen to see it and join in, but also (thankfully) not a place it's easy to get away with being pretentious, so you can make really new sounding things and concentrate on making them for the sake of making.
I think the way I make work, which is a lot to do with collaborating and making with people, has a lot to do with the communities I've grown up with in the city and the ways I've always just been welcome to join in.
What are you doing now?
Right now I've just got my head down in the studio working on two new films, one a commission celebrating Margaret Tait's legacy  and another for a Canadian duo I've been working with. 
Good luck with the future Richy - we look forward following your music career!