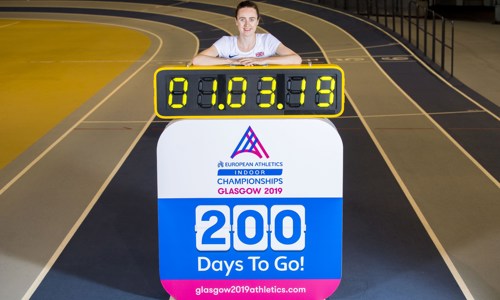 200 Days To Go: Full schedule for 2019 European Athletics Indoor Championships revealed
200 Days To Go: Full schedule for 2019 European Athletics Indoor Championships revealed
The race to the European Athletics Indoor Championships, which comes to Glasgow in March 2019, is well and truly on with just 200 days to go.
Some of the world's leading athletes will descend on Glasgow's Emirates Arena between 1-3 March as the Championships return to the iconic city for the first time since 1990. There will be 650 athletes from more than 45 nations setting their sights on glory, after details of the competition schedule were also revealed today.
Six sessions will be competed across three action-packed days of competition, with qualifiers and finals contested every day. Medals for events such as the Women's 3000m and Men's Shot Put will be up for grabs on day one. Meanwhile, the Men's Pole Vault and Women's 400m will be among the highlights on day two, with both the Men and Women's Long Jump, 4x400m Relay, and 1500m all featuring on an exciting final day.
Home favourite and Championship ambassador, Laura Muir, will have had a particularly close eye on the schedule for the Women's 1500m and 3000m, events she claimed gold in at the 2017 Championships in Belgrade and will look to defend one of them come March.
Muir's medal-winning streak continued earlier this year when she claimed silver in the 1500m and bronze in the 3000m at the IAAF World Indoor Championships in Birmingham. Nobody was left doubting her athletic prowess as she dominated last week at the European Championships in Berlin bringing home a gold in the 1500m. The Inverness-born star left will hope she can add to that medal haul come March.
Muir said: "Now that we have officially hit the 200-day-to-go milestone and the competition schedule has been announced, the European Athletics Indoor Championships is now very much in our sights – it is going to come around very quickly. My excitement and anticipation for the Championship is building each day and I can't wait to experience and be a part of another major sporting event in this fantastic city.
The Scottish crowds are always brilliant and come out in their numbers to not only support the home athletes but they also appreciate top quality athletics too, so it will be a fantastic atmosphere for everyone. It has been a long time since the Championships have been to Glasgow and I have no doubts it will be one to remember, hopefully an opportunity for us to inspire the next generation of Scottish athletes."
The city of Glasgow welcomes the return of the Championship as it continues to build its reputation as a truly world class sporting city. The competition will be the second major European event held in Glasgow within twelve months after a hugely successful inaugural European Championships last week. Glasgow continues to receive global recognition for this reputation with a coveted top five ranking as a sporting destination.
Billy Garrett, Director of Sport and Events at Glasgow Life and Co-Chair of the Glasgow 2019 Steering Committee, said: "We have enjoyed a fantastic run of international sporting events over the past five years here in Glasgow and the European Athletics Indoor Championships is another we are hugely excited for. Glasgow will once again play host to some of the world's top athletes, where they will get to perform at a world class venue in front of packed and enthusiastic crowds.
Now that we have hit the 200-day countdown, and on the back of a wonderful first European Championships, the focus is now very much on preparing for another exciting event for the city. It has been 19 years since we last had the championships here, which makes the countdown even more special."
Cherry Alexander MBE, Major Events Director at British Athletics and Sport Director for Glasgow 2019, said: "The announcement of the competition schedule takes us one step closer to what promises to be another fantastic Championships here in the UK.
"We have seen strong ticket sales in the build-up to the Championships so far, and with the events taking place at each session now public knowledge I expect this many fans from not only the UK but overseas will be going online to secure their seat for next March."
Paul Bush OBE, VisitScotland's Director of Events, said: "Scotland's events industry continues to go from strength to strength, having built real momentum off the back of a stellar 2014 to attract and deliver innovative major events year on year.
In 200 days, and following on from the success of the last week's European Championships, we get to do it all again with the European Athletics Indoor Championships where we will continue to justify our reputation as a global leader in the delivery of world class events on a world class stage."
The Emirates Arena, built for the 2014 Commonwealth Games, has a capacity of 5000 and is one of the largest indoor sports venues in Europe hosting a diverse range of sporting events throughout the year.
The European Athletics Indoor championship Glasgow 2019 is guaranteed to give the Scottish crowd unmissable entertainment. The full competition schedule is now live on www.glasgow2019athletics.com with tickets available across all events.
You can view the full competition schedule here.
Tickets available here.