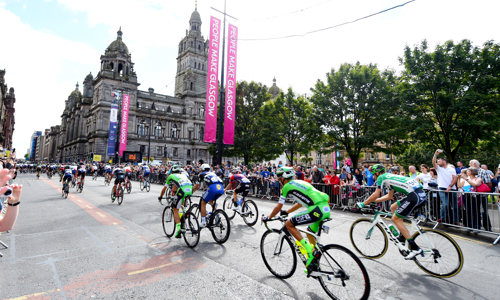 2023 UCI Cycling World Championships announce Non-Executive Director appointments
2023 UCI Cycling World Championships announce Non-Executive Director appointments
2023 UCI Cycling World Championships has announced the appointment of five Non-Executive Directors and one Co-opted member to its Board of Directors.
Rupert Dickinson, Alexandra Innes, David Hornby, Nick Peel and Susan Ahern all joined the 2023 Board in September, bringing with them a breadth of experience from across a range of specialisms and sectors including financial services and investment, consultancy, legal and legislative affairs, media, retail development and real estate. Rupert has also been appointed the Senior Independent Director and will be responsible for chairing the Audit and Risk Committee.
Five-times BMX and Track Cycling World Champion, Shanaze Reade, will also be joining the Board in October as a Co-Opted Board Member. Her years of experience competing at the international level will be hugely valuable to the group and the delivery of the Championships.
Commenting on the appointments, Paul Bush OBE, Chair of 2023 UCI Cycling World Championships, said: "On behalf of the 2023 Board, I would like to congratulate and welcome our six new members. Their individual experience and expertise across a range of sectors and specialisms will be invaluable to the successful delivery of the 2023 UCI Cycling World Championships in Glasgow and across Scotland.
"The Championships will be a catalyst for change and progress in Scotland in making cycling part of the normal, everyday lives of people and the announcement of Shanaze and the Non-Executive Directors is a key milestone on this journey. I look forward to working with all them over the next three years."
The Non-Executive Directors join the nominated Directors from each of principle funder and host partner organisations. They are:
Paul Bush OBE (Chair), VisitScotland
Billy Garrett, Glasgow Life
Danielle Every, British Cycling
Colin Edgar, Glasgow City Council
Stewart Harris, sportscotland
Steven Elworthy MBE, UK Sport
Bettina Sizeland, Scottish Government
The announcement of the new board members comes as the recruitment process for the three senior positions of Director of Sport, Director of Operations and Director of Commercial, Marketing and Communications at the Championships commenced this week.
Reporting directly to the Chief Executive Officer and working closely with the UCI, each position will be responsible for devising and implementing the plans for their respective areas of responsibility and ensuring they meet the event's policy ambitions.