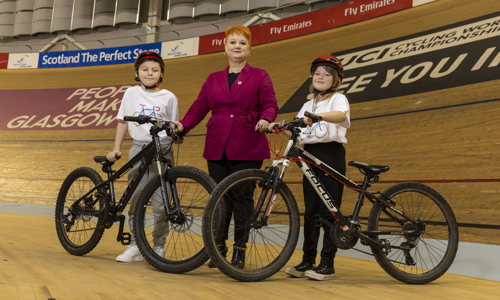 2023 UCI Cycling World Championships signs Ride Together pledge to champion equality, diversity and inclusion
2023 UCI Cycling World Championships signs Ride Together pledge to champion equality, diversity and inclusion
The 2023 UCI Cycling World Championships, alongside partners and key stakeholders, has signed up to the Equality, Diversity and Inclusion (EDI) Pledge to show a tangible commitment to creating an inclusive, diverse, and accessible world-class event in Glasgow and across Scotland.
The Pledge will support the key principles of the EDI framework, using the platform of a global event (3-13 August) as a catalyst for change, in addition to delivering an event that has inclusion at its core.
Under the Pledge, partners and key stakeholders have signed up to five key commitments:
Promoting inclusion through the power of the bike, improving wellbeing, and building a fairer, more inclusive society for all
Committing to the growth and sustainability of women and girls cycling in Scotland
Remaining authentic to each of the 13 UCI Championships by embedding inclusivity and accessibility into event planning
Building partnerships, initiating conversations, and seeking out opportunities to activate programmes in support of EDI
Using the 2023 UCI Cycling World Championships to raise awareness about EDI
The signatories of the Pledge are:
Union Cycliste Internationale (UCI)
Scottish Government
Glasgow Life
UK Sport
British Cycling
Scottish Cycling
Event delivery partners
Partners and key stakeholders of the 2023 UCI Cycling World Championships who sign the Pledge agree to abide by its five commitments.
By joining the Pledge, participants will be challenged to actively make a positive difference to the lives of others by harnessing the power of the bike to build a more inclusive Scotland. This entails building a foundation of trust and confidence with people at a local, national, and global level. 
The EDI framework also ensures that those who are most vulnerable in society, impacted by stigma and discrimination and excluded from sport and public life are included in this narrative.
Attending the launch were two young people from Glasgow who embody the ambitions of the framework. Farrah Gillespie and Ryan Campbell are two 10-year-olds who discovered cycling through the inspiring work of local social initiative the Urban Fox Programme.
This initiative provides cycling opportunities, led rides and bike repair schemes to young people in areas of need. Both Farrah and Ryan have received donated bikes through their involvement with the Urban Fox Programme.
While the UCI Cycling World Championships remains at the core of everything that the event aims to deliver, the event also strives to act as a catalyst for change across Scotland through the power of the bike.
The power of the bike aims at being a tool to improve lives and wellbeing (physical and mental), as well as bringing a sense of freedom and connection to people in their everyday lives.
Equalities Minister Christina McKelvie, MSP, Scottish Government, said:
"Equality, diversity and inclusion are at the heart of everything we do within the Scottish Government. The 2023 UCI Cycling World Championships is an exciting opportunity for partners across Scotland to get involved and embed these ideals throughout this innovative event, which importantly includes Para Road and Track Cycling Championships.

"We want the Championships to inspire people from all backgrounds to help build a fairer, more active and healthier Scotland through the power of the bike. The Scottish Government is proud to be supporting the Championships and the Ride Together Pledge."
Amina Lanaya, Director General, UCI, said:
"The beauty of our sport is its ability to unite populations regardless of their gender, religion, race or political beliefs. I am therefore delighted by this Ride Together Pledge. It will contribute to an accessible UCI Cycling World Championships where everyone feels welcome and will be encouraged to continue benefitting from the bike even after the event.

"Equality, diversity and inclusion are interwoven into the UCI's policies and documents, and this Pledge is perfectly in line with our work to ensure everyone can enjoy the wonderful sport of cycling."
Trudy Lindblade, Chief Executive Officer, 2023 UCI Cycling World Championships, said:
"I would like to thank the UCI, our partners and key stakeholders who have joined us in signing up to our Equality, Diversity and Inclusion Ride Together Pledge. We are committed to making a difference through the power of the bike using the 2023 UCI Cycling World Championships as the platform to not only generate discussion but to enable us to 'ride together' to achieve long lasting change with the belief that the power of the bike can mean something to everyone, regardless of who you are.

"We will be using the Championships to amplify the benefits of cycling with a focus on a younger and more diverse audience with women, children and young people at the heart of our activity. It is our aim that everyone who attends the Championships enjoys it at all levels and most importantly feels welcomed and inspired to create their own power of the bike story."
Esther Britten, Head of Major Events at UK Sport, said:
"The 2023 UCI Cycling World Championships are an excellent opportunity to harness the platform of major events to promote the importance of diversity and inclusion in sport and wider society. UK Sport backs the Ride Together Pledge and are committed to ensuring the major events we host are welcoming to all.

"Along the journey through our 'Greatest Decade', we are not only aspiring to unite the nation through extraordinary sporting moments, but also aim to reflect the incredible diversity of communities across the UK.

"Our ambition to host world-class, accessible events would not be possible without the ongoing support from The National Lottery and we are truly grateful for their continued contribution to British sport."
Danielle Every, British Cycling Acting CEO, said:
"As we look ahead to this summer's UCI Cycling World Championships in Glasgow and across Scotland, we're proud to join others in signing the #RideTogether Pledge. As set out in our 2021 Our Ride diversity and inclusion strategy, we're wholeheartedly committed to ensuring that our sport and events are inclusive and welcoming for all, and forming purposeful partnerships is a key pillar of this work.

"By bringing together more than 8,000 riders and many more fans from across the breadth of the cycling disciplines, and investing £8 million to benefit cycling facilities, the event is set to be a great example of the power of major sporting events to inspire communities and bring about real change."
Bailie Annette Christie, Chair of Glasgow Life, said:
"Our vision for Glasgow is to create a vibrant cycling city where cycling is accessible, safe and attractive to all, whether that be for leisure, transport, tourism or sport. Part of achieving that vision is to overcome barriers to participation and make cycling more appealing to people of all ages, backgrounds and abilities. That is why we have pledged to work with partners towards achieving the five commitments through our delivery of the UCI Cycling World Championships and beyond.

"We are already undertaking EDI projects such as our successful cycling participation programme for secondary school girls that takes groups of 10, many of whom have never learned to ride a bike, through an intensive 10-week programme of BMX, mountain and road biking and track sessions.

"Through this work we will continue to improve our policies, services and facilities to allow everyone fair and equal access to the breadth of events, projects and services that Glasgow Life provides."
Nick Rennie, CEO at Scottish Cycling, said:
"We're delighted to support the Pledge, which not only connects the partners of this event towards a common Equality, Diversity and Inclusion goal, but provides us with an opportunity to highlight both the breadth and depth of our work that is contributing towards making cycling a sport for all.

"Our refreshed organisational strategy, which we'll be launching in a few weeks' time, reaffirms our commitment to provide targeted interventions to increase the number of women, girls and young people cycling, and ensure that EDI is a golden thread throughout everything we do."
Debbie Dean, Project Manager at the Urban Fox Programme, said:
"Cycling provides so many benefits to the young people in Glasgow and across Scotland including physical and mental health. The Urban Fox Programme is delighted to support the 2023 UCI Cycling World Championships and the EDI framework that will support cycling, especially in areas of greatest need."
The general sale for the first-of-its-kind cycling event is now open with tickets having a range of prices suitable for all fans' budgets. Tickets can be purchased for as little as £8 with ticket information to be found here www.cyclingworldchamps.com/visit/tickets/.