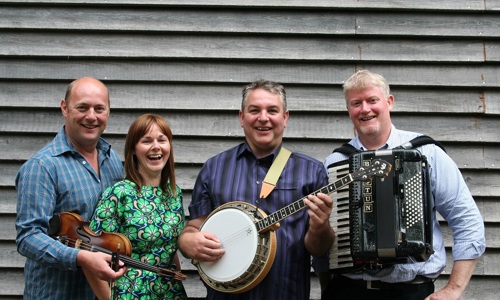 A Gaelic Summer for Glaschu at Festival 2018
A Gaelic Summer for Glaschu at Festival 2018
A diverse programme of Gaelic Arts will be presented this August as part of Festival 2018 – the dynamic cultural programme for the Glasgow 2018 European Championships - and Glaschu.
A song trail following the story of Gaelic in Glasgow, a day of Shinty-themed events including a special Ceilidh on Glasgow Green, and a celebration of Gaelic poetry held in Queen's Park are among the highlights of a diverse programme of Gaelic Arts being presented this August as part of Festival 2018 – the dynamic cultural programme for the Glasgow 2018 European Championships.
 
The programme is also taking place as part of Glaschu, an ongoing three year project that aims to highlight, share and explore the cultural, linguistic, historical and contemporary connections that Gaelic has with the city through events and a portal: glaschu.net.
On Saturday 11 August, a unique city trail beginning at Central Station at 2pm will share stories of Gaelic Glasgow through songs, performance, poetry and folklore. Join artists including Mary Ann Kennedy and Alasdair Whyte on the Glaschu Gaelic Song Trail for a walk that will explore this fascinating aspect of our city.
Sunday 5 August is The Big Day of Shinty. Intrinsically linked to Gaelic Culture folklore, Shinty is fast, frantic, skilful, and provides lots of goals, giving an unrivalled spectator experience – a must see for any sports enthusiast.
At Greenfield Playing Fields from 11am there is Come and Try Shinty, which is open to all. From 12.30pm see top teams from across Scotland battle it out for a unique one-off cup to celebrate Festival 2018.
 
While at Glasgow Green there will be Shinty demonstrations with kicks and flicks from 1pm and a Shinty Ceilidh starting at 5.30pm. This traditional style Ceilidh with Gaelic songs stars Mary Ann Kennedy, Gillebride MacMillan and Friends.
The Shinty demonstrations and Ceilidh are part of GO LIVE! at the Green. Glasgow Green will be a city hotspot during the Glasgow 2018 European Championships, bringing together sport, culture and entertainment to provide a daily programme of free to attend activities.
Ag ainmeachadh na Craoibhe/ Naming the Tree on Friday 3 August at 4.30pm will feature Gaelic song, poetry and a naming ceremony centered on the Hidden Garden's Ginko Tree.
Queen's Park Poetry Garden is the setting for an outdoor event on Friday 3 August beginning at 6pm. Presented by the Gaelic Books Council ..ach iadsan a bha 'n Glaschu / .. but they who were in Glasgow is a celebration of three Gaelic poets, Alasdair Mac Mhaighstir Alasdair, Donnchadh Bàn Mac an t-Saoir and Somhairle MacGill-Eain, and marks the 50th anniversary of the Gaelic Books Council, through songs, words and music.
George Square on Saturday 4 August from 4.30pm will be the place to be for a Mass Gaelic Ceilidh. With Gaelic song and cracking music from the acclaimed Glenfinnan Ceilidh Band, a good time is guaranteed. 
Councillor David McDonald, Chair of Glasgow Life and Deputy Leader of Glasgow City Council, said:
"The rich traditions and vibrant contemporary culture of Gaelic will be presented in this fantastic programme, when the incredible mix of Festival 2018 and the Glasgow 2018 European Championships will make Glasgow the place to be.

"We can share in the music, poetry and stories of the Gaels, learn how Gaelic has helped shape our home, and enjoy a sport that is especially popular with Gaelic speakers in a diverse range of events that can be enjoyed by everyone."
To find out more visit: glaschu.net and festival2018glasgow.com