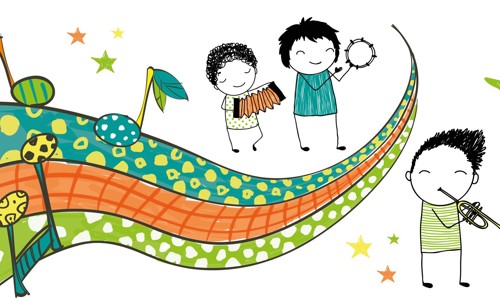 A weekend of family fun at Big Music for Minis
A weekend of family fun at Big Music for Minis
A fantastic weekend of musical activities especially for children is coming to Glasgow Royal Concert Hall this November.
Big Music for Minis will take over the venue with concerts, workshops and creative events for babies and children aged up to seven years, on Saturday 10 and Sunday 11 November. A number of the events are free. 
The weekend, which is presented  by  Glasgow UNESCO City of Music, features a fabulous range of musical talent, including SambaYaBamba, Live Music Now, the Celine Donoghue Band, the Royal Scottish National Orchestra, the Scottish Chamber Orchestra, and Funbox.  
There will be musical journeys through space and around the world, cabaret, Scots song and a Ceilidh, a cushion corner and a percussion zones, Big Grooves, a very special camping adventure and much much more .
This will be the fourth time this hugely popular annual event has been held.
The jam-packed programme features Funbox Rocking All Over The World. Join Anya, Kevin and Gary on a musical odyssey around the globe in their brand new show.
The Sound of Space is a musical journey of a different kind - through space and time, in an immersive planetarium that's been made into a special 'music-arium' for Big Music for Minis.
Two of Scotland's finest Scots song tutors and performers, Amy Lord and Siobhan Miller
lead an interactive singing class in Scots Sangs for Bairns.
It's Fee-fi-fo-fum drum when a chamber ensemble of Royal Scottish National Orchestra musicians and presenter Lisa Rourke share their interactive concert Jack and the Giant Beanstalk.
Mini Beatz, a high energy event for toddlers with a live DJ who mixes club music with nursery rhyme, the awesome 40-strong collective of players aged 11 to 22 the SambaYaBamba Street Band, and the Play Talk Read Bus are also on the bill for this fabulous weekend of events.
There's a tut-free, child friendly atmosphere with the Scottish Chamber Orchestra String Quartet performing in Big Ears, Little Ears.
After hopping, twirling and leaping at the Family Ceilidh with the Celine Donoghue Band, a visit to Cushion Corner to relax with a selection of classical, contemporary and traditional tunes by musicians from Live Music Now might be just the job.
Music, movement, craft, songs and fun are all in the mix for a multi-sensory, interactive adventure based on camping from Corelo Productions, and improvising takes centre stage with a music making workshop from the Glasgow Improvisers Orchestra.
There's the chance to learn funky Samba grooves on fun to bash tom-tom drums, tambourines and shakers with Big Groove Promotions, and to have even more fun and make a lot of noise at the Percussion Zone.
Glasgow Piano City's colourful flock of pianos will also be dotted around the building, ready to be discovered and played.
The National Youth Choir of Scotland bring two fun sessions to Big Music for Minis, with musical games with balls, hoops and drumsticks, and opportunity to learn about the pentatonic musical scale .
FEZ is a musical cabaret in search of the most characterful of hats by The Creative Martyrs, and there's free story, song and rhyme sessions in the Bookbug Song and Story Den.   
You'll probably work up quite an appetite.  Families coming to the events are very welcome to bring their own packed lunch to the concert hall to eat in the Big Music for Minis Picnic Zone.
Councillor David McDonald, Chair of Glasgow Life and Deputy Leader of Glasgow City Council, said:
Get ready for two days of musical family fun as we look forward to welcoming hundreds of children and their grown-ups to Glasgow Royal Concert Hall for Big Music for Minis.

"There's so much to enjoy and lots to learn along the way. You can bang a drum, listen to a string quartet, dance in a Ceilidh and begin to learn Scots song and much more with some of Scotland's most popular musical artists.

"So do join us this November as Big Music for Minis shows once more that in our UNESCO City of Music, for Glaswegians and visitors to our home city, music comes in all shapes and sizes and is for everyone to enjoy."
For more information visit: glasgowconcerthalls.com  or phone 0141 353 8000