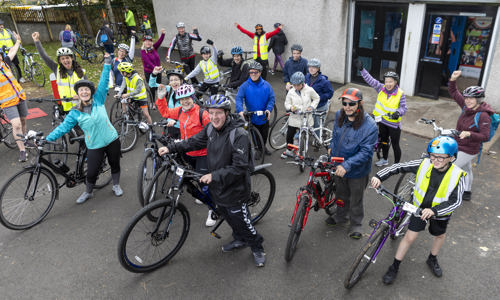 Applications open for new Go Cycle Glasgow Fund
Applications open for new Go Cycle Glasgow Fund
Community organisations in Glasgow could receive up to £10,000 through the new Go Cycle Glasgow Fund, which aims to encourage more local people to use cycling for recreation, sport and active travel.
In August 2023, the inaugural combined UCI Cycling World Championships will take place in Glasgow and across Scotland. This historic and innovative event will take place over 11 days and will bring together 13 UCI World Championships in one unprecedented event that will see thousands of the world's best cyclists compete in Scotland.
In addition to supporting the delivery of the Championships, Glasgow Life is working towards building a lasting legacy by launching a range of initiatives, including the Go Cycle Glasgow Fund, to help inspire new and existing cyclists to make cycling an activity for life.
The launch of the Go Cycle Glasgow Fund was celebrated at Drumchapel Cycle Hub tying in with a free family cycling challenge event for the local community to celebrate the benefits of cycling in Drumchapel. The Family Cycle Challenge saw local people including cycle hub members, friends and family challenge themselves to reach a new personal best.
By supporting community groups in Glasgow, the Fund aims to support new cycling projects across the city and make it possible for more people, regardless of background or ability, to enjoy the benefits of being on a bike.
Awards will range from £1,000 up to £10,000 to support a wide range of projects, including equipment, storage, training and safety eessentials, as well as some running costs.
Billy Garrett, Director of Sport and Events at Glasgow Life, said: "The Go Cycle Glasgow Fund is an exciting new initiative and part of Glasgow's commitment to delivering an enhanced programme of cycling related activity for local communities. 
"We are looking forward to working with organisations that wish to incorporate cycling into their programmes and encourage more local people to cycle in and around our wonderful city."
Applications for the Go Cycle Glasgow Fund are now open – complete a 'Tell Us Your Idea' form and a member from our team will be in touch to support your application. Applications must be submitted by Monday 24 October 2022.