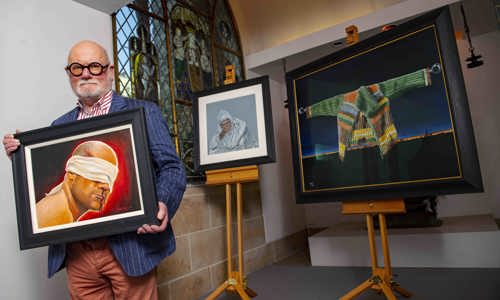 Artist Robert McNeil unveils new paintings at St Mungo Museum in preparation for 25th anniversary of the Srebrenica Massacre
Artist Robert McNeil unveils new paintings at St Mungo Museum in preparation for 25th anniversary of the Srebrenica Massacre
Artist Robert McNeil MBE has unveiled three of his paintings, recently acquired by Glasgow Museums, at St Mungo Museum of Religious Life and Art.
Witness, Subjugation and Srebrenica Women relate to the religious and ethnic conflicts in Bosnia and Kosovo in the 1990s and help tell the story of the worst atrocity on European soil since the Second World War. The new display, Remembering Srebrenica, is the first part of a wider programme of commemorations taking place across Glasgow and beyond in 2020 to commemorate the 25th anniversary of the Srebrenica massacre.
Councillor David McDonald, Chair of Glasgow Life, said:
War and persecution motivated by religious and ethnic hatred continue to force hundreds of thousands of people from their homelands. Over the years many have sought sanctuary in Glasgow and we are proud of our record of welcoming refugees from across the world. Robert's evocative paintings will resonate with anyone who has empathised with those who have experienced the trauma of fleeing war and oppression.

'On a recent visit to Bosnia, I was deeply affected by meeting the victims and relatives of those massacred in the 1995 Srebrenica genocide and those caught in the Sarajevo siege. I hope this exhibition will raise awareness of the need to recognise prejudice, extremism and exclusion and the hatred it creates.

'The St Mungo Museum exists to promote understanding and respect between people of different faiths and those of none. We are very grateful to the National Fund for Acquisitions for helping Glasgow Museums acquire these paintings and create this new display.
2020 is the 25th Anniversary of the Srebrenica massacre where over 8000 Muslim men and boys were systematically murdered by Bosnian Serb armed forces at the height of the Bosnian war and under the command of Ratko Mladic. Robert McNeil, artist and former forensic technician, was a member of the international team of experts who uncovered and provided the evidence of genocide for the prosecution of all of the major war criminals including Mladic, Karadzic and President Milosevic. Mladic was sentenced to life imprisonment in 2017 for his role at Srebrenica.
Robert McNeil said:
I hope having these works on display at St Mungo will highlight and continue to raise awareness of religious persecution and ethnic cleansing across the world. We must learn from past horrors and make sure that younger generations are aware, not just about the history of the genocide in Bosnia, but how to recognise the signs of intolerance and the violence it generates wherever in the world it occurs and take action to persuade those in power to end it.
Although he never formally trained as an artist Robert McNeil has felt compelled to depict his experience in Bosnia through painting, his works present the challenging themes of loss, grief and the scientific processes involved in conflict zones.
McNeil's work was first publically displayed in I.O.T.A, Glasgow, closely followed by an exhibition of 12 works entitled 'Witness' shown at the Mitchell Library in 2014 and the Scottish Parliament in 2016. Glasgow Museums first encountered McNeil's work at a Holocaust Memorial Day Training Day in 2015 through his involvement with the charity Remembering Srebrenica Scotland of which he is Vice-Chair.
Remembering Srebrenica Scotland is dedicated to working with victims and survivors of the genocide. It is the only organisation outside of Bosnia-Herzegovina dedicated to commemorating and raising awareness about the Srebrenica genocide and its legacy.
The new artworks will strengthen the school and public learning programme offered at St Mungo Museum, which often works in partnership with other faith communities to look issues related to religion, including sectarianism in Glasgow, the Holocaust and religious and ethnically motivated violence. They will also add to a growing collection that represents the experiences of modern migration to the city, which is represented in the recent New Scots display opened in 2018, which features a diverse range of objects from 'New Scots' communities from places of conflict, including Iran, Iraq, Syria and Libya.
Remembering Srebrenica is open now at St Mungo Museum of Religious Life and Art visit www.glasgowmuseum.com