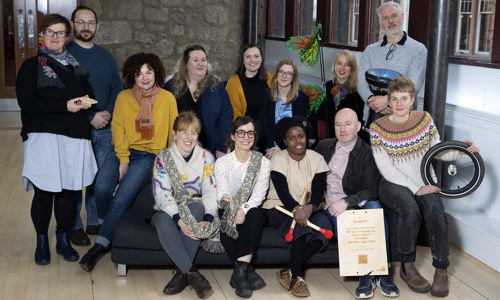 Arts projects in communities across Glasgow aim to deliver wellbeing benefits to local people
Arts projects in communities across Glasgow aim to deliver wellbeing benefits to local people
A new initiative delivering arts projects in communities throughout Glasgow will benefit local people and their areas.
Funded jointly by partners including Creative Scotland, the Artists in Communities programme is being introduced by charity Glasgow Life which – through culture and sport – is committed to promoting inclusion, happiness and health to enhance Glasgow's mental, physical and economic wellbeing.
 Building on the success of previous Artists in Residence initiatives, the new programme is designed to transform lives through encouraging and enabling participation in creative and cultural activities. The diverse range of projects which will take place over the coming months span visual arts, music, dance, poetry, storytelling, film-making and more – with activity directed by local needs and priorities and targeted at different groups within Glasgow's communities.
Many of the projects explore themes related to cycles, circles, connection and movement – taking inspiration from the 2023 UCI Cycling World Championships, which Glasgow will host from 3-13 August.  Glasgow Life Artists in Communities is being very much influenced by the forthcoming major event, and the arts programme forms part of the citywide activation and legacy work to bring together and provide a platform for local communities to enjoy and access the wider Championship experience. Many of the 15 artists and arts organisations commissioned to deliver the community arts projects will be working with local partners involved in encouraging active participation in cycling.
Glasgow Life Senior Arts Producer - Creative Communities, Karen Shaw, said:
These projects offer a great variety of exciting opportunities to support local communities throughout the city. They're designed to encourage and enable people of all ages and from all groups to come together to connect and take part in enjoyable, enriching shared activities that make a real difference to lives.

Programmes such as this are vital to mental and physical health, helping to reduce isolation and ensure social inclusion. And it's particularly during challenging times such as these, when people are coping with additional pressures and stresses which are so detrimental to wellbeing, that involvement in cultural and sports activities is particularly important and valuable.

We are encouraging as many local people as possible to get involved in the projects taking place in their communities. The local artists we've commissioned for this programme have a wealth of experience in working with communities across the city on previous arts projects which have proved highly successful and extremely popular with local people. They're all very much looking forward to involving more of our communities in these new projects.
Creative Scotland CEO, Iain Munro, said:
It is wonderful to see such an exciting range of projects in motion thanks to the Artists in Communities fund. This impressive range of work aimed at a diverse range of ages and communities will have a tangible impact on Glasgow over the coming months. The importance of arts and culture for the wellbeing of Scotland's communities cannot be underestimated and we look forward to seeing the positive effects that these projects will have.
The artists' projects are being delivered in Glasgow's three Community Planning Partnership Areas (CPPs) as follows:
North West
Award-winning Ignite Theatre works with children and young people to teach skills in film-making. Director Manu Kurewa will lead workshops focusing on Chinese and newer communities
Arts collective In The Making Glasgow - Jenny Olley and Lynsey Wells - will involve refugee and asylum seeker communities in arts workshops exploring the theme of cycling
Louise Nolan, who works in ceramics, will run tile and mosaic workshops in local primary schools, community venues and at the new Stockingfield bridge site on the Forth & Clyde Canal
Saffy Setohy, whose collaborative artworks and events focus on place regeneration, will lead creative movement sessions exploring Cowlairs
Tricky Hat Productions drama and storytelling artists will create a new audio trail along waterways and active travel routes, using less heard voices
North East
Zoe Walker and Neil Bromwich, whose work focuses on environmental and social justice movements, will lead workshops and creative events designed to link green spaces, working with partners including Blackhill On Bikes youth charity
John Binnie, Tina Freeland and Robin Mitchell – respectively a playwright, percussionist and photographer – will run workshops with primary schools, recovery groups and users of local parks (Glasgow Green, Cunningar Loop, Elcho Gardens), working with Free Wheel North and creating a Bicycle Bell Band
Rebecca Fraser of Today Museum which documents local people's stories, will run drop-in befriending arts activities in the Forge and elsewhere, as part of an intergenerational project focused on the development of a new skate park at Old Forge Ironworks
Sculptor Mandy Mcintosh will work on experimental and participatory cartography with local schools and community groups exploring cycling and other active travel links between Sighthill, Parkhead, Springburn and Robroyston
Actor, writer, singer and director Màiri Morrison will support the other area artists to develop Gaelic elements in their projects, generating engagement in Gaelic arts-related activities
South
Playwright, poet and performer Martin O'Connor will work with young people from different language groups, including Gaelic, to explore themes of connections, journeys and identities – linking with South City Way, VC Glasgow South, and Cathkin Cycle Route
Artist Deirdre Neilson, who specialises in textiles, will lead a creative arts project exploring circles, cycles, making and wellbeing, linking with Bike for Good, VC Glasgow South, Queens Park Skate Park, Cathkin Braes cycle tracks, Urban Roots, and Cathkin Braes windfarm
The Village Storytelling Centre in partnership with visual artists Hannah Brackston and Daniele Sambo, whose creative projects are designed to engage people with their environment, will explore stories of movement to create online soundbites, making a fleet of collaboratively constructed bike-powered sculptures
Ando Glaso will lead music and dance workshops for Roma communities from a variety of European countries, exploring and promoting wellbeing to create performance pieces for a series of events 
Glasgow Barons will lead music and singing workshops with local schools, local festival events, choir development, and create rap music videos celebrating mural trails to encourage active travel 
More details on the Glasgow Life Artists in Communities programme, the artists, and previous Glasgow community projects they've worked on, are available at: www.glasgowlife.org.uk/ArtistsInCommunities.