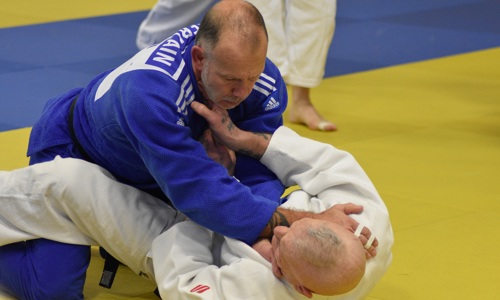 Athlete Entry Now Open for 2018 Veteran European Judo Championships Held in Glasgow
Athlete Entry Now Open for 2018 Veteran European Judo Championships Held in Glasgow
British Judo are pleased to announce that entry for the upcoming 2018 Veteran European Championships is now officially open
Hosted at the Emirates Arena in Glasgow, the event promises to be a big one as athletes from across Europe descend on Scotland in the battle to be crowned European Champion between the dates of 14th-17th June 2018.
British Judo Chairman, Ronnie Saez commented:
"I would like to thank the European Judo Union (EJU) for their continued support and trust in our ability to deliver this event to their high standards which we aim to exceed."

"We have a strong history of delivering high quality EJU events in Scotland and, as the Chair of British Judo's Veterans Commission, I look forward to welcoming international veteran athletes back to the UK."

"As a proud Glaswegian, I hope you enjoy your time in the City and I wish you all the best of luck for the event."
Stan Cantrill, a veteran competitor himself, is equally excited about the Championships coming to Glasgow.
"It's the most wonderful thing that has ever happened. We're really, really pleased."

"Of course I'm going to compete. I have competed in all the European and World Veteran Championships. I'm looking forward to the home ground advantage", he noted.
870 judoka from 33 counties competed at the 2017 edition of the competition held in Zagreb so it promises to be an action packed four days of judo in Scotland!
For more info and to enter the event click here.