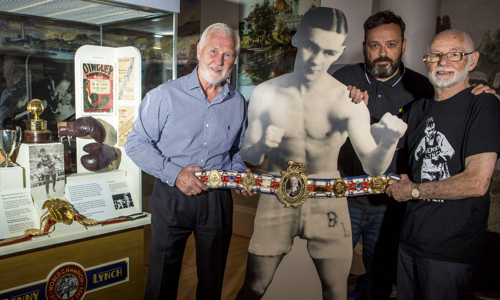 Benny Lynch exhibition opens at People's Palace
Benny Lynch exhibition opens at People's Palace
Benny Lynch exhibition opens at People's Palace
Benny Lynch, Scotland's first-ever World Champion boxer, is the focus of a new display at People's Palace, Glasgow. Following a highly successful and popular travelling display honouring the boxing legend, Glasgow Museums will bring his story to a wider audience with a new exhibition in one of the city's most popular museums, only minutes from where Benny Lynch grew up.
Former World Champion boxer Jim Watt MBE unveiled the original travelling display at Gorbals Library. He was joined by Open Museum outreach assistant Kevin Kerrigan at People's Palace to see the expanded exhibition being put in place.
In addition to the World and European Championship trophies Benny Lynch won in 1937 – which were rediscovered in 2016 and reunited for the first time since 1946, and central to the initial display's creation – the larger presentation will showcase a number of never-before-seen objects. These include Benny Lynch's first and only professional boxing contract signed by the man himself and his manager Sammy Wilson in 1934 and a commemorative golden belt presented to his family by Ring magazine and sent from Canada especially for this display. Also on show are his boxing gloves and a number of original programmes and unpublished photographs from Glasgow Museums archive collections. Newspaper articles detailing his career and pictures of him in action complete the display.
Jim Watt MBE said: "I've said it many times before, but I really do believe that Benny Lynch is Scotland's greatest ever sporting legend. Two years ago I was honoured to open a small travelling display to celebrate his incredible achievements in Gorbals Library. In that time we've brought many people together and been able to share Benny's story with the next generation.
"Like Benny the People's Palace holds a special place in the heart of many Glaswegians. I have very fond memories of coming here as a kid. I think Benny would be secretly touched to have a display about his life right here, in such a popular museum, not far from where he was brought up. By hosting this exhibition many more young people will become aware of his legacy and I hope it culminates in having a statue erected in his memory in Glasgow." 
Councillor David McDonald, Chair of Glasgow Life, said: "People's Palace is home to story displays that give a unique view into how Glaswegians lived, worked and played in years gone by. Looking at the incredible archive photographs in this display it's easy to imagine the anticipation leading up to Benny's big fights, the sheer jubilation his winning elicited and why he became a hero to so many.
"Glasgow is proud its museum collection belongs to the people of the city. I am encouraged by this project and the way the Open Museum and the 'Statue for Benny' campaign has created a display to share Benny Lynch's story and engaged so many others in the process. The legacy of Benny Lynch continues to capture people's interest all these years later and I am sure it will be a popular display."
The larger exhibition, which will be on permanent display for two years, is the next stage in a productive partnership between the Open Museum and the 'Statue for Benny' campaign group. The display has galvanised the community and captured the wider public's imagination with a retelling of the story of Benny Lynch. Ultimately the Gorbals based group hope to have a statue of the man, who many consider to be the greatest fighter Scotland has ever produced, erected in his home city.
Bryan Turnbull, a member of the group Statue for Benny' campaign, said: "Benny Lynch means a lot to people in Glasgow and Scotland and we hope this exhibition will further elevate his status and secure a statue in his honour. Our work with Glasgow Museums has allowed the group to share our story and in doing so we've managed to raise £30,000 towards the statue so far. It also encouraged other people who had objects and stories about Benny to get in contact and it is a pleasure to see these reflected in the expanded display at People's Palace."
The Benny Lynch exhibition is located in the Welcome Room on the ground floor of People's Palace, Glasgow until the end 2020. For more information please visit www.glasgowmuseums.com