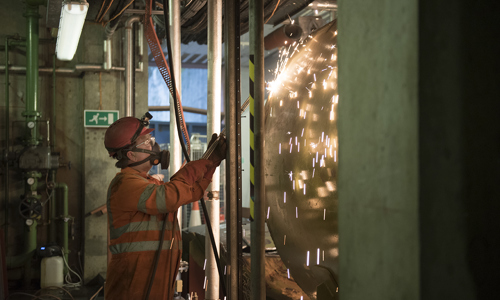 Burrell Collection receives unprecedented support from Scottish businessman and collector
Burrell Collection receives unprecedented support from Scottish businessman and collector
Plans to raise the profile of the Burrell Collection as a world-class display of Sir William Burrell's magnificent and ambitious Collection continue to garner international recognition and very strong funding support.
The Burrell Collection has announced that it will benefit from funding of £1 million from Chair of the Burrell Renaissance, Sir Angus Grossart, which will help the museum achieve an ambitious refurbishment and redisplay of some 9,000 objects in its Collection.
The gift, announced today, will help the museum enhance its already unparalleled Collection as, for the first time, the public will enjoy three floors dedicated to galleries, visible stores and special exhibitions.

More than 75 years of Sir William's life were devoted to amassing one of the world's greatest, single personal collections. The Burrell Collection is recognised as being of world-class quality, and reflects the outward looking, international confidence of the great collector. As part of the Burrell's plans, a new 750m2 special exhibition gallery will accommodate exhibitions of varying sizes, from the display of individual masterpieces and small groups of objects, to larger, international touring exhibitions, connecting the Burrell Collection with peer institutions from across the world.
The refurbishment will also see the museum's gallery space increase by 35% and public space increase by 83%, allowing important and unique objects from Burrell's Collection which have not been seen for decades or have never been on permanent display to go on show for visitors to enjoy.
Families, adult groups, children and young people will also benefit from a new bespoke Learning and Community wing which will provide high-quality spaces for a rich programme of events and activities, set in the stunning surrounds of Pollok Country Park, Glasgow.
Support of the capital project has been overwhelming with over 125 companies, trusts and foundations, and individuals pledging support, including a £15million National Lottery grant to make the project a reality. The cost of the project is estimated at £66 million with Glasgow City Council agreeing to fund up to 50% of the overall project cost.
Chair of the Burrell Renaissance, Sir Angus Grossart, said:
"Sir William's gift is an international flagship for Glasgow. Much has moved on since the initial priority of creating a home for the Collection. The Burrell Collection now needs a real renaissance which will place the true significance of Sir William's legacy and Collection within the international league where it should be set. The challenge is highly ambitious, but what a privilege it is for our generation to be asked to rise to that call and to take forward this great inheritance. Glasgow has been defined by international aspirations and cultural reach. Sir William entrusted his life's work to the city he called home. Mindful always of his wishes, we are seeking to secure much wider recognition of his vision and achievements. We still have £3 million to raise and we hope more people will help us and support this great opportunity."
Chair of Glasgow Life, and Depute Leader of Glasgow City Council, Councillor David McDonald, said:
"Few collections command both the international respect and local affection that the Burrell enjoys – a remarkable legacy of Sir William and Lady Burrell's gift to Glasgow that has enriched the city socially, culturally and economically.

This very generous gift from Sir Angus, along with his valued ongoing support and advocacy, will ensure that legacy will be appreciated for generations to come."
James Robinson, Director, Burrell Renaissance, commented:
"Sir Angus's commitment to the project as Chair of the Burrell Renaissance has shaped its ambition and strategy from the outset. We are enormously grateful to him for this hugely generous gift as further evidence of his passion for the Burrell Collection and his belief in its ability to reach global audiences for generations to come."
A key aspect of the Burrell Renaissance has been the introduction of a clear and ambitious international strategy to facilitate international research and curatorial exchange. Current exhibitions of works from the Burrell's Collection include Courbet, Degas, Cézanne… Chefs-d'oeuvre réalistes et impressionistes de la collection Burrell, at the Musée Cantini, Marseilles, from 18 May to 23 September 2018, and a rotating series of exhibitions at Kelvingrove Art Gallery and Museum.
To support the renaissance of the Burrell Collection and make a difference, visit https://www.glasgowlife.org.uk/support-us/campaigns/the-burrell-collection or email supportus@glasgowlife.org.uk